---
Stephen;
We are now in Oaxaca, but I have to work backwards through San Francisco to tell you how we got here. I loved flying into Oaxaca. One baggage carousel, one ATM machine, one place to pay for a cab. It was 100 yards from the plane to the taxi, then thirty minutes to the hotel, a few minutes to pay for our eight day stay, and we were in our room, simple but really clean with two comfortable beds that we pushed together. We decompressed with Neil and Diana with whom we shared a little courtyard. They offered us a glass of wine and we didn't refuse. With the exception of the two planes that flew over, one at 6 AM and one at 8 AM it was the quietest night I have ever spent in Mexico. A far distant rooster could barely be heard and no dogs.
The United Express flight from Houston was adventuresome, being that it was a small jet with just three seats across and fifteen rows deep. Too small for a jetway, we boarded by walking up a handicap ramp. Our steward opined at the beginning of the flight that the more we were sleeping the less he would be working, but in fact he carefully shepherded us through filling out our immigration forms. Actually, I had filled out and filed mine online and printed it in San Francisco, but when I tried to do Dawn's it was rejected because she didn't have 180 days left on her passport. You can imagine the panic that put us into. It went contrary to all the information from both the Mexican and United States governments that we had gleaned from the Internet. After calling the Mexican Consulate and United Airlines, we decided she would just fill out the form on the plane. It worked fine, in fact we were the first people on our flight through passport and immigration control and customs with no lines at all.
After flying from San Francisco, we had a long layover in Houston because last summer when I made the reservations, I was afraid to cut it too short, being that the trip was in the middle of the winter and who could know what the weather with it's associated problems would be. At that point, I wasn't sure whether we would be checking a bag or not. (Turns out we are not, carrying less than fifty pounds between us.)
We met a couple of old hippies at the bar who were headed for Oaxaca also to take some weaving classes. She had waist length beautifully braided gray hair and his was nearly as long. They had raised alpacas and weaved their own wool, now they were off to learn a new technique.
Before Houston, it was just slipping out of the in law apartment at Amber's and Patrick's at five in the morning and grabbing a Lyft to the Airport.
---
Dawn and Stephen in Llano Park (Third day)
Dawn:
Here we are, sitting in Llano Park in Oaxaca, with a cool breeze in the shade. Somehow I forgot how my system reacts to higher altitudes. We are between 5,000 & 6,000 feet. On the day after arrival, we took a long walk to explore the city and wandered over to the Mercado Abastos. It was huge, reminiscent of the souks in Marrakesh. We were the only Gringos there, amidst much buying and selling and delivering of goods. Since I was fading, we stopped at a one of the scores of vendors and basically had our first street food in Mexico, with a bit of a prayer!
Luckily we did not get sick. Walking back, the unrefrigerated raw meat and chickens, the gas fumes from the busses, the animal smells in the street had me wondering if we had made the best choice for this trip. It was very noisy and hot and triggered a memory of our day visiting Léon when we stayed in Guanajuato in 2014-15. That was the day I could barely get off the bus, barely walk and ended up the following day at a clinic that gave me antibiotics and anti-inflammatories for a mysterious ailment. I did have a complete recovery and made sure to stay hydrated.
Stephen offered to get us a taxi, but I was determined not to let the trigger of that earlier experience put me in a fearful state. We did get back to our hotel, and I kept hydrated throughout the episode. I am still often tired here, but am enjoying exploring other parts of town. Last night, I read an article in my online Buddhist Lion's Roar magazine that talked about four useful words when one is stressed: "Real but not true." It is real that I was hot and exhausted in a funky part of a Mexican town, but it was not true that I was going to get terribly ill again. I hope this could be a useful mantra for anyone with some from of PTSD. The experience made me more sensitive to people who deal with trigger experiences of all kinds.
Well, nothing like starting the travelogue with a cheerful story like that! My apologies to all of you readers.
---
Textile Museum
Stephen:
On the second day we went off to the textile museum. We are now in a world of textile growers, makers and wearers and we thought we might get some insight into the whole thing in this museum.
Indigo
In this room, the large costumes below were displayed. In contrast to the Wedding Parade puppets these were worn by performers on stilts. Nearby we watched a video of a parade of these stilt walkers in New York City. We could find no explanation, but there were policemen in almost every shot.
Cotton
As explained below, this description caused one of a series of teary-eyed moments for me. Here I was thinking of the oil wells, pipeplines and fracking that contribute not only to fuels but also to the tons of synthetic clothing that we wear and take their toll on our environment. Dawn
Garment made from cotton with natural dyes
Garment made from undyed fabric
---
An Evening Stroll
Dawn:
For some reason, since coming to Oaxaca, my emotions seem very close to the surface. For instance, Saturday we experienced three beautiful events in one evening, two of them totally unexpected. We had planned to attend a chamber music concert of piano and violin. We decided to leave early and stroll through town to get to the venue early as people do here. On the way, we were sidetracked by the sound of a loud brass band and drums.
Suddenly there appeared around the corner two huge dancing puppets, ten or twelve feet high, on the scale of Bread and Puppet Theater in Vermont. They led a parade of colorfully costumed women swinging shawls in unison, the brass band, dancers, friends and family in various attire surrounding the centerpiece...a young bride and groom, she in a frothy light pink dress, he in formal wear. They danced and kissed and paraded with arms around each other.
The crowd of Oaxacanos and Gringos smiled, cheered, and shot photos. I don't know if they were going to or coming from the church, but the whole spectacle was filled with color, joy and fun. So I got teary!
A few minutes later, we walked around another corner and spotted a small group of people moving in an organized way. Stephen said, "It almost looks like they're doing contact improv."
Sure enough, they turned out to be a contemporary dance company, currently supported by the federal government. They do street and theatrical performances. The work was focussed, disciplined, site-inspired and lovely to watch. It reminded me of Dance Collective doing Martha's "Pedestrian Dance Path" back in the 80's in Germany and Holland! We chatted with a representative from the company, gave her our card and took some PR materials. The group is directed by Rolando Beattie. (
rolandobeattie.com
) Luckily we will be back here in Oaxaca at the end of March when they will be performing in a theater. I was really happy to see high quality, contemporary dance being supported in a small Mexican city.
Centro Culturale de San Pablo
Now I must backtrack to earlier that day when we visited the Centro Culturale de San Pablo. There was an art installation by a woman honoring her deceased mother by creating various sculptural pieces from objects that had inhabited her mother's life. The artist arranged them in ways that reminded her of good family times at home. Below is a photo of the last paragraph describing the work. I was deeply touched by that writing, thinking of my own mother and daughter, and got teary again
---
Stephen:
We stopped here because I had been to a concert here the night before and I wanted Dawn to see the beautiful space.
A beautiful room. When she came out to sing, she was the worst singer I have heard on stage. The kids in Lily's show were much better. In the first piece she sang an odd sound and may have hurt herself. I wish her the best in the future. Another oddity was that in the middle of the room was an installation consisting of a 6' by 6' pan of water with small boat models. We the audience sat around it. In the picture, you can just see one.
Above is the plaza at the center.
---
Meals and Drinks
The center of Oaxaca is a paradise of eating and drinking. Here are some pictures of places we found, were recommended to us by our hotel, fellow travelers or Google maps. We will add a picture of Don Juanito when we return tonight for a second light dinner.
Xiguela, an organic lunch place where we ate a large salad and some great coffee.
Breakfast across the street from our hotel. Dani was a wonderful, sociable waiter, the cafe lattes almost strong enough, the view and sun wonderful.
Mescalerita had hundreds of Mexican beers from all over the country. This IPA was a beauty. When we return to Oaxaca, perhaps a place to taste some mescals.
A geometric study at Sho which I filled in (see below) on another visit.
br />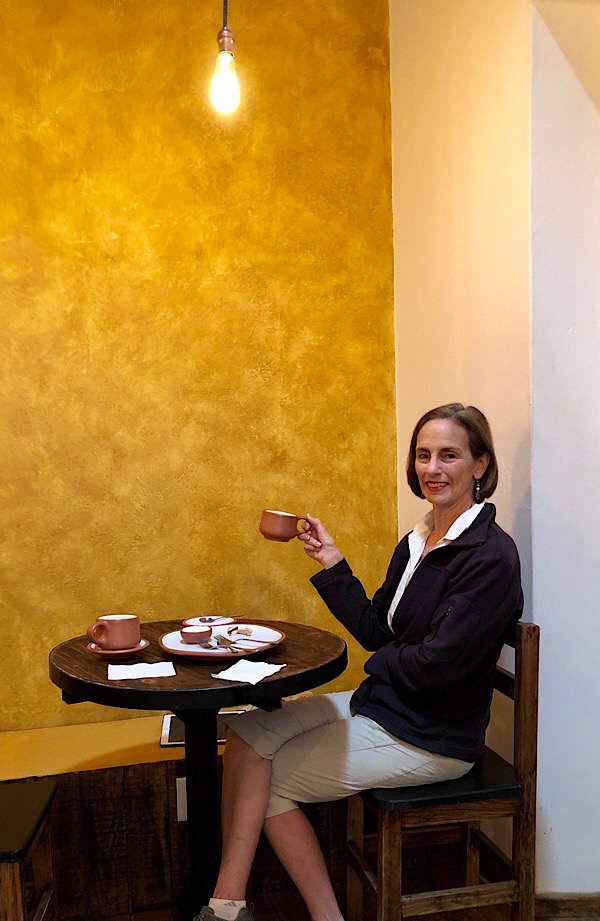 A geometric study at Sho (filled in)
Orson Wells has made us think that Mexico was in black and white. Of course it is the opposite. Here's Dawn with the NYT crossword puzzle. It will be too far from our apartment when we return, but we can stop by for an afternoon coffee. Our last day, he got then idea that I didn't like the coffee so he brought a coffee with the foamed milk on the side and poured until I said "Stop!". My perfect coffee, and he didn't charge me for it.
Tastavin - A tapas like place as big as our living room. I drank Mexican wine from Baja and a ham bruschetta. We sat at the bar that had four chairs, we will return.
Estambul, although we went twice, we will not return. The food, drink and lighting were satisfactory, but it was cold and the art was too aggressive and strangely, the tables were too far apart.
---
End of First Travelogue
At this point, we sent our first email notification. Pick up your reading at this point at the next notification or look back at what we have added.
---
Museo Rufino Tomayo
Dawn:
Michael, a retired art teacher and pottery expert, said we must visit the Rufino Tomayo Museum, only a few blocks from the Hotel Golindrinas. He was right! It was another deeply moving experience for me. All pre-Columbian pottery, it was the personal collection of the painter Rufino Tomayo. Because he was an artist, rather than an anthropologist or historian, he collected and organized the pieces based on their aesthetic and spiritual value. Each room featured a different color that was central to his own painting as a backdrop for the display cases. The pieces had such individuality, yet there were common features in many of the faces in particular indigenous groups. After a couple of hours of looking at these faces in clay, I realized that we see those faces today in the streets of Oaxaca, recent generations of Zapotec, Maya, Mixtec and other indigenous peoples. I got teary again as the faces are so beautiful and dignified, and indigenous people world-wide have generally gotten such a raw deal. In my best, very mediocre, Spanish, I mentioned to the staff how I saw generations of these faces in the streets today and how moving that is for me, even though I am obviously a "Gringa." Some pictures from the Museum that are beyond stunning.
We think a warrior.
Smiling, laughing, dancing women.
Blond man
Beautiful stretches
A couple. They were specified as an old man holding onto a woman.
Man with rattle stick
Almost life size warrior
What is he thinking?
I can't help thinking of Martha Graham
Pensive man
Throes?
Man sitting like a cat
---
Tule
Dawn:
Last Sunday we got up early, took a couple of quick showers, had a small breakfast, and headed by taxi to Tule. While waiting to meet Luciana, David, and their son Alex,
we paid our twenty pesos to get into the beautifully maintained garden that surrounds the BIGGEST, OLDEST, WIDEST TREE IN THE WORLD!
It is a magnificent, almost magical experience to be in the presence of a living being that has existed for over 2,000 years. This Montezuma Cypress tree was there when the indigenous people thrived, long before Columbus arrived. It has witnessed religious crusades, revolutions, wealth, poverty, many languages spoken, and natural disasters. According to the sign in Spanish, this type of tree is usually a slow grower with the trunk in cylindrical form. However, as you can see in the photos, time and circumstance have made the tree expand its roots and create a series of more unusually shaped trunks.
We sat on a bench in the shade to meditate under this gracious arbol. Soon I heard a friendly voice over my shoulder saying, "Dawn?" It was Luciana, one of my lovely friends from the gym. A former travel agent, she helped us with lots of suggestions for this trip. Her son Alex lives in Tule and helps the local mezcal growers get a fair deal on their exported products.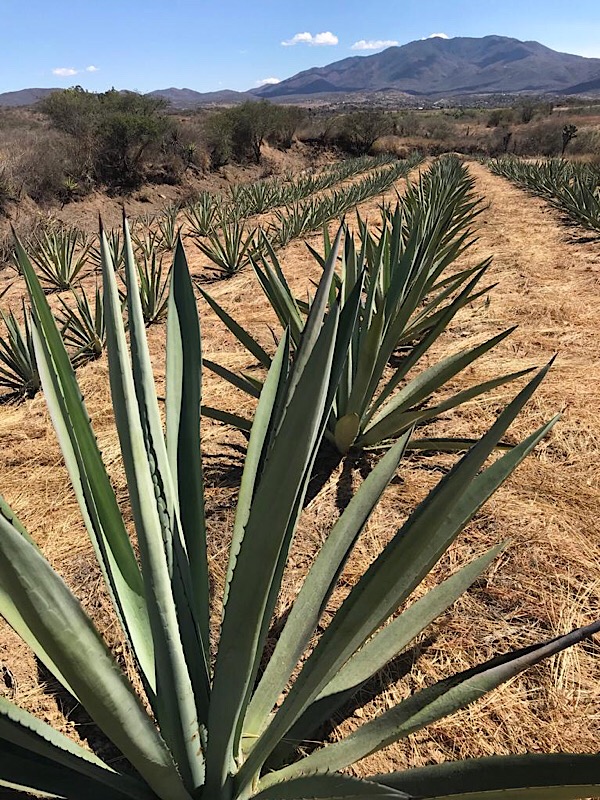 We all took off in Alex's car for a huge, weekly mercado, about fifteen minutes' drive from Tule. Fluent in Spanish and knowledgeable about local products, Alex was an excellent guide. We have decided not to buy anything until our return to Oaxaca since traveling light is a requirement of flying the small plane to and from the coast.
Here we learned about Jamaica, not the place, but the dried hibiscus flowers that are boiled and drunk around here. (Pronounced: Ha MAY ka) They make a beautiful red drink, a bit bitter. I like it with a squeeze of lime and a teaspoon of sugar! It is supposed to be high in vitamin C, a diuretic, and hearsay has it that it might be good for blood pressure.
Stephen buying a couple of sweet rolls after lunch.
---
Amphitheater
Stephen:
We hiked up to the amphitheater on the hill above our hotel. We think it was built in 1999 to house the annual folk dance festival that goes on every July. It is quite spectacular, built on a hillside, with a tent covering, with about 11,000 seats. See below.
View over Oaxaca from the stage level.
Ticket windows.
View from the top of the seats. A guard opened the gate so we could take a picture. I think these are the free seats.
---
El Concierto
Dawn:
The concert was a short walk away from the center of town. The venue turned out to be just what chamber music was designed for: a room that seats maybe fifty people and has great acoustics for instruments played without amplification. They played Mozart, Kreisler and a long, dense piece by Fauré. The Kreisler was a showcase for violin virtuosity. The musician handled it well, although occasionally we wished for a slightly better, or maybe bigger instrument. The pianist played with lovely sensitivity. To their great credit, they both played without a lot of flamboyant posturing. They just let the music come out. I know I have made this comment before, but I am always so moved by musical performances that rely on only the body in contact with the instrument: hands on keys, keys connecting to hammers, hammers hitting strings or arm moving bow, bow connecting to strings, and both coming through sounding boards of wood and/or metal. No electronics needed. Of course I also enjoy and appreciate contemporary electronic music. It is just the timeless quality of acoustic music that moves me in a particular way
---
Review of Los Golondrinas for Tripadvisor
(We liked it)

We are now in our early seventies. Gosh, when we started writing online about our travels we could say early fifties and we thought we were old! Well, we have slowly learned that the readers need information, not opinion, so I will do my best. We stayed for a week in February. It was recommended by a retired travel agent whose son lives in the area. She thought it would be a good budget hotel and she was right.

As noted here somewhere on this review, it was quiet.




The service was excellent. They spoke English to me but allowed my wife to practice her Spanish with them. They got us cabs when we needed them. All with no airs.

We didn't eat breakfast at the hotel. We were told by other guests that the coffee was weak. Now this is an example of an opinion that is worthless to you. I recommend trying breakfast at the hotel once and deciding yourself. If you go out, Raice, across the street has a terrace with a view over the rooftops to Santo Domingo. Cafe Cafe and Sho are within two blocks. We went back and forth among the three of them until we found the one we liked.

Location was good. We could walk straight west to Santo Domingo in five minutes and then straight down the pedestrian-only street to the zocalo without living in the tourist part itself. From the hotel we could choose different routes to places and chose how many street vendors we would encounter. When we are in Paris we stay in the outlying arrondissements because we feel it is more Paris, more children than tourists. In Oaxaca you can tell when you are in the Centro, because the street lights are brighter. The hotel is right on the edge. We felt totally safe. (Again, another nearly worthless opinion.)




The room is simple with two beds that we pushed together. They provided two plastic water bottles. They encouraged us to refill them at the desk which we did through the week. The shower was hot. Solar heated with a propane backup for the room.

We met a lot of Canadians when we were here. Some have been coming for twenty years. We got a sense that the hotel is its own neighhood.

Restaurants you might try: In the neighborhood, Don Juanito, recommenced by the front desk when Dawn wanted a bowl of chicken soup. Also Quinqué, we had a plate of the day for 60 pesos that I think everyone would like. If you are east of Santo Domingo, Xiguela is an organic place with good coffee. Brujula is now a coffee chainette. The one on the side of the hill where the tent theater is a ten minute walk through an ordinary neighborhood, and it was a surprise. Dawn had said "I want an iced mocha" and google maps pointed to this place. My iced cappuchno hit the spot in the middle of the day.

I agree that the hotel is more charming during the day than at night. The economics of low cost housing demand the use of CFL's to keep costs down. We carry a flash light that doubles as a low light fixture.

So come to Oaxaca, I think it will astound you if you haven't been here before. Stay at Las Golondrinas, all the surprises will delight you.
---