I have decided to divide our month in Oaxaca into two different web pages. It has gotten too long to edit easily and I think the downloading time might be getting a little long. At the top of the page are links to take you to any of the now six pages of this trip. Below, I am repeating our sign off to the fourth Travelogue section. The restaurant section is on this page, moved from the other one.
---
At This Point We Have Sent Out the Third Traveloge Notification
---
Another String Quartet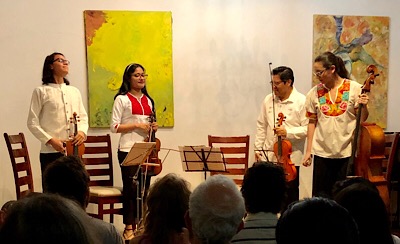 Dawn:
La Familia Cruz
We returned to the same small venue where we heard the violin and piano concert during our February week here. This one was a family affair. My Spanish was good enough to hear that the first piece was written by Mozart when he was in Venice at age fourteen, and that the first violinist in this group, his son, was also fourteen. Papa played the viola, and an older daughter handled the cello quite beautifully. The second violin was played also by a teenager,but apparently not a Cruz family member. They also played a challenging piece by a Mexican composer, Miguel Bernal Jiménez. After intermission, they played the famous Borodin quartet which boasts some very lyrical melodies that were used in the Broadway show
Kismet
for the songs
Stranger in Paradise
and
This Is My Beloved
. Being the age I am, all those lyrics kept singing in my head.
The concert was very moving, hardly perfect as the young man had some pitch issues, but so moving to see these young folks take on the challenge and play as a family. Apparently there will be another concert later this month adding Mom at the piano.
---
Stephen: I sat next to a woman from Cambridgeport, MA who was a cellist. I could tell because she was making sure she would be able to see the cellist as she was selecting her seat. I payed close attention to the cellist and this helped me really enjoy the concert as she played beautifully especially when she played with her father on the viola. She seemed to be holding the group on pitch as well as she could.
---
Return to Works by Rubén Osio -
Rock Art Trapeze Artists Posing for Their Photos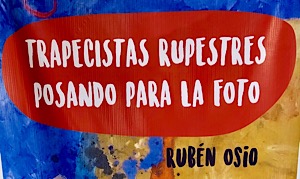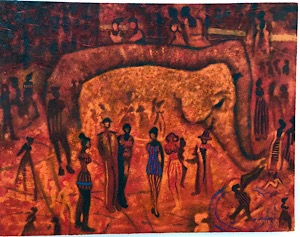 We talked about going to this opening on the previous page. I took these pictures when we returned to the gallery to see the rest the work. Now that we have properly translated the name of the exhibition, the work makes more sense. Good stuff.
---
Monte Albán
Dawn:
Monte Albán is yet another amazing relic of Mesoamerican civilisations. I will let the photos mostly speak for themselves. If you are interested in lots of historical details, you can research it on the Internet.
Wikipedia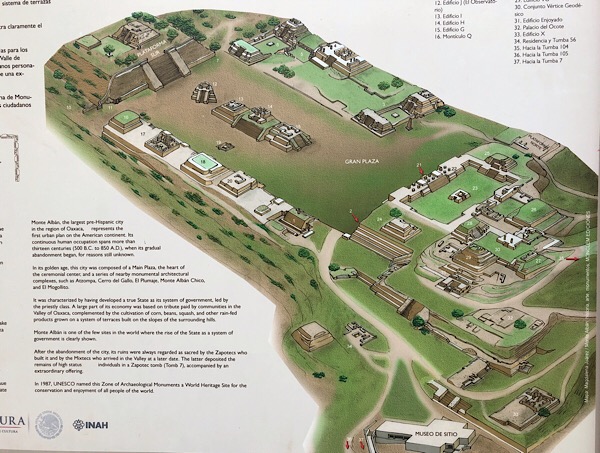 We decided to get there early and on a cloudy day to beat the heat and hte crowds. Up at 6:30, we took a city bus to the other side of town, then walked to the Hotel Rivera from where the prepaid shuttle van would depart. It was a short, but slightly harrowing, curvy drive up the mountain. We skipped the museum because it was packed with groups of school kids and headed out to the ruins. Although smaller than Teotihuacan or Chichén Itzá (visited in 2015), it was mighty impressive.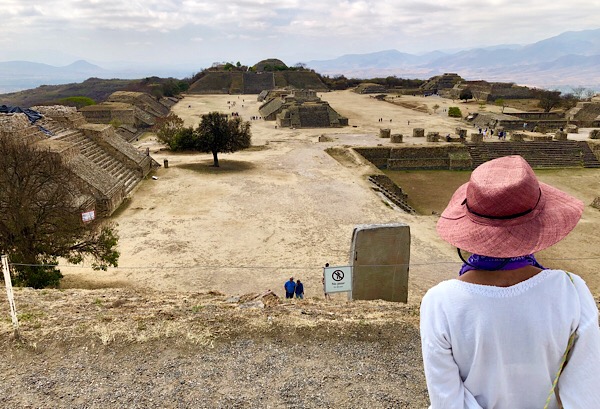 It was great to be there with almost no one else around and the weather cool. Certain areas were affected by a 2017 earthquake and are currently inaccessible.
The ball court. It looks like it has seats on both sides, but they are actually an understructure for the plaster coating that created smooth sides that were part of the game. You can see some of it on the right side ramp. The ball could be sent up there to roll down somewhere else. Surprisingly, all parts of the body could be used to propel the ball, except the hands and feet!
Still, standing amidst these mighty relics of temples, tombs, the pelota ballgame courts, and homes, I get why people are fascinated by archaology. There are areas still unexplored here. They have dated the structures from five hundred years BCE to seven hundred and fifty years CE. So it seems that many groups and civilisations have come and gone here. No one has made a convincing speculation as to why the site was abandoned.
As you see in the photos below, some of the engravings are outstanding and still in good shape.
The above figure, call a "Danzante" was originally thought to be a dancer, but now it is believed to represent a tortured and perhaps mutilated figure.
---
(
top
)
Mescal and Other Drinks
The Twenty-five Cent Tour
Mescal has reached out and captured the hearts and souls of a number of Norte Americanos. You can see why. It is a simple affair consisting of gathering the agave plant, pruning off the leaves, cooking it underground for some days, grinding it up, fermenting it, distilling it, collecting it and drinking it with your family, your village, for festivals, for good times and bad times. It tasted of the place where it was made. Different men rented the same palanque to make mescal and course they created different tastes. People believe that you could drink it without getting hangovers.
Men who came from afar, maybe five hours on a bumpy dirt road, drank in these villages, felt accepted, felt initiated and wanted to share their experience of this spirit with the rest of the world. Is this possible? Maybe, but I think not. Telling the story always becomes marketing, although I admit it is a lovely story and it is a lovely drink. It can't save us from the emptiness that can creep into our lives. It can't take us back to some good old days. I have gone to seders and been stunned by particpating in five thousand years of history. That is a reasonable percentage of the whole life span of Homo Sapiens, our species, but it doesn't make me Jewish. I think we have to find our own drink, our own festivals and our own family and friends.
Below, you can find parts of our attempts to understand all this.
---
Stuff Moved or Copied from Restaurants and other places
Ancestral Restaurant - Aged Mescal
I am going settle down behind a glass of mescal reposado which my phone translates as restful which actually means aged. The mescal below it on the menu the phone translated as with worm and I was happy to pass on it. When the bartender brought my mescal, he brought the bottle and an empty glass. He poured a little in and asked me to taste it. I did, nodded and he filled the glass.
From:
www.mezcalreviews.com
Don Amado Reposado is aged for six months in barrels that formerly held Pedro Domecq Mexican Brandy. This mezcal has notes of fresh lime, green olives, peppercorn, green tea, and minerals. The barrel aging gives it strong flavors of sweet oak and caramel
This is a comparatively inexpensive and simple mescal. The barrel aging takes away some of the taste of the agave that some people feel is very important. But I enjoyed sipping it while I wrote.
---
Archivo Maguey - High End Stuff
Dawn:
As many of you likely know, mezcal is a big deal here. Stephen wanted to find an "authentic" place to try some. Apparently, for some tourist tasting tours, the drinks get watered down. Not here! The menu sports several symbols that indicate smokey, earthy, citrus, mineral, bitter, fruity, etc. I tried one that was marked mineral and citrus and was made from wild, rather than farmed agave. All mezcals have some smokiness because of the way they are made. This one was less smokey, and I enjoyed it, although I have to say that mezcal in general is not my favorite beverage. The alcohol content is pretty high (can reach 55%), as was the price compared to other things in Mexico, so one drink was definitely enough!
Stephen:
What really worked were the mescals. I had a Barril and Dawn had the Mexicano. They were both very nice and very different from each other. The names refer to the type of agave (or maguey) that the mescal is made from. If I were to go some place to seriously drink some mescal, I would need to find a place where they speak English. But as the trip goes on, I have less interest in an serious investigation into this simple but now complicated spirit.
---
Pitiona - the Lost Mojito
Stephen:
We are here for Dawn's birthday and I order a margarito, a cocktail with mescal and lime and Dawn orders a mojito. When they arrive, mine has a line of red salt around the rim which adds a nice bite to the drink, but Dawn's doesn't seem to have any alcohol. She has been through this before at the beach near the beginning of this trip and doesn't want to go through it again so it is up to me. Our waiter doesn't speak much English so I go out to the front to speak to the woman who seated us to see if I could speak to the bartender. Her English was minimal but she said "Follow me" and we went back to the table. A young man was delivering to us a small appetizer of pea soup in a mescal glass. He seemed to speaks a little more English so I enlisted him into my cause and the three of us processed back to the young bartender. Once we got there, I released the woman so she could return to her post. What I wanted was have the bartender taste the drink to see if it was properly made , but he quietly began to make another. A dark brown liquid in a small bottle came out onto the bar,. My translator got a spoon and poured me a small taste. It was molasses, the sweetener of this version of a mojito. He muddled the mint leaves in the molasses, all very quietly, and as we watched he added the rum and then the ice, and a little soda water from a fresh can. He took off an excess ice cube, stirred it, and pushed it in my direction.
The moment of truth had arrived. I tasted both drinks and they were totally different. I indicated that they should too. My translater took a sample of the first drink using a long spoon, pouring it into his palm and tasting it. He then did the same with the newly made drink and by his face indicated that he agreed with me. Now it was the bartender's turn. He did the same thing with the spoon and he was quite shocked by the difference. My campaign was over and victorious. I took the drink back to the table where Dawn was guarding our smoked salad and you will have to find the rest of the story under "Restaurants" further on in this travelogue.
---
Beer - Cervesa
Minerva IPA, the purple label somehow foreshadowing the flavor, flowery but earthy at the same time. Later with the marinated duck taco, the flavor really gathered itself together and even Dawn liked it.
---
(
top
)
Challenges
Dawn:
Living in another culture is a wonderful, mind and heart-opening experience. At the same time, it is not without challenges. The "tourist" part of being here can get exhausting. We were both wiped out after all the walking at Monte Albán and then more walking back in town. From the hotel where we were dropped off we walked to Boulenc for lunch and then to the gallery to revisit the works of Rubén Osio and finally back to our apartment.l
Stephen has noted some of the sounds of Mexico. It is a noisy place! The bottled gas truck is the most obnoxious with its loud recorded "moo" and loud announcements. It passes our place several times a day. There is a whistle from a guy selling sweet potatoes. The others are mostly real human voices which are a lot gentler to my ear, and they have a certain charm: agua, tamales, elotes, nieves. That loud cowbell that rings for trash at 6:30 a.m. Tuesday, Thursday, and Saturday sounds like it is in our bedroom! Also, the dogs get going several times a day and night! We have a lovely apartment here, but being on the ground floor sometimes feels like we are camping in the middle of the street, especially if the windows are open.
Then there are the stray dogs. There is a brown one that visits our neighborhood that is so skinny it is heartbreaking. I have started feeding him, but I don't think the neighbors like that. First I put out plastic containers, one with water and one with dry dog food. The containers disappeared pretty quickly. So now whenever I see the dog, I grab the dog food bag and spread some directly on the sidewalk where he gobbles it up. Clearly, he now recognizes me and perks up when he sees me. But what happens when I leave? What happens to all the other street dogs? It's not that Mexicans don't like dogs. There are plenty of well-kept canine pets in this area which seems to be a mixed income neighborhood with some very classy, modern houses and some shacks. Estamos en México.
Then there are the street kids. I had been giving coins to children begging in the street, and then asked Madai, our Airbnb host, about it. I know that in Paris, there are (allegedly) gypsies who somehow capture kids into service. The children are not treated well and don't get any of the money. Madai said there is a similar racket here, and that it would be better to give the kids something to eat. We have an appointment tomorrow with an organization called Oaxaca Street Children. They raise funds and provide education for many of these kids. Maybe I can volunteer there a bit and get some advice on best practices for the street scene.
Well, unfortunately I had to cancel our appointment with Oaxaca Street Children because I had a serious case of "Montezuma's Revenge." It actually started two days ago, but I felt enough better yesterday to enjoy a birthday dinner at Pitiona, a more upscale place than usual for us. Well, it turns out that I am not better, and was up most of the night (will spare you the details). Stephen just went out to get me some anti-diarrhea medicine. Let's hope things go on the upswing from now on!
---
(
top
)
Another Night Out
Dinner at Cabuche
Stephen:
Dawn was on the upswing and we decided we would go early to Cabuche for a chicken pozole (soup) for Dawn and a fish tostada and tongue taco for me. My margarita was not as perfect as the first time we were there, but still good. Our table was in the front this time and this exposed us to street musicians. The woman seated next to us took care of the first, a boy playing a harmonica, and we took care of the second, a man playing a guitar pretty well but singing not so well. While he was playing, I got some change and the waiter knew what to give me so I could give the musician the right amount.
---
This is the performing space that was pretty full a half hour before the concerts have been starting. Tonight we were really early, an hour, so after saving two seats in the front row, we took a look around. Where the muslim prayer hats had been hanging, some paintings were just about finished being hung. In the back gallery were photographs of the people in the surrounding villages. They were very soft focussed as if they had been taken with a Kodak. This tim we got a chance to see the room with the arches. It is a function room as one can see by the coffee urn and was occupied the last time we were there. It was a reminder of how much design we see here in Oaxaca. Everywhere we go, we walk into or see from the street, beautiful spaces.
---
He played very quietly. It was raining and we could just hear him. At intermission, a woman asked me whether I was hearing anything from the speaker that was near me. I told her no, but the mics might be for the video recording, not for the public. In one corner, there was a large flat screen set up, perhaps for a coming event. But he was quiet.
---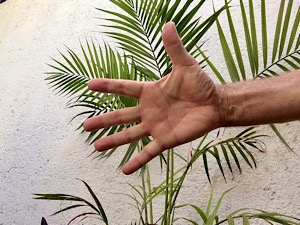 I remember the hand against the back. I could feel it curved around the spinous erectus muscle below the shoulder blades. There was curley gey hair. There was a push. I remember returning to my plastic chair without making a sound with my shoes or the chair. I was awash in adrenaline. My heart was pumping.
His cell phone had gone on behind me and there was those seconds while the owner thinks it is someone else's. Finally he found his phone and answered it and began to speak as he got to the end of the row. Once he was free of the row and a few feet away, he slowed down and talked as if he weren't going to leave the room. The next thing I remembered was feeling my hand on his back and slowily pushing him from the room. The half uttered English word, "Leave" was stuck in my throat as I realized he might not understand. It was like a dream. All I could really remember was my hand on his back. I have no recollection of thinking about anything or getting up from my seat. I had felt so protective of the quiet music. His cellphone had been louder than the guitar. I was awash in adrenaline. My heart was pumping
---
Another Guitarist in the Same Space
Stephen:
I will try to make this quick. He started with a Villa-Lobos where the other guy finished with him. Naiem played crispyly with more volume but wasn't as deeply personal as the Mexico musician. Naiem, from Iran, started his musical training at the age of twenty-two in the United States. This night we had to deal with the permanent installed fountain (the previously mentioned flat black pane of water on the floor in the middle of the audience) which occasionaly gurlged away with too much enthusiasm.
---
A Social Saturday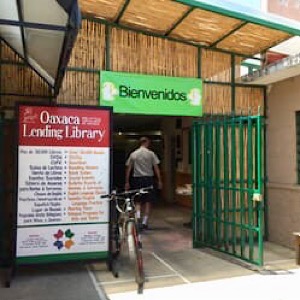 Dawn:
I went back to the OLL (Oaxaca Lending Library) for my second Saturday morning of Spanish/English conversation groups. This is a very popular program. The first time I went, I got there half an hour before it started, and met two lovely Mexican ladies of my generation. They decided that we would form a conversation group that day. The idea is that every small group of three or four spends an hour "speaking" (in my case, bumbling) in Spanish, then an hour speaking English. Ofilia and Lilia were patient and helpful to me. The topics of conversation can be anything the group wants. We spent most of our time in both languages talking about travel. They were both born in Mexico City and love to travel. They asked what countries I had been in, where else in Mexico, etc. Ofilia, who looks about a decade younger than Lilia and myself, will soon go on a tour to London, Istanbul, and Greece! It seems like an odd itinerary but must have something to do with competitive airfares. They could not attend the conversation group this past Saturday because both of them went together on a five-day trip nearby.
So this second Saturday I was truly the abuela, grandma, of the group. Caroline was 26 and wanted to improve her English to become a nanny in the States. Lisbeth was in her twenties and wants a career as a tour guide. Hence her desire to learn English. At fourteen, Diego is an only child and wants to master English so he can attend a "prestigious" college in the US or Canada, become a "professional" (no idea what kind of professional yet) and "make a lot of money!" The first question he asked me in English was, "How old are you?" I laughed and taught him the English expression, "Never ask a woman her age." However, I did tell him my age, then asked the others theirs. Caroline had to leave after an hour so we did a half hour in Spanish and a half hour in English. After Caroline left, another young man joined us. He was born in LA of Mexican parents, but soon came to Mexico to live with one of them after their divorce. The conversation was wide-ranging, and I do think their English was better than my Spanish. Still, when there was a lull, I felt like a teacher again, coming up with questions to stimulate conversation: What you do for fun? Answers were video games, American rock and pop music. Since there is so much free classical, chamber and jazz music here, I asked if they went to those events. Pretty much, the answer was no, although Caroline went to a piano/saxophone concert a couple of weeks ago. They seemed to think that mostly Gringos went to those concerts, but my observation has been that it is about half visitors and half Mexicans.
I told them how expensive most concerts were in the States and that this was really a regalo, a gift, for them, and they should try going sometime to see how they like it. Then I remembered that I regret not getting my own children to many classical music events. Three of my grandchildren have studied piano, but they don't get to many classical concerts either. I do remember, however, that when my son Adam and I went to Spain/Portugal together when he turned 25 and I turned 50, we enjoyed going to The Messiah in Barcelona and the symphony in Lisbon. I wonder how much the proliferation of electronic media has detracted from young people's attendance at live events.
---
The Monk
Dawn:
After the library, Stephen and I went to the organic market not far from our place. Stephen spotted a man of our generation sitting at a small table and wearing the unmistakable garb of a Buddhist monk. So we ambled over there and asked if we might chat with him. He was American and started his Buddhist studies at age nineteen in San Francisco with the late, renowned Suzuki Roshi. He is now part of a sect that we are not familiar with, Kadampa. We mostly talked about the nature of mind, a core Buddhist topic that is challenging to wrap one's mind around, that is if one had a mind! Anyway, he leads a meditation on Friday evenings so we may go.
Stephen:
I have this idea that learning to follow the Buddhist path is a little like learning to run a marathon. Everyone would learn it differently and do it differently. Some would want to win, some would like to improve on their best time, some would just like to finish. And then there would be all these different bodies types and different levels of fitness. Then there is a world of different courses. Could the same coach teach all these aspirants? No, coaches are problably locked into one or two systems and it would be the runner's job, with no understanding marathons, to find the right coach. Difficult, so don't be afraid to bumble around when you are looking for a way.
---
Sacha and Karen
Dawn:
Later the same day, we were sharing a beer on our rooftop garden when the new second-floor tenants came up and joined us. I think they are our children's generation. Sasha is a handsome, bearded Australian currently living in London with Karen, a lovely woman whom we believe is British. They have taken a year off from work to travel extensively. Their adventures make us look pretty timid! India, Sri Lanka, Viet Nam, Japan, New Zealand, now Mexico. I am not sure what is next for them, maybe the US and Canada. They are studying Spanish here in Oaxaca, reminding me of our time at Escuela Mexicana in Guanajuato five years ago. We had a great conversation and seem to keep running into them in town!
Stephen:
They now have the link to this travelogue and I hope that I don't embarrass them when I say that they are the definition of lovely people. We have invited them to stay with us if they hit Boston. Look for us at the Grotto in June.
---
Centro Esperanza Infantil/Oaxaca Street Children
My health improved dramatically so we met with Peppo on Monday instead of last Friday at Oaxaca Street Children's volunteer center. As mentioned, we found this organization because of my distress around the number of children begging or selling trinkets or apparently working for adults in the street. This is a fabulous organization, founded by an American couple but run by Mexicans and Americans. I urge you to check out their website:
In a nutshell, the same concern for street children lead a woman to start with one child/one family and help that child go to school. Now the organization sponsors about 650 children, from kindergarten through the university level, recently boasting their first "kid" with a PhD. For $250 American dollars, a student can have tuition, supplies, two uniforms, two pairs of shoes, a backpack and hot lunches for a full year of school attendance. The center also provides extra classes and tutoring as well as arts, music, and computer programs through volunteers. Many of the children come from surrounding poor villages. There is an ethos of community service in most of the indigenous pueblos. Hence, the older children and their mothers help in many ways at the center, either with cooking, maintenance or tutoring younger children. The organization is a non-profit 501(c)3 in the USA and has equivalent standing in Mexico. We will surely send a donation, likely a sponsorship, when we get home.
Meanwhile, Peppo is a very interesting guy, Italian by birth. He has lived and worked all over the world, including a pizza business in Mazunte, on the coast near where we were. He got tired of the surfer culture, came to Oaxaca and started volunteering at the children's center. Now he is the primary administrator, volunteer coordinator, computer skills teacher, etc. We chatted with him for a fascinating two hours.
Stephen:
A little more explanation of community service in the outlying communities of Oaxaca: All the positions of the town are done by volunteers. This means the mayor, police officers, festival dancers are all volunteers with terms around three years. So there are no elections. I guess people are just asked. This is our understanding up to now. This is not an easy thing to check out on the internet.
---
Museo Belber Jiménez
Stephen:
It is a little like someone's dusty attic. There is lots of stuff, jewelry, sculptures, clothing with not a single label and a store unlike any store at a museum you have ever seen. It could be an antique store, but not quite. You could grab almost anything in the store and take it on to "Antique Roadshow" on PBS on US television and create an uproar. Everthing is unusual and expensive. In the cases, some of the small pieces seemed to have moved because they were lying next to "shadows" of themselves, created by dustless areas where the piece had been. I surmised perhaps the eathquake of 2017 had moved them. But nobody moved them back. A little like "Twilight Zone", another US television show.
The back story is that the collection is from a couple, the husband a designer, the wife an anthropologist, now 95 and 85 years of age, who for fifty-one years lived for a month in a different country and bought stuff. He also designed much that was in the collection but did not make any of it.
---
Riding the busses
Stephen:
As far as we can tell, different companies own the busses and rent them out to the drivers who are now independent contractors and who compete with each other for passengers. No insurance, maybe some hit and run. We guess at what business strategy they might be employing on any particular trip. Maybe, if you are empty, drive slowly, if full, go like a bat to get your next run started sooner. Charge the clowns to work the bus. Who knows?
Dawn:
At eight pesos a trip, it is a pretty good deal. There is usually a guy working for the driver who hangs out the front door or window and shouts to get people to board his bus. The vehicles themselves are mostly old and rickety, but the individual drivers often retrofit them with music and strings of colored lights that pulse with the beat. As mentioned, the clowns do their bit sometimes. When you want to get off, you jiggle your way to the back, holding on to something at every moment. The guys drive fast, try to pass other busses, and slam on the brakes. When you push the button at the backdoor to exit, the door opens while the bus is still moving pretty fast. When the bus does stop, it's three steep steps down and a leap to the sidewalk. Phew!
---
The Trip to Teotitlán
Stephen:
This tale takes place over two days. The first, a Tuesday, was a gigantic fail. We were told to go down to the baseball park and take a colectivo. It would say Teotitlan on the windshield. For twenty minutes or so a flood of taxi-colectivos poured by us, each with some other destination proclaimed on their front glass, each driver waving his fingers, telling us how many seats were available. Finally, we saw a couple go by with our destination but they were full. We gave up and walked back to our place, buying some yoghurt to get change for a city bus. We also talked to a taxi dispatcher who sat next to her taxis in front of the hospital. She said 300 pesos ($15.50) for the trip one way. We had a breakfast date with Richard the next morning so we decided that on Thursday we would grab a taxi out there.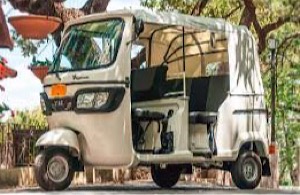 Thursday arrived and the trip out there went as planned. But, we didn't have any plans for how we would get back. We asked around and heard about a bus stop. It left on the hour and it arrived right at 2 PM but he said he would leave at 3 and drove off. At 3, then 3:15, no bus. So we started some kind of negotiation to get a colectivo to take us to the highway (the Crucero, cross, intersection) where we could get something to take us back to Oaxaca. A guy in a "tuk tuk" overheard our conversation and said he could take us for 20 pesos. A tuk-tuk famillar to travelers in Southeast Asia is that white, three-wheeled, two stroke engine powered cart on the right. Below are Dawn and Stephen looking like they are riding in another cessna.
We jumped in and headed out to the highway. When we arrived we asked 'Now what?" and he pointed to the bus just pulling in with a big OAXACA sign on the window. We got in line, paid another 20 pesos, got two seats and rode back to the baseball park in Oaxaca. Another twenty minute walk took us home. That walk in the heat of 4 PM is what took it out of us.
---
What we did in Teotitlán
Dawn:
We got there by 9:00 a.m. The mercado was buzzing, but it was too early for us to buy food or anything we would not want to carry all day. The new, modern Centro Cultural looked great, but the library did not open until 10:00, and it wasn't clear what else was there. The community, historical museum was in an older building and opened around 1:00, although the sign said it would open at 10:00 a.m. For ten pesos each, it was an interesting look at Zapotec history and prehistory, and had a great video of the traditional dance, la Pluma. Earlier, we had seen young men practicing this dance in the church courtyard. It is a challenging combination of hops and turns on one foot, mchoreographed spatially in geometrical formations. The headdresses weigh five kilos each.
We love the Zapotec rug that we bought in San Miguel four years ago and were curious to visit the weaving town where our rug-weaver came from, Teotitlan. However, we were not about to buy another rug. That made our visit a bit weird because most gringos come to this town specifically to buy directly from the weavers. Their work is really beautiful. We visited several artisans and spent quite some time with two adjacent weaver/vendors. He demonstrated working the loom, and she carding and spinning the wool. We ended up buying a woven, striped bag in "my" colors. How practical it will prove to be, I am not sure, but I guess we felt we had to buy something. We also put something in señor's tip box.
Stephen:
I think if it doesn't work as a purse, we can hang it on the wall.
The rug from four years ago with Hilario.
---
Samaritana
Stephen:
We got a message from Madai, our AirBNB host.
Hello! Tomorrow is a traditional day in Oaxaca. We celebrate "Samaritana Day" which is special because it Is just here in Oaxaca....so, tomorrow take a glass with you AND enjoy the Centro, start at midday and the restaurants, hotels, stores will be giving free flavored water of different flavors, you must try the "horchata". I am sure that you will enjoy it.
Thanks!
Horchata (pronounced or-CHAH-tah) is a Mexican drink made with rice and is flavored with cinnamon and sweetened with sugar. The rice, sometimes along with some nuts or seeds, is ground and mixed with water to make a milky looking drink.
Dawn and I had the same feeling simultaneously. She said it and I nodded in agreement.
"I feel really good about Oaxaca today"
Oaxaca is a friendly town, but today was over the top. It was as Madai said, but more. A woman passed by us on the street and stopped to explain the day and that Oaxaca was the only place that it happened. It seemed that much of the town was in promenade mode. An aside: Today, we are the ones who were asking for something and then being given it. I thought the the drink sellers might take the day off, but at the juice seller in the market Sanchez Pascua there was a long line of customers waiting to buy.
---
El Otro, a contemporary dance concert, Rolando Beattie Ensamble
Dawn:
Last night we went to see a performance by the dance group we had encountered in the street when we were in Oaxaca in February. It was quite beautifully produced. Two projectors created a video environment on the stage floor and on a scrim halfway upstage. Red chairs were aligned on either side of the stage, facing in. Eight dancers in white interacted in an abstract geometric, mostly black and white video space. The sound began and ended with metallic, clinking sounds. However, most of the dance was performed to a recorded, orchestral version of Stravinsky's
Rite of Spring
. Much to my surprise, there was no program credit at all for the music or sound or light design. Performing to a piece as well known and oft-choreographed as
Rite
was a bold move, but to give no credit is, well, shocking to me!
The dancers moved beautifully, very much influenced by contact improvisation as well as classical technical training. Their movement was as curvilinear and sinuous as the projections were angular and rigid. That contrast was fine. At the same time, for me, it felt like too much ice cream. The choreography could have benefited from more punctuation, moments of stillness and even an occasional unison effect. The constant flow of lifts, falls, and lyrical limb and torso movement was physically luscious and satisfying, but after awhile, the piece cried out for a greater overarching shape. There was an intensity, appropriate to the music and the idea of sacrifice inherent in Rite that was amplified by the addition of red into the black and white videos and the red chairs and carpet at either side of the performing space.
---
Urgencias y Funerales
Dawn:
Every day, leaving and returning to our apartment, we pass a large crowd overflowing the sidewalk at the gated entry to the emergency room at the hospital. Backpacks are hung on the gate. Food vendors provide sustenance for folks either waiting to be seen, to visit, or to bring food to patients inside. According to Madai, security has been tightened since someone wearing white and masquerading as a nurse or doctor stole a baby from the hospital. Every day we also pass a conveniently located "funerales" business with its fancy, expensive coffins on display through the open door. They open at odd times, presumably because they receive information from the ER, or families, when someone has died. Death seems to be a more accepted part of life in Mexico, with Day of the Dead , November 1, an important occasion.
---
If We Return...
Study way more Spanish before coming.
Find a way to be more social.
Invite some people to join us.
Find a volunteer job.
Prepare a project
Buy more flowers
Take more taxis, especially at the end of the day.
Visit more galleries.
Find one local coffee shop.
---
Odds and END
Dawn:
We got to a couple more live music events this past week, including the full symphony orchestra's excellent rendition of three crowd pleasers: Rossini's overture to The Thieving Magpie, a Rachmaninov piano concerto, and Smetana's Moldau Symphony. Phew, again free entry. We also returned to the small venue and paid for tickets for another chamber performance by the Cruz family. This time the fourteen year old son was managing box office and not performing. Sad to say, the adults didn't seem up to par. Pitch problems from young, up and coming students are certainly forgivable. The same issues coming from the teachers are a little harder to accept.
Today we decided we had to buy a few alebrijes. These are fantastical carved and painted wooden creatures that have become an artesan tradition. In Oaxaca. Pictured are two that live in our apartment. What we bought are much smaller. Curious readers can research their history on the net! We need to wind this up and get up early for our flight to Mexico City, then Boston.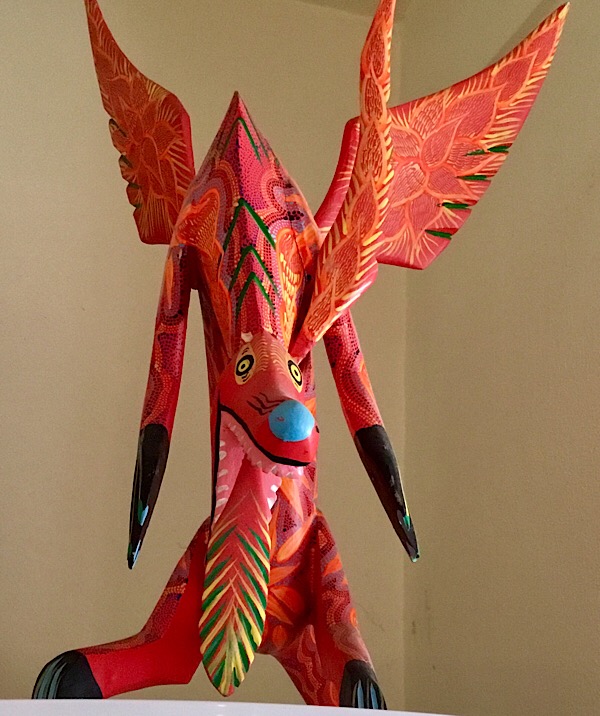 And here's a nice picture that Stphen took wandering around while Dawn was speaking Spanish at the Lending Library.
---
End of Main Travelogue. Our comments about and in restaurants follow.
---
(
top
)
Restaurants/Bars/Coffees
Ancestral - 3 Times
Stephen:
We stopped in to the restaurant and decided instead of coming back for dinner that evening, we would return the next day for lunch. It seemed like a place that might be better in the daylight. It was very nice, but somewhat expensive because we ordered two moles. Dawn's was green over fish and it came with beef marrow that was scraped out of a bone sawn in half at our table while we watched. It was kind of gelatinous and after a bite each we left the rest. My black mole over chicken was okay but if we go back, I will get something else.
---
Stephen:
Well, I am out on my own at the Ancestral restaurant. Dawn has decided to take a break to rest her stomach. Tomorrow, we are going out for her birthday and she wants to be operating at full steam. I got myself a nice cucumber mescal cocktail and three memelas for my supper. Later, I wrote Dawn a birthday email. Other details above at Mescal and Other Drinks.
---
We came back a third time and I had some things I didn't really know what they were and Dawn had the same.
Above is my meal.
Click here if the video doesn't appear above
Obviously, she didn't have the same, but we were both surprised when he brought out the broth in a calabash bowl and then placed two very hot rocks in, added the fish and shrimp and told Dawn to wait four or five minutes. All was accompanied by the singer in the background. He was in the background, sitting across the room with his boomerang and other electronic devices at his feet and not standing next to our table.
---
Chepiche (Twice)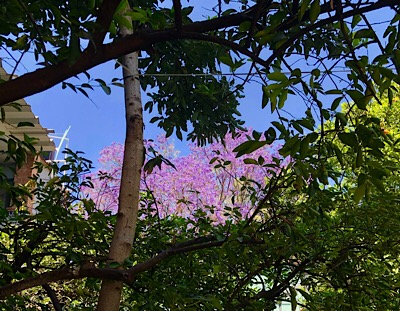 Stephen:
The view from Dawn's seat. Now, This place did knock our socks off. We came for breakfast, maybe a three minute walk from our place, in business for maybe three months. My breakfast (really a 1 pm brunch) was two poaches eggs, over refried beans wrapped in hierba santa, a green that I have read about, but never tasted. All in a tomato sauce, with fried plantains with a dollop of cream on top surrounding my eggs. Every mouthful had a new and wonderful flavor. My cappuccino was spectacular. I will be back.
---
We came back on the holiday and the place was full. She said thirty minutes so we took a walk in the neighhood. We came back in twenty minutes and were being seated as my twenty-five minute timer went off. My breakfast/brunch was two eggs over nopali cactus pads with bean sauce and a salad on the side.
Dawn:
I had blue corn/blueberry pancakes with a raspberry compote on top with maple syrup on the side. The lavendar blooms are Jacaranda. These trees have been blooming all over town for weeks now. Spectacular!
---
McCarthys Irish Pub
Stephen:
Writing away in an Irish pub, the day before St. Patrick's Day, waiting for Dawn to finish getting her hair cut.
Things are different here. Ther're a bunch of guys running around in green kilts and big leprechaun hats with fake beards on their faces serving green beer, but being Mexico they are coloring the beer with fresh lime juice. I had a Guiness and am now working on my two-for-one Bohemia Oscuras. It is a big place. I am at the bar, inside, in the dark. At 3 in the afternoon it is quiet. I imagine tonight or tomorrow for sure the place could be packed. I showed the guy how to pour that Guiness, and later when I found out that this place was a large chain all over Mexico I wrote the home office and told them they should send out the instructional video from the Guiness Company to all their locations. They form said they would contact me. They haven't so far.
---
Boulenc
Stephen:
With first bite of my sandwich here, I remembered how much I love bread. I love the crunch, the smell the flavor, how important it is to a sandwich. We bought a baguette at its breadstore next door and a chocolate croissant for the next morning and returned to the store a few days later for another round.
Dawn:
OMG, the sourdough baguette was amazing, a rival for our favorite home bakery, Fornax in Roslindale. The pain au chocolat is hands down the best I have tasted outside of France!
---
Cabuche
Stephen:
Another great recommendation from Luciana. We made a reservation walking by on the way to the concert hall and rushed out of there before the encore to be on time. Pozole (chicken soup), fish tostados, smoked pork tacos, two great margaritas and a "Boy Stout", which the guy next to me was drinking so I got it, a Mexican stout. A couple of nights later we tried to get in without a reservation. No luck.
---
Escapulario
Stephen:
We got this off the internet. It was good. We shared a very tasty tlayuda. Dawn had a coffee drink and I learned never, ever to order a suero again, which is beer, lime and a ton of salt.
---
Archivo Maguey
Stephen:
The place itself seemed to be only half opened, the way your eyes are when you are drowsy. The tlayuda had lots of vegan greenery but was not that interesting. Probably we will not go back. Details above at Mescal and Other Drinks.
---
Return to Don Juanito
Stephen:
After leaving the Archivo, We stopped in at this restaurant. It seemed friendly by comparison to the Archivo, we had been here a couple of times during our first week. In the room beyond Dawn there were two guitar players performing. They improved as our meal progressed.
---
Pitiona
Stephen:
We were here for Dawn's birthday. Above in the stories about alcohol section I have written about getting Dawn's drink fixed. Now I will continue with the rest of the evening. Our salad was covered with a glass cover because it was smoked. After I dished it out to both of us, we discovered everyhing included the greens was embued with a smokey flavor. I was unusual and and very good. The salad also had the smallest carrots I have ever seen. I spent an afternoon volunteering at an organic farm once thinning carrots and that's what we were eating, thinned carrots. Just a tiny taste, but there it was.
Other tastes were scattered around the table. Pickled potatos and carrots (larger). Sauces of various piquancy. The pea soup that I finally got to taste. All was good.
Our main courses arrived. Dawn's fish with pumpkin seeds and a yellow mole sauce came on a thick wooden block and my duck with a peanut sauce was on a more normal plate. We oohed and aahed over the flavors as we traded forkfuls of our dishes. The portion were small but the food was rich so by then end we were satisfied and had some room for dessert. Near the beginning of our meal we were told that the drink menus were in Spanish and the food menu in English and this was true, sort of. The title of the dish was in English , but most of the ingredients were in Spanish. And when a word like "pore" is used, my dictionaries are helpless to translate it.
---
All this to explain that we can't tell you what was in the desserts.
Dawn:
Maybe because March 21 is not only my birthday, but also Benito Juarez 's birthday, they gave us an extra dessert with a candle in it. Thank heavens they had the discretion not to sing. Maybe they do this for all clients' birthdays. I don't know. Benito Juarez was the first indigenous person to be elected president in Mexico, and he is much loved and celebrated.
Stephen:
The waiter turned off the wall sconces to darken the room before he brought the desserts. We shared the them and the port that I ordered. When I asked for the wine list, he brought me an Ipad that lead me to exactly the wine I wanted through a series of menus. When I got to ports, there was only one, but it was made by Graham, a reputable mark, and it worked fine. The birthday cake was on the bill, but at zero cost.
---
After we paid our bill, very reasonable by Roslindale standards, expensive by Oaxacan ones, we walked back to the bar to thank our bartender. Then we walked up through the restaurant to the terrace with its view of Santo Domingo, thus revealing the weakness of the restaurant. It was too big. There might have been two kitchens, upstairs and downstairs. Inventiveness doesn't care how big the restaurant is, but the fine details of temperature and timing do. This is where the restaurant fell down a little. Still, we stopped by the kitchen to cheer them on.
All in all, we had a good time. Of course we try to have a good time whatever is going on. I think Dawn felt celebrated (and very happy they didn't sing "Happy Birthday" and I felt like a hero, rescuing her drink by pantomime.
We walked home, one of the few customers who arrived by bus and went home by foot. As we walked down our street, we got to see a 99% full moon peeking out through the clouds.
---
Yolis at the Comedor
Stephen:
A food court at the market. If we return to Oaxaca, we need to eat in places like this. Cheaper than the restaurants. The owner had a teenage son "helping" her, but really he was messing with his cell phone. She gave him the universal hand gesture to put down his phone and get to work. When I paid the bill, I said, again in my mediocre Spanish, that it is the same all over the world with young people. Her eyerolling expression said it all.
---
Biznaga - Snack and Dinner
Stephen:
This is a good beer. I drank two waiting for my duck taco. We came back for dinner. Very nice. Just kind of a calm space except when the fireworks were shot off overhead, but only for forty-five seconds.|
---
---
---