Getting to Cezac
Tuesday May 25
Dawn:
To go to France and not go to Paris seems weird. Yet that's just what we did this time. All we had was about an hour layover in Charles DeGaulle. Two days before, a roof had fallen at this same airport, injuring many people and killing several. The woman sitting next to me on the plane had said in a very thick French accent, "Bon Voyage in France, and I hope Charles DeGaulle does not fall on you."
"Yes. Well, me too, Merci beaucoup."
We had to take a bus to a different terminal to avoid the damaged one. There was very little direction as to how we should do this, a pattern that seemed to persist throughout our four weeks in France; things often seemed to unfold mysteriously. With about half an hour to wait, I dug out my old French phone card, saw that it would expire July 1
st
, and tried to reach my friend Malek. Finding a "cabine" that would take my old prepaid phone card was a challenge as most of the phones in the airport are equipped to take credit cards only. They don't expect travelers to have phone cards. Coin phones are relics that exist now only in remote little villages.
No answer; he was probably at work
Stephen:
Later in the trip, I convinced Dawn to make some phone calls herself to reserve B&B's, rather than relying on our innkeepers to make the call. I was looking for more information that would help me find the place on foot. We marched up to the phone booth in a remote village, card in hand, only to find it was one of these relics. Back to the Innkeeper, she was gone for the day, then back to the phone booth to use our only coin. We got the reservation, but no more details because we were cut off without another coin to put in. -
After about twenty minutes, we noticed that no one was waiting at our gate anymore, and there was a long line at the nearby gate. "Beh oui," they had changed the gate for the Toulouse flight without announcing it; or if they had announced it, it had been incomprehensible to us.
---
Stephen:
I don't think the gate was too nearby because I remember using my newly purchased binoculars to read the destination on the sign. It said Toulouse, and that was our destination, so we grabbed our stuff and slid over there. We had slept on the flight over and we got more sleep on this flight so we were pretty rested when we landed and were ready to face the car rental people. The woman at the counter was very nice but between the computer bugs and her inexperience it took a while. It helps not to be in a hurry. Finally everything seems to be set and we head out with there hand drawn xeroxed map of how to go north from the airport and our 5-8 year old maps from times that we were here before.
When we go to France or any country where they speak a language different than English, I nominate myself as the navigator and Dawn as the speaker. She has very good language facility and I am willing to go the wrong way enough times so that we eventually get to our destination. But I was going to need to sharpen my route finding skills. The trip from Blagnac Airport to Cezac near Cahors is easy, but some other parts of this trip will be more difficult with less room for error. We are going to stay for a week with Jean and Isabelle in le Lot, a part of France north of Toulouse. Delphine, their daughter, and Aude, her fifteen-month old baby will be there also. We will make a decision whether to stay in a new spare bedroom in the house or sleep in the renovated stable as we have done in the past. We will do little. Talk. Visit Ben and Deena to see how their house is coming along. Walk. Eat. Drink wine.
The week after that is undecided. We will ask advice from Isabelle and Jean. We are thinking about spending some time in the Camargue, a wild, marshy area at the mouth of the Rhone where horses may run wild and you see photos of bulls. Spending some time touring the Chateauneuf-du-Pape area north of Avignon has also become a possibility. We have five or so days before we need to be in Avignon. We have reservations at the Blauvac Hotel for two days that weekend so we can see the town which neither of us has spent any real time in. When we arrive in Avignon we will give up our rental car.
The following Monday, we are going to take a bus to Gordes, west of Avignon, shoulder our new back packs and walk from village to village for 12 days in the Vaucluse and Luberon, both parts of Provence in southern France. This is the part of the trip for which I have been planning madly for more than a month. Using techniques borrowed and adapted from a book,
France on Foot
,
by Bruce Le Favour, I have been cutting and pasting information from the Internet about 25 or so towns we might visit. The more planning we do, the idea goes, the more flexibility we will have. I have a tentative route planned out, a sort of reservation for the first night, one for the weekend and lots of e-mail and phone contacts we have made with hotels and chambres d'hàtes which are a semi-equivalent to B & B's in the USA. We know where we are going to start, but we don't know where we will finish, so we have some bus schedules and in some cases, rumors about bus schedules, so that we can get back to the Blauvac where they will have kept our suitcase, before heading back to Toulouse to fly back to the USA, not before visiting my favorite restaurant in the world, Le Capoul.
In retrospect, I should have arranged to fly out of Avignon, and I probably should have arranged a stop over in Paris. I think I had reached my planning limit, or really, planning the unplannable limit, and I needed some solidity somewhere, and in trying to get the best fare on the Internet, I plunked down two granite blocks on our schedule, one is that we will fly to Toulouse on May 24 and the second is that we will fly back on June 22, Tuesday to Tuesday. The rest will have to fall into place.
Also Paris is something that we had done and this trip was about balancing old and new. Dawn feels slightly guilty when we go back anywhere. She loves France, but she looks out at Africa, Asia and Australia and sighs. Her grandfather was an explorer and she has plenty of his genes, so I designed a trip looking for the new inside the old. This was our 4
th
trip to Cezac, which we love, but I wanted for it to be a springboard to a new part of France seen in a new way. Going to Paris at the end
seemed like a retreat from these ideas. But all this is in the future, as we motored up the A20, stopping to look at a Michelin map in a relais because the map we had was so old that it did not show the autoroute that we were traveling on and we needed to find the exit that we should take to Cahors. At home, we have a fast lane transponder on our car. In France, we had the next best thing, a credit card. When we needed to pay a toll, we went to a credit card lane, put the ticket in, it showed us how much we owe, put the credit card in, pulled it out, it said thank you and we are on our way. We made a stop in Cahors so that we could get some food and wine to bring to Baralou, the name of their farmhouse. We had agreed to have dinner there that night and we wanted to make some contribution to the event. Also, we needed coffee and milk to go in it for the following morning. We arrived about 5:30 in the afternoon with much greeting and kisses (twice as many as at home).
---
Dawn:
This time Cezac turns out to be a whirlwind of people, gatherings, and much re-attuning to listening, speaking, and thinking in French. Aude is adorable, testing out how steep a hill she can manage to walk down without tumbling. She takes immediately to Stephen, especially to his beard. Of course I had brought an updated supply of grandchildren pictures to show off, but being around Aude made me realize that four weeks would be a long time away from Tess and Sydney, at a time when they would inevitably make huge changes.


Isabelle has offered us the spare bedroom in their house which made us feel quite honored, but we opted for the stables across the driveway. Dawn is ultra-sensitive to mustiness and the bedroom had been closed up tight for quite a while. In a week it would have been fine. Also, the "ecurie" was closer to the bathroom that we would use and it had its own kitchen.
Isabelle would not allow us to help with her cleanup in the ecurie, and sent us out for a walk. Things had changed. There were new hiking signs and some kind of landing strip at the top of the ridge. The evening light was soft and the area was as green as we had ever seen it because of the unusually large amount of rain they had been getting.
It had been nearly seven years since we first had dinner in this house. A spring evening much like this one. A simple meal, soup, an entrée, cheese, desert, served to us just hours after our arrival. We hardly knew them then, but now I felt that we were being folded back into the family as we sat between Isabelle and Delphine. We dished out the responsibilities of wine opening and bread cutting and platter finding, but were not allowed to help in the clean up. It was still a dance of cultures as we mixed the way we do things very lightly into the way they did things, all softened with the talk of recent grandchildren and other catch ups and laced with plans for the coming weeks. It was late before the evening ended with sleepy good nights, a walk across the drive to the ecurie, more sleepy good nights and our first two days were finished.
Wednesday, May 26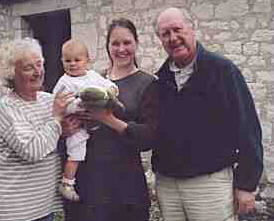 Stephen:
We had some trouble in the morning getting up to speed. First, there were breakers to find so that we could get the hot water in the shower going. I couldn't twist the knob on the propane tank to get the stove going so I was forced to use an electric coffee maker we had never used because the replacement carafe would not fit under the water dispenser. By partially disassembling the unit I was able to make it function and get us the coffee that we needed in the morning. By the time we went through yoga in the hot sun it was noon and the outdoor market at Cahors was finished, so we put together lunch and planned a walk.
---
Dawn:
We took a walk that we had never taken before by driving a few miles past Castelnau-Montratier, then parking at the edge of a little country road and doing a circle hike back to the car. It was a really nice "starter hike," with a bit of elevation, lovely views of the town of Flagnac, and varied terrain, from farm to forest. As we walked waist deep in grasses going to seed and I started sneezing, I realized that my allergies were going to hit hard here, a month earlier than at home because spring happens much earlier in this part of France.
We got back to le Baralou, after drinking a couple of Ricards in the square at Castelnau, in time to greet Jean arriving from a brief trip to Paris, with books and new laptop in hand. It was delightful to see him again as well as Isabelle and Delphine who had greeted us the day before. Jean is a font of information about the history, culture, and "patrimoine de la France." We looked forward to consulting with him and Isabelle about the next leg of our trip after leaving Cezac.
We tried to do a little yoga every morning there. It's lovely to practice yoga outdoors, but without our mats, and with the rocky and uneven terrain, and with my allergies (!), it was a bit of a challenge. That would only be one of many challenges that greeted us on this trip. Logistical, linguistic, and navigational challenges sharpened our ability to deal with the unfamiliar without being too attached to getting perfect results every time.
Stephen:
As the trip progresses, I begin to get good psychological results by remembering to think of this trip as a "mission exploratoire." Rather than trying to do this trip perfectly, I thought of myself just learning how to do it. My technique became to put us somewhere and see what happens. Also, I had been practicing yoga by myself at home for about five months. I always did it in the same place and used the same the same CD of harp music. Here I found it difficult to find my yoga center when everything was different, so a trip that I had imagined would be full of yoga actually had very little.
---
Thursday, May 27
Since we managed to miss the Wednesday morning market in Cahors, we drove back to the Carrefours, the huge supermarket, and got supplies for a barbecue that evening. We grilled salmon, aubergines, poivrons rouges, champignons, saucisson, and served fromage and melon, and of course, wine and beer. I had hesitated to buy the Moroccan melon, knowing how fastidious Jean is about eating local produce in season only, but the French melons weren't quite ready, the Moroccans were on sale, smelled wonderful, and after all, Morocco is not that far away from France, and historically it was quite French. Luckily the melon was perfectly ripe and tasty, and Jean didn't seem to mind consuming it at all.
Stephen:
Dawn did all the prep for our meal and I did all the grilling. The charcoal was quite different and it took me a long time to find it in the store. It seemed to be real wood charcoal and not the pressed black dust briquette that we use here. It burned with a hotter flame, took longer to start, but everything turned out fine. I am still learning to use my new watch, (leaving my cell phone behind forced me to buy a timepiece). I couldn't seem to change the time on it so the whole meal was done using a timer that would only do six minutes and five seconds. Like I said, it seemed to work out.
---
Friday, May 28
My book group had decided to tackle Proust's huge masterpiece. Apparently a new English translation has come out that is supposed to be quite readable. However, when I am in France, I really like to try to read in French. Yet reading Proust is more than just reading "in French". I think he was doing something like Joyce was doing in English, so I doubted my ability to comprehend his run-on, free associative style in French. Luckily, Jean had a copy of the first part of the first book,
Combray
, in French but with an introduction and copious notes in English. The book was designed for English-speaking students of French. Perfect. I launched in, and am still enjoying it. The only problem is that we seem to get so busy in France that I don't have much time to read. Jean graciously let me borrow it; I must remember to mail it back to him when I have finished it.
With Isabelle, we call on France, an eighty-five year old painter living by herself in a 16
th
century "maison de la bourgeoisie" north of Montcuq. This was another one of those times when I wished I had brought my camera with me. Not having my camera at the right time, or not having the right light when I did have my camera, seems to be another recurring theme of this trip. Unlike the stone farmhouses or "mas" that are common throughout the region, France's house has grand, high ceilings and windows, huge fireplaces, a courtyard filled with blooming perennials, a spectacular view of vineyard and fields from a small balcony, and a series of rooms almost like monks' cells on the opposite side of the courtyard. It seems that she lives there rent-free, but not truly as an owner either. Apparently her father left northern France in 1943 to look for a place to live that "had never experienced war." They ended up here in Le Lot.
Isabelle asked to see her paintings, which were very varied in style. She said she never liked to repeat herself, but preferred to try something new each time. This attitude reminded me of myself as a choreographer; I have always admired artists who refine one style or one approach and eliminate lots of other possibilities, but I have never been able to do that myself. She pulled canvasses out from their stack against the wall and propped them against the wood stove (not working, or course.) Isabelle took some photos of the paintings. I particularly liked a very yellow one that reminded me of the desert in the American West. Later, during the hiking part of the trip, we would discover Roussillon and Le Colorado, canyons of ochre cliffs and bizarre formations reminding us of Canyonlands in Utah.
Stephen:
When we are home, no one asks us to sit down in her studio pulling out paintings, one by one, for us to look at. Although we were not buying, it made me aware how important meetings similar to this have been to the world of art. Painter and gallery owner, or painter and collector, together in a room pondering a transaction that in the short term may feed the artist's family and pay his bar tab and will fill the walls of the buyer. In the long term, perhaps they will change the face of art in the world. I don't know what happened in the past. Here, we were mostly quiet. A painting was shown, I had an immediate reaction or not, it attracted me or not. Luckily, I was not required to say much, a French word of appreciation now and then. Dawn and Isabelle said more. Dawn teaches in an art school. She has some practice speaking about art in front of the artist. It took about forty-five minutes, and was one of many times on this trip where what we were doing could have happened in any number of different centuries. Sometimes, I feel like I am time traveling rather being a tourist and I find the sensation pleasurable.
France is a very elegant and outspoken lady! She was filled with opinions about current events. She led us out to a table under a parasol in the courtyard, served us some tasty, attractive hors d'oeuvres (from the supermarket in Montcuq, she pointed out), and had Stephen open a lovely bottle of Cremant. This was her idea of "tea." We rather liked it. As she was talking about her family and background, Stephen and I both got teary at the same time. While she does not physically resemble my mother, she has a similar feisty, artistic spirit, a generosity and beauty that made us remember my mom's personal connection to the country, language and culture of France.
Stephen:
I got teary because I was sad that France was living a life that I wished for Elsa in the last years of her life, continuing to be a painter, living in a beautiful environment and just enjoying an independent life. This was not the hand that Elsa was dealt, but she did the best she could and we did the best we could to make sure that she knew that she was truly loved. In fact, France is younger than Elsa was when she died and probably what I am wishing for was that Elsa could have remained a "young" eighty-five for the rest of her life.
Back at Le Baralou, Isabelle and I sat outside peeling white asparagus for a late dinner. Reading
Combray
a few days later, I came across the expression "plumer les asperges." The verb "plumer " usually refers to plucking the feathers of birds, but I like the mental picture that phrase creates of white asparagus in its partially peeled, feathery state, looking sort of avian and ready to fly!
Caught up by looking at their family photos on the computer, we unfortunately awoke Aude who was sleeping in the next room. It was 1:00 a.m. by the time we staggered to bed.
---
Saturday, May 29
Gilbert Pons was one of those people who found us on the Internet by searching on certain key words that brought up our previous travelogues. In his case, the word was "Pechpeyroux," a village of maybe 100 inhabitants not far from Cezac. In 1997, when he first searched, he got four hits. This year when we searched, we got twelve hundred. Pechpeyroux was one of those places where I had ridden a bike a few years back and was charmed not only by the place but also by an interaction I had had with a Mme. Pern. It turns out the Gilbert is concerned with preserving the history and "patrimoine" of Pechpeyroux, his native village, and has created a website for the town. We had had some e-mail correspondence over the years, but somehow I only was able to call him at the very end of our last visit to Cezac. This time, I promised myself to send an e-mail before arriving in France, after receiving it, he graciously invited us to meet him at his farmhouse and to take a walk, either "en pleine nature" or in the village. We chose the nature walk.
First he showed us his place with a splendid 360 ° view from the top of the hill, a few outbuildings, and fields. We had some cold drinks with him and his quiet sister in the kitchen. I went to the car to change into better shoes for hiking and put on my old straw hat, bought in a village on the Canal du Midi in '97. His sister had been a bit shy and reserved before, but somehow that hat must have spoken French to her because she beamed when she saw it and complimented me on it.
Gilbert has tremendous enthusiasm for his native terrain and local history. The walk ended up being an arduous three hours with a fair amount of bushwhacking in the hot sun! Good training for our future long distance hiking trip. We started by climbing a small hill that was divided up among three different communes. From there we could see Montcuq, Lascabannes and Villeseque, each in a different direction. Near the end of the hike we went by a recently purchased old stone farmhouse, renovated by an English couple. It had a beautiful garden and setting and a magnificently restored grange. In fact the barn was huge and beautifully refinished inside. The exterior revealed some serious new buttressing to keep the old stone wall of one side from leaning any further than it had over the years. The couple uses their grange to present musical concerts during the summer. I fantasized some amazing site-specific choreography in there, the hayloft making a natural scaffolding, the high ceiling crying out for ropes to dance on. Hmm, a new French version of
Pipe Dream
meets
After Ever
?
Then we hiked up to a plateau overlooking a valley where an American couple had bought an old farm with outbuildings. We could see the well-tended exteriors and new swimming pool. Gilbert described the luxurious nature of the interior renovations and furnishings. It was a magnificent setting and must have cost many a Euro to bring it to this level of "comfort."
There is a bittersweet sidebar to this story. According to Gilbert, the young people who grew up in this area cannot afford to buy property here. The foreigners and "city people" (mostly Parisians) have so much more available cash that the prices in the region have soared, precluding the younger generation from buying property in the area where they grew up. Moreover, Gilbert said that the trades people in the region (masons, carpenters, electricians) are in such high demand that the local folks sometimes have to wait a couple of years to get stonework or carpentry done on their property while the newcomers hire the locals and get the work done quicker. (The "Peter Maylisation" of southern France? More on this thought later.)
My brain was moving fast. Hmm, at least someone is buying these dilapidating properties and beautifully restoring them, but for what? English, American, or Parisian vacationers who use them only a few months of the year, and the rest of the time they are closed up.It's sad that the younger generation cannot really afford to farm here anymore, but do they perhaps want to leave? Do they want to go to the city and find careers in computers and business instead of taking over the family farm business which must be very difficult, to say the least? And where does that leave Stephen and me, Americans who adore this part of France, its land, its villages and its people, who have fantasized about buying a place here too? Would we just contribute to the "foreign gentrification" problem? Even if we could or would not renovate to the level that some of these folks have done, wouldn't we still be pushing prices up anyway? Or will we always be visitors, occasionally staying with dear friends from Paris who have been coming here for thirty years?
Stephen reminds me that "gentrification" is an issue at home also. Isn't that just what we've done in Roslindale? We didn't grow up in Rozzy, yet we've participated in a lot of the changes that have taken place over the last thirteen years since we bought a house here. We love the artisan bread store, the new restaurants, wine store and boutiques, having a grocery store in our own neighborhood. Nevertheless, such amenities increase demand for the area, and we worry that such changes will contribute to pricing some residents out of the area.
We also like the diversity in Roslindale. The mix seems to work: trades people and professionals, artists and auto mechanics, Greeks, Irish, Italians, Latinos, Asians, Haitians, Armenians, Anglo and African-Americans. However, the population in rural, southern France is quite sparse, and I can see how the old farming families might feel that their way of life is being threatened by the newcomers. None of this speculation should lead you to believe, however, that the folks we met in and around Cezac, in fact, everywhere we've traveled in France, haven't been extremely gracious and often very warm towards us.
Stephen:
Both of us will revisit this topic again as the trip progresses. Dawn's questions, which really are about the effect of taking money from one place to another, are ones that institutions as large as the World Bank and as small as Dawn and Stephen must ask themselves.
After good-byes and thank yous to Gilbert, we rushed back to le Baralou just in time to shower and change and make the appetizers for dinner, grilled mushrooms and sausage. Ben and Deena joined us that night. Isabelle had set the long table instead of the smaller round one because there were seven of us for dinner. It's a good thing I'm still a recovering vegetarian because Isabelle's lapin (rabbit) was delicious. It was great to catch up with Ben and Deena and to have more of a mixed language conversation since Ben is English and Deena is Palestinian/Austrian. Again we staggered across the gravel driveway to fall into bed at about 1:00 a.m.
---
Sunday, May 30
Stephen:
We were invited to the 60
th
wedding anniversary celebration of the Besses. They are farmers in Cezac who raise delicious chickens among other things. Their children were throwing a party "after church" in the town function room and have invited the whole village. Dawn and I skipped church but not the party.
Dawn:
It turns out that it was too bad that we skipped church. To my total surprise, Isabelle said they had played Jacques Brel and Edith Piaf songs during Mass!
We went down there and milled about, sometimes just taking in the sights and sounds of it all, sometimes talking to the Isabelle and Jean or Ben and Deena. It was an absolutely universal gathering and had all the elements: the gawky teenagers, the cute babies, the old men, and their dressed up wives. The family was rushing around carrying sound equipment. In the middle of all this, a timid driver needed to back her car up through the crowd. It was accomplished with much gesticulation, gentle guiding of the guests who were paying little attention and some coaxing of the driver herself who seemed reluctant to accomplish what from the outset seemed to me to be a bad idea. But it was done and soon we were headed for the salle des fetes, a sort of town function hall.
It was fun to meet a Swiss couple, new neighbors of Ben and Deena, who had just read our first online travelogue about three weeks before. We're beginning to feel like internationally famous, published authors. In an alternate universe, someone would pay us.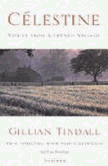 When we travel through France we marvel at the diversity of the land, the people, their accents and certainly their histories. The history of France probably needs to be written one village at a time. If you are interested in such things, let me recommend Gillian Tindall's
Celestine
.
She found letters in a house in central France that she had bought and they start her on an investigation that leads to a history of the people in that village since the revolution. More time travel.
But, on the other hand, France is a republic and hashad a central government for a long time. No variations created by state governments, so there are many things that are exactly the same no matter where you are. There always seems to be a salle des fetes, and a centralized sports arena. There is always a mairie (mayor's office). In a small village, it is only open Thursday afternoon. In Paris, there is one for each arrondissement, open six days a week. Then there is the gendarmerie, a national police/national guard. So we travel and see the diversity but are always aware of France the centralized government, one that started simultaneously in all parts of the country after the revolution over two hundred years ago.
---
Monday, May 31
Dawn:
Ben and Deena had invited us to stop by and see theprogress on their renovations. They live there year-round, across the valley from le Baralou, and seem to work constantly at this huge project. Since we knew we were going to leave Cezac Tuesday, Monday was our last chance. It had been a drizzly, gray kind of day so we procrastinated about getting out, not arriving at their place until about 5:00 in the afternoon.
Walking up the driveway, we noticed the gardens that replaced the brambles, weeds and rubble that had been there last time. Dee later said that she "knew nothing about gardening" before starting this project. It seems that she learned a lot quickly. The varied shapes textures and colors of the plantings were perfectly suited to the environment there
Their very large and apparently menacing dog greeted us with loud barking from inside the small garden house. This building had been renovated the last time we visited, and Ben and Deena were still living in it while working on the big house. Although we hadn't called them before to let them know the specific time of our arrival, they graciously kept the dog behind closed doors, dropped what they were doing and gave us the tour.
The "new" old house has undergone an amazing transformation. When we visited two years ago, it was essentially a large stone shell with a lot of rubble in it. Now there was a rebuilt stone staircase up to an entrance hall with Middle Eastern artifacts hanging on the wall. The arched windows in the thick stone walls created dramatic patterns of late afternoon light across an elegant but comfortable living room. Downstairs via a spiral stone staircase, they had created a study with bookcases they built to fill the walls. They showed us the future kitchen and dining areas and the cave that would become their wine cellar. They managed to combine the sense of rural antiquity that emanates from these old stone buildings with a sense of urban chic, without being in the least pretentious! For someone who feels a proud sense of accomplishment from doing something as simple as staining our deck, this level of renovation is outside the realm of my imagination.
"Would you like some tea, or a glass of wine?" Deena asked as we were walking out the drive.
The only thing standing between me and a cup of tea was that dog that was the size of a large bear.
"Don't worry," she said. "He's really a sweetie."
"Right," thought I.

So we entered to barks and growls and straining at the collar. Ben let the dog outside for a minute or two. When the animal returned, he seemed to think everything was fine; we were part of the family or something. Apparently if the dog enters the house and the "strangers" are already there, seated at the table with his owners, he has no problem. Suddenly he was seeking our affection!
Two bottles of Quercy wine later, we left Ben and Dee's place knowing each other quite a bit better and truly looking forward to "la prochaine fois."
---
Stephen:
Sometimes as Dawn and I are coming home from parties, Dawn questions my telling of the inappropriate details of my life to people who shouldn't know them and probably don't even want to know them. I don't know whether it comes from my lack of attention or perhaps just some boredom. I can always find some detail of my past life to blurt out. Generally I am not like this. I keep to myself and don't reveal too much of the difficulties that I might be having, sometimes not even to Dawn.
Stephen's exuberant spilling of personal information usually happens when the alcohol level in his brain has gotten higher than usual. - Dawn

Maybe I started it, being in the room with three people who spoke English or maybe it was the cozy room away from the rain outside that led us all to gently reveal details of our lives. It doesn't hurt that we have genuine admiration for the life they are living and real affection for the two of them; he being very tall with a kind of gruff way of speaking; she, slender with eyes that hold you when she speaks.
It started with children, as it sometimes does. We talked about Ben's son and Dawn 's son and daughter, about the joy and fear that accompanies the act of raising them. Then ourselves as children, growing up, our education, meeting each other. We explored the similarities and differences, what have we learned, what will the future bring, how to deal with the past. Recounting our triumphs and our failures. As if we had pulled out our wallets to show family pictures and discovered behind those photographs story after story from the lives we led or thought we had led.
The finishing of the second bottle brought the afternoon to a close and evening beckoned us to dinner across valley with Isabelle and Jean. We drove down the hill, quietly at first, wondering whether we had behaved appropriately, then breaking into smiles that expressed our feeling that it had been a wonderful afternoon and sometimes decorum just has to be damned.
---
Tuesday, June 1
We rushed around a lot today, as we got ready to start the next phase of our trip, and Jean and Isabelle prepared to go back to Paris for three weeks. We have closed the place before, but it was still complicated as machinery got stored away in very small spaces, shutters went over the windows and refrigerators were cleaned out.
In the middle of all this I was trying to make Isabelle's e-mail program work better. It was stubborn and won't let me do things that I wanted. In the end, we called it a draw. By 1:00 p.m. we were ready and said our good-byes and headed for St. Bertrand de Comminges in the rain. It will be the first stop on a four-day trip to Avignon.
---