I have decided to divide our month in Oaxaca into two sections. It has gotten too long to edit easily and I think the downloading time might be getting a little long. At the top of the page should be links to take you to the new page that you want to be on. I am ending with our sign off of the third Travelogue notification. The next section will contain the Restaurant section.
---
Return to Oaxaca
Stephen;
We are back. We flew back in the same plane we used to fly over to Hualtulco. After arriving at our apartment, we shopped at a bunch of neighborhood stores for food, took a break and after dinner watched Rasshan Roland Kirk on the TV. He was amazing, performing with maybe four saxes around his neck. Look him up on youtube and elsewhere.
The morning was slow, yoga, meditation, laundry and showering before we got out and went to the Oaxaca Lending Library to sign up for a month. It is probably the main English speaking social and cultural center of the city. We will see how it works out for us. We returned to Xiguela for lunch and went to their store for yogurt and other organic foods, The pace of the day increased as we walked down to the Centro San Pablo to hear a violin concert at the same place where a couple of weeks ago I heard the worst singer I have ever heard. What a turn around! They played a totally inventive, captivating and some times wacko version of "The Four Seasons" by Vivaldi. More details below. We walked home and relearned that Oaxaca is a mountain town and it cools off quickly and deeply in the evening.
Since we were headed downtown the next morning to go on a free ($10 US) walking tour we took the bus to get there. We got the right bus, there and back and took the two hour tour. More info later. Tonight, we are going to the zocalo (main square) for some Danzón, an old Cuban dance form that has died there but is alive and well in many parts of Mexico. We will fake the dance. Dawn has a fan and I have a kerchief and panama hat, so we will look the part (maybe). Dinner will be at a rustic restaurant in our neighborhood named "Ancestral". Someone said it was village cooking not gourmet.
Our Roof
My inspiration for doing yoga. A pointed reminder not to lose my balance!
Views from our rooftop
Dawn:
This time we are in an Airbnb apartment in Xochimilco, the oldest part of the city. Madai, our Airbnb host, kindly met us at the airport, and her dad drove us to our place in his modern air-conditioned SUV. very pleasant! Although it is unseasonably hot here, hitting the 90's on some days, we are in the mountains so the air is dry and it drops to the 60's or high 50's at night. We have not yet needed the A/C in the apartment. The fans work fine.
People say that Xochimilco is more like a village than the center of town. This is true. We are at the bottom of a hill that keeps going up. My only problem with being in this neighborhood is that we have to cross a six lane, very busy, noisy, commercial road to get into the center. It is the Pan American Highway that runs from Alaska to Tierra del Fuego with smelly busses, trucks, gas stations, car washes, commerce of all kinds. It makes our own Cummins Highway feel like a country lane! Well, not quite, I exaggerate on the Cummins part. We have learned how to take these busses when our feet are just too tired to walk. The ride costs eight pesos apiece, about forty cents, and it seems like there is always a bus available when we need it. As beautiful and colorful as Oaxaca is, we have to watch our steps pretty constantly as there are ups and downs, holes, sandy patches, occasional trash and cracked cement in the sidewalks, pretty much everywhere.
We have not yet thoroughly explored our neighborhood. It seems to be known as an upscale residential area, although I haven't quite seen evidence of that yet. There is a fabulous modern café called A.M. Siempre, where we went to an art opening and jazz concert. The place was packed with locals and gringos alike. We may go back for their great coffee and hang out and write. At the moment we are writing on our roof deck with a nice breeze that makes it comfortable. I do yoga up here every other morning. We just met the folks from the apartment below who came up to the roof to hang more of their laundry. They are a group of young Koreans whose jaws literally dropped when I greeted them with one of the only two words I know in Korean!
We went down to the zocalo (main square) to go dancing on Wednesday evening. Above is a video to give you a quick peek and listen. The couple of the left is pretty good, otherwise it is a slow foxtrot with unison freezes for the whole crowd between sections. It took a little time to figure out where to dance. We finally figured out that it would be best to dance from where the above video was shot, away from the people who know the dance style. At first, we danced very sedately, Dawn teaching me a nice rhythmic box step, then later we did pretty much what we felt like, although on the quiet side. Dawn doesn't like to draw attention to herself on the dance floor, so we let the music begin and the regulars get started before we went out onto the dancing area. On the way off the floor for the last time, I stopped to retie my shoes and a young gentlemen stopped and told us that he liked our dancing. That was nice. I love to dance with Dawn and hope she will agree to come down next Wednesday and do it again. I know she wants to talk to the women in black and white in the video who was the emcee and was going around greeting and kissing lots of regulars. Afterward, instead going to the Ancestral restaurant we returned to Tastavin, where we ate various appetisers, pasta, and I took the picture below.
Part II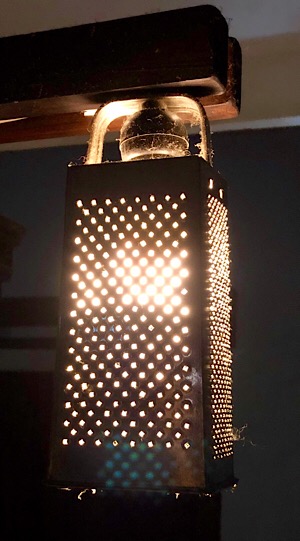 We went back the next Wednesday, right at 6:30 becaust we wanted to get into a choral concert that began at 8 PM. This time there was no live music and there was too much daylight being that was earlier in the evening, so we didn't feel like dancing. We headed over to the Centro San Pablo, but they hadn't even started setting up the chairs so we went for a drink at a fancy restaurant that is part of the center. There was another couple there, and one of them walked over to see whether it was time to save seats. She came back with the information that the choral concert was cancelled. They had been coming to Oaxaca for years, and they said this was the first time a concert was cancelled. We paid for our drinks, went back to the zócalo, danced a little, walked home, at some point realizing that I left my hat at the restaurant.
The next day, besides stopping by a hair place to set up an appointment, taking a new bus, buying two woven grasshoppers as souvenirs from a guy who had been pestering us for a week, buying two wine glasses to replace one that cracked while Dawn was drying it, finding the place to buy shuttle tickets to Monte Alban, we stopped by the restaurant and claimed my hat.
---
Trees
The A.M. Siempre Cafe. The Museo del Arte Contemporaneo (MACO)
There seems to be a reverence for trees here. Instead of cutting them all down when they build, Oaxaceños often build around them so the trees are included in walled courtyards or buildings.
---
The Museo del Arte Contemporaneo (MACO)
Dawn:
Downstairs was a rather bleak exhibit responding to climate change and the end of the world for the human species. Most of the videos seemed like studies.
Upstairs was a wonderful exhibit of collaborations between " fine artists" and indigenous craftspeople from pueblos around Oaxaca,
Under the Cobalt Sky
. Happily, all the artists, mostly American, felt the distinction between art and craft was irrelevant, that art made by indigenous people did not separate art from life in the self-conscious way that the "fine" art of the art world often does.
Carving and painting calabash shells is a huge art form here. This artist collaborator asked the artisans to portray scenes of the various kinds of work that Mexicans do, especially in the States. Hence, one with farming and construction tools, one of a waiter in a restaurant, one of a family, perhaps trying to get through the border, symbolized by a net/fence?
Stephen:
I bought these bowls made of calabash (or jicara) in a market. It wasn't until I set them up to take their picture did I notice that they have the same design, although each has a different interpretation.
The family in front of the red, white, and blue is self explanatory.
Dawn:
The most powerful piece we experienced was directed by Rebecca Mendez who collaborted with la familia Hernandez-Quero, a Zapotec family from Mitla. Called Tne Ascent of Weavers, it was a tri-partite video projection of slow-motion site-inspired movement. Four women, one "soloist" in red, one in white, one in black, one in blue evoked cycles of the sun, the heavens, the underworld and "the directions of human life in pre-Hispanic Zapotec civilization." I did not see anywhere that the performers were trained, but their focus, presence and performances were stunning, a great credit to the director. Although there was no choreography credit, the piece was highly choreographed and very moving.
---
Clown on a Bus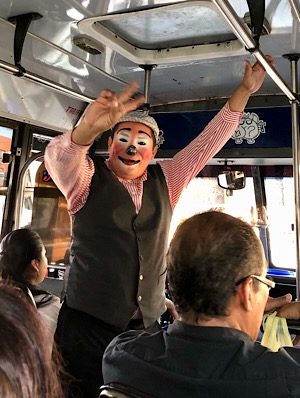 There have been a lot of clowns around town as the circus is practicing here this weekend. This one was at the bus stop next to us, boarded our bus and entertained everyone during the ride. Although his Spanish was way too fast for us, everyone else was chuckling. We gave him a little donation.
---
(
top
)
About Vivaldi's Four Seasons
Stephen:
The first thing, and perhaps the only thing, you need to know is that the violinist, Omar Guevara Sánchez, changed his shirt between Summer and Autumn. He went from a white Mexican shirt with colorful trim to a blue one. I leaned over to Dawn and said, "Just like Cher." Then, during the second movement of autumn when he doesn't play, he walked around behind the ensemble, leaned against the wall and listened. The rest of the time, he was all over the stage, making eye contact with the first violinist, handing off a theme to the second violinist, moving over to bring the cellists in with an expressive pull of his torso. It made for amazing music. There was an aliveness that is this kind of music. It was never polite and I am not even sure it was always right. It had the energy of playoff basketball. I never knew what was going to happen next. His encore was some ferocious thing accompanied by piano, perhaps Russian. I thought he should rip his shirt off.
Dawn:
In addition to the soloist changing shirts and moving around the ensemble, this Oaxacan native son played brilliantly. If the one or two of you who read all our stuff😉 can remember, I complimented the musicians in an earlier performance for their lack of histrionics... "just letting the music come theough." However, in this case, the violinist's movement was absolutely necessary to the music. There were some idiosyncratic moments in the playing, but it all worked. Having choreographed my box dance (Handle with Care/Trate con Cuidado), to the Winter section, I am very familiar with a particular recorded version of the piece. Whenever I hear it, it is hard not to see those summer outreach kids performing the dance at the Strand, or the Cambridge School kids, or the Lowell High School kids, or Dance Collective's professionals. Although The Four Seasons is a cliched staple of Baroque music, this performance rminded me of why it still remains so popular. I could barely sit still.
---
Aloe

We had been trying to get some aloe vera lotion for a sun rash that Stephen developed when we were at the beach. We couldn't find any. A woman selling coffee at an organic marketplace here in Oaxaca indicated that the lady in the next booth could help us. Sure enough, she pulled out a foot-long section of an aloe plant, carefully washed and rinsed it, and presented it to us. I guess I looked a bit mystified as ahe asked, "Sabe como lo usar?" Well no, I had no idea how to use it so she kindly demonstrated. You take a large, sharp knife and cut about a one-inch cross-section of the plant, then slice one edge of that so you can open it. The aloe sap oozes out of the plant, and you can rub it directly on the skin. Oddly enough, once applied, it doesn't seem sticky. The skin seems to absorb it. Ten pesos for a generous supply. Nice.
---
Teatro Macedonia Alcalá.
Dawn:
Another free concert. This time, a full symphony orchestra, full chorus, operatic soloists, and a cello soloist in the beautiful, 800 seat Teatro Macedonia Alcalá. Wow! A world premiere of a huge piece,
Oratorio de los Salmos
, by Ryszard Rodys honoring the benefactor,
Alfredo Harp Helú,
of the Arts in Oaxaca and Mexico, plus excerpts from Mussorgsky's
Pictures at an Exposition
, Tchaikovsky's
Variations on a Rococo Theme
, Mozart's famous Magic Flute
Queen of the Night
aria, and two more pieces "from" Dawn Kramer choreography (!),
Mon Coeur s'Ouvre à ta Voix
by Saint Saëns, and
O Mio Babbino Caro
by Puccini.
---
Water and Sounds
Stephen:
In our apartment, this is how we get our drinking and coffee water. When we get low, we message Madai and someone brings us another. The tap water is not drinkable for both tourists and locals. Part of our soundscape here in Oaxaca is the guy yelling out, "Agua," as he drives through neighborhood in his pickup truck full of bottles. Other sounds we will hear during the day is a recorded cow moo followed by information about the propane gass being sold. Three days a week at 6:30 in the morning, a guy rattles a cowbell to tell us that it is time for us to bring out our garbage and throw it in his truck. We don't actually do this. It is taken care of by Madai or Griselda, the woman who cleans our apartment once a week.
---
On our way to the Lending Library on a Saturday morning for Dawn's two-hour conversion practice in Spanish and English, we passed this wonderful fountain. Most of the fountains in the city have been dry as this one has been on other days. This day it was really going, maybe because this weekend leads to the national holiday on Monday celebrating the birthday of Benito Juarez, the first indegenous president of Mexico. We don't understand most of what goes on here. When I was growing up and then into a large portion of my adulthood, I was a know-it-all. Now being a know-it-all doesn't mean you know much, it just means your life is built on being able to explain things. Most of the time, I was making it up from half remembered facts and educated guesses. All this is made easy because anyone asking you a question about sometime doesn't know, so any well orgaized and interesting answer is acceptable.
The point of this is that the Buddhist way of life that I am trying to follow is much more interested in the seeing and the experiencing, let's say of the fountain, rather than explaining it. The sound of it, the glint of the sun off of it and especially that it will never repeat itself are things that I am noticing first, or trying to. I will never stop trying to explain things, I am just trying to get to the pointl of not having that be the first thing that I do.
---
Two Openings
Stephen:
The first one was a Friday night. It was billed as a jazz concert and an opening at a coffee shop in our neighborhood, A. M. Siempre. When we got there, it was packed. But what was it packed with? People eating dinner, people listening to jazz, a singer and guitar player, people drinking their free glasses of wine and free appetizers and the people maybe wanting to look at here paintings. It was a mishmash. We ended up standing on the stairs going up up to a supply room. The wine wasn't that great, the singing was odd and after a couple of songs we left. We didn't give up on the place. On Sunday, we returned to the café in the afternoon to drink coffee, work on the travelogue, eat food in the nice, cool back patio. We had a good time, and watched a paiting being taken down. I guess it was sold.
<
Galeria Arte de Oaxaca
Dawn:
We decided to try another art opening the next night. This one worked out much better. The paintings, by Rubén Osio, were based in scenes from the circus and titled,
Rock Art Trapeze Artists Posing for Their Photos
. My favorites were mostly in a red hue, with small touches of color here and there. I did finally engage the artist in a conversation, although his English was probably even worse than my Spanish so communication was a bit limited. I found many of the paintings sad. There were huge elephants in the background of many, dogs, monkeys, trapeze artists, clowns, etc. To me, the animals especially looked sad, but the artist did not think of them that way. Another onlooker agreed with me, saying that he thought all circus animals were sad because they were in captivity, which is basically my view. The artist also pointed out many details in the compositions which I appreciated.
---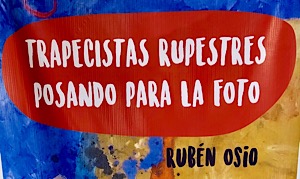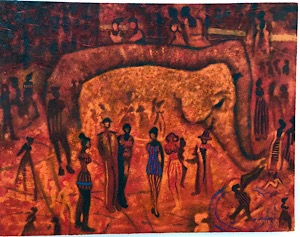 The gallery space is beautiful, as you can see in Stephen's photo. They passed around beers and snacks. As we were leaving, we struck up a conversation with Sheila and Jim from Minnesota. It was one of those special interactions that seemed to skip the superficial and felt immediately real. She was a health worker for 44 years and used movement in her therapy and life. We gave her our card. It is quite rare that when we give someone our card, she not only goes to the website and looks at some of the work, but also communicates with us about the work! We got an appreciative email from Sheila the very next day, saying:
 "It was so satisfying and astounding  to see the language of your work. I recognize it in myself."
Nice!
Stephen:
We saw this picture of Rubén on the internet. It was one of the things that drew us to this opening. He is a little older now and uses a cane.
---
(
top
)
A Garden Tour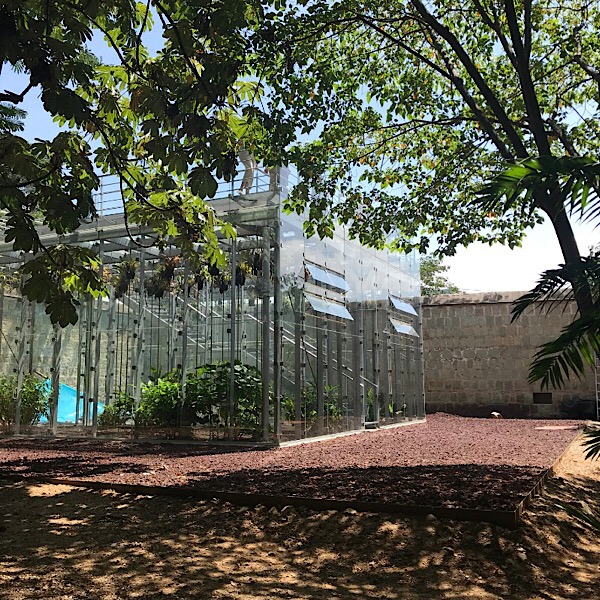 Dawn:
We took an English language tour of the botanical gardens with Carol, a full-time transplant from Montreal to Oaxaca. It turns out that the garden is only a bit over twenty years old. The land was originally a work area for the monks who lived in the adjacent monastery. After the revolution, it was taken over by the military. It wasn't until the 1990's that it became a botanical garden. It required a huge amount of labor to rid the land of military debris, build a deep cistern and irrigation system, and get things planted. A good half of the garden is devoted to local Oaxacan native plants, herbs and trees that grow naturally here and need no irrigation. The section that does need irrigation is for the more tropical plants that thrive closer to the coast of the Oaxacan state. I took the four small photos. The big one is from the Internet. It is a new greenhouse that won a sustainable architecture award for its Mexican designer (who is actually based in Chicago!) The garden used to be open for the public to wander around on their own, but because they started stealing plants, you can only enter the garden with a tour. The two-hour English language tour costs 100 pesos, twice as much as the tours in the other languages. It turns out that the others are only an hour long. Carol said that she needs two hours to explain the garden.
---
The Museo de los Pintores Oaxacaño
Self Portraits
This was one of the few self-portraits by a woman. I thought it was intense.
Many self-portraits were of the genre, "The artist in his studio." This one amused me because I saw the artist pointing his brush at a small, seated version of himself. I thought he was telling his inner critic to keep quiet. You may have to zoom in to see that detail.
We sent this to Nancy who publishes the Lunar Calendar. There two women are sharing one heart. Zoom in to see the detail. The title is "Heart Beat".
---
Another Opening
Stephen:
Sam, who owned with his wife "Mision de los Arcos", our hotel in Hueltulco, couldn't see why we wanted to be in Oaxaca for a month. He thought that a couple of days would be enough. (Dawn felt the same about his town which he was totally in love with). Sam is Mexican, although his first laguage was Korean because his father worked all around the world as a water reclamation plant designer and consultant. We are not Mexican and practically everything is new here even when we know something like classical music, it comes in a new way and everything has surprises. What Is so different here is there seems to be a steady stream of culture is many forms and because we are travelers, we have the time to see and hear and participate.
---
We did not expect to be at this opening. We were planning to hear and see some Fandando dance and music by some musicians who had just finished up a workshop. We didn't know what the thirteen was for, we didn't know how professional the group would be, we didn't know what kind of drinks or food would be available but it turns out that it didn't matter because we couldn't find the right bus to get us there, so we went to see the opening below or above.
---
Many of the galleries that we visit are in old colonial buildings, inside of which they create clean modern galleries like this one. The work here was all of women with their backs to the camera, with one or two exceptions. Hair was always an important element. They all wore the same blanket. The deep black background was always there. We were invited to have some agua fresca and a mescal before we left.
---
k
Getting One's Hair Dried and Cut
by Karla Arzat
I came back from the Irish pub to watch the blow drying part of Dawn's hair cutting session. I was amazed. Karla's attention to Dawn and the fluidity of her movement made me think of the woman in Mazunte making her pizzas. This was different. This was personal. On the bottom row of phots, you can see Karla watching Dawn try to put in her earring and finally Karla stepping in to help out. I made a video for Dawn perhaps to help her when she has to dry her own hair. We are both very pleased with the result, so if you are ever in Oaxaca and need your hair cut, check out her facebook page -.
Karla Arzat on Facebook
Click here if the video doesn't appear above
Stephen:
I put the applause in for Karla and slowed it down so we all could see the finished product. Thanks again, Karla.
Karla Arzat review (for Google)
Dawn:
If you are staying in Oaxaca for awhile and need your hair cut and/or colored, go to Karla in Reforma. She is very professional and works carefully. Unless your Spanish is good, I recommend bringing a photo of the cut you want. I showed her a picture of a cut I had a couple of years ago by a "Best of Boston" award recipient. Karla recreated that cut amazingly well. She was also sensitive to my color preference, and did not use "tinta" with ammonia, per my request. Because she and her colleague are so thorough, be prepared to stay there for two and a half hours for shampoo, cut, dry, color, shampoo again, blow dry and touch-up cut. Her prices are very reasonable. Hence, I think good tips are advised.
---
At This Point We Are Sending Out the Third Traveloge Notification
We were triyng to sing "Happy Birthday to Cole on Facetime, but we could not make it work on our roof terrace, so we sent him this picture instead, and now we are sending it to you to say hello and to remind you that we are returning in two weeks. That is April 1. Below you can click to the new page we have made. On the new page, we have written something about the restaurants we have been to.)
---
---
---