---
A Few Days in Hualtuco at Mision de los Arcos
Stephen:
I am skipping ahead here to mention how excited we are to be coming to our hotel. Again, it was recommended by Luciana and after our wonderful stay at Casa Azul we think it is going to be great. Self described as "Budget Luxury", it entices me with its photos and its nearly a thousand rave reviews.
I have plans to visit the national park here with its seven bays and no developement and also go shopping. I need another pair of pants. The guys here stuccoing the wall on our way up to Casa Azul are better dressed.
---
Stephen:
Well we are here. It is amazing what changes can be wrought by a one-hour cab ride along the coast of Southern Mexico. When we turned off the two lane highway, to go into Hualtulco, the road turned into a four lane one with median strip green with lush grass curtesy of an automatic sprinkler system. After almost four weeks in Mexico this is our first sight of green grass. We'd seen brown grass but not overlush green stuff. I thought we were going to try to get in eighteen. It reminded me of my teenage golf days. I played at a club on Saucon creek in a valley of the same name. Also there was the New Jersey Zinc Company. They had a mine that was flooding so they pumped seven million gallons of water out of the mine and dumped it into Saucon Creek and then the club just dumped it back onto their golf courses. The mine lost the battle and closed, but man was that course green. Looking back, we played in a sea of toxicity of mine droppings and pesticides and herbicides. Five brothers, hey, we all still here.
---
Back to Mexico, we turned off this green highway to head down to the center of town and our hotel. The cab driver carried Dawn's bag to the front desk. After Dawn signed on two the the Desk Guy carried her bag to our room, turned on the TV and air conditioner, explained the wifi code and left us the key and we were there.
---
I am not going to describe the room except for the shower with its glass door and pepple floor with beautiful hot water and shampoo and soap that I could work into a lather. I felt really clean for the first time in a while. The TV was unusually framed with tile. We took a 10 minute lay down to get centered and then went downstairs to make a reservation at the hotel restaurant, Terra Cotta. The prices looked high to me although I was looking at a pizza for two. When we walked by, we saw cloth table clothes and napkins standing up on the tables. Was this place too fancy?
---
Taxi to Chahue Beach
An amazingly clean beach, with no restaurants except a guy selling freshly shucked oysters with lime. There was a sign with a diagram of the profile of the beach with its abrupt dropoff and a couple of cops hanging out around the rest room. We went over the the rocks on one side of the beach and shared the shade with a guy writing with a pen on paper furn out of a spiral notebook. He wrote fast and we didn't engage with him. He was fully dressed, even wearing black dress socks.
---
Another Boat Trip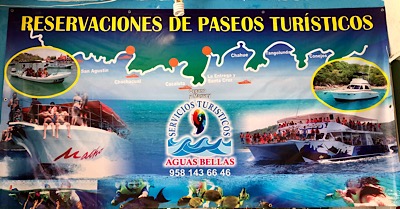 We made the deal with Daniel who had a desk in an alcove across the street from our hotel. He was offering different kinds of boat trips into the National Park.
---
We ended up on a beach with good snorkeling, with a ton of mexicans with their families and a ton of restaurants.
---
Here we are after having some beer. We got here because we were cooling our feet in the shade of the tree when he came out and offered us chairs and beers. I said yes and we found ourselves encounced at the head of the line. You can see that I am very pleased with myself.
---
Terra Cotta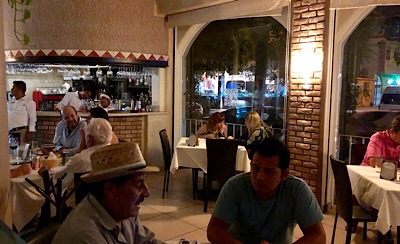 Dawn:
I got into calling Huatulco "Wa Wa Watulco" to the tune of the Wachusett ski area advertising jingle. Who knows why; the mind is definitely a wild monkey. Anyway, Terra Cotta turned out to be delightful. White tablecloths and cloth napkins (a first since we have been in Mexico), interesting, well-cooked international cuisine, really nice staff...and cheap! We had read a review by someone who had stayed at the hotel 28 days and never ate anywhere else. Being Dawn and Stephen, we thought that was absurd when we read it...until we also didn't eat anywhere else for the four days we were there! I should mention that we didn't eat lunch, maybe an occasional ice cream, frappucino or beer somewhere else, but breakfast and dinner were enough.
---
Yoga
Dawn:
I was looking for a place to put my yoga mat, maybe in the little court yard with fountain, and I asked Ignacio, the desk clerk if that was okay. He called the owner of the hotel whose wife said he should open her private yoga studio for me. It was a lovely room, with inspirational art and texts on the walls, an altar with statues and images of gurus from many traditions. I had a wonderful practice. I didn't take a photo, but this other photo shows how yoga appears all over Mexico in varied forms and places.
---
Getting Out of Town
Dawn:
Huatulco is an odd town. It is not on the beach, but it likely would not be much of a town at all if it weren't for the beach. It is really a too long, hot, and unattractive walk to get to the beaches, so we take taxis that cost only 30 pesos each way. When we went to Chahué, which we later learned is an eco reserve so no restaurants are allowed on the beach, there was a huge, empty parking lot. The hotels did not appear to be full. The Mision de los Arcos was a wonderful spot, for less than $40 American per night! They even lent us huge beach towels daily. However, Wa Wa Huatulco isn't calling me back somehow.
Stephen:
Hualtulco was a filler. The 28th was our last day in San Agustinillo and we couldn't get into Xochimilco until the fourth, so we were kind of hanging out here. I still recommend it the hotel if you are flying in or out of the airport at an awkward hour. The triple paned glass made for the quietest nights we have ever spent in Mexico.
---
---