Getting here/First Impressions
Dawn:
We shared a collectivo from the airport with a couple of guys who were first-time visitors here. The cab ended up much cheaper than last year's ride. When we got to the address of the Airbnb that the men had rented, their first reaction was, "Oh this can't be right." It was a metal door with some chipped paint and a bit of graffiti on it. I told them that often places here were much nicer inside than they appeared to be from the outside. They were calling their host as we left, and Stephen gave them our card in case things didn't work out and they needed some help. We have not heard from them so I trust all is well.
Oaxaca IS Mexico and sometimes an odd mix of beautiful buildings and gardens and places that may seem run-down at first glance. For the most part, people keep the city clean. There is wealth, there is poverty. There are more gringos than ever, including ourselves, of course! After we followed the elaborate directions of getting the key, unlocking one door, walking up stairs and turning right to use a code on a padlock with almost invisible numbers, we got in to our one-month Airbnb. At first glance, it was a little disappointing to me. It turns out that during the day, there is plenty of natural light that cheers it up. The kitchen has one hotplate only which encourages us to go out for more meals. Bathroom seemed tiny. The huge bed is very comfortable, and there is a hammock out back in a sort of courtyard of turquoise cement walls with a view only of the sky. So it is a bit claustrophobic for me, but certainly big enough, including another bedroom where I can fit my yoga mat for home practice. Although Oaxaca has noisy busses, barking dogs, shouting gas and water vendors, it never seems too noisy at night so we sleep well.
From the hammock - a view of the wall, but then look up - the sky!
On the left, the view from the front patio to our private patio in the back.
On the right, the view from our bed: geometrics of umbrella, hammock and wall.
Stephen:
I'm having a great time in Oaxaca this year. I seem totally relaxed. I loved knowing after arriving fairly late our first night, we could walk down to Don Juanito's for a good chicken posole before going to bed. Also, there is an amazing number of flavored waters available to drink and you can get them sin azucar, without sugar. I am allowing events to come to me, rather than searching them out, so I am answering in reality the question that was asked of me before we left.
"What are you going to do for a month in Oaxaca?
"As little as possible"
Sunday breakfast, after the electricity outage made us go out for coffee. Daniel, who had run the place the year before, is gone but his replacement, Alberto, is equally charming, handsome and efficient.
Etla
Center of the Arts of St. Augustin
Dawn:
We have spent some time here in Oaxaca with Luciana and David who have a son that lives in Tulle. Saturday, we shared a cab to Etla to see the home of Francisco Toledo, the artist/benefactor who was responsible for keeping the center of Oaxaca as it is and keeping OUT enterprises like MacDonald&srquo;s. We also went to see a contemporary dance performance in a lovely outdoor setting there. There was only one artist exhibited in a small space. Her work was beautiful pottery, reflecting her roots and a contemporary take on pre-Columbian indigenous pottery. Notice the folding chair.
Since the two huge galleries
were empty of exhibits, but beautiful in themselves, (one is above)
The four of us took the time to sit on some stone steps facing the mountains and meditate. Although we sat on our jackets, a half-hour later, our seats were pretty sore! The beautiful thing was that the minute our opening meditation bell sounded, we started hearing some ambient drone-like sounds, punctuated periodically by a bell. We realized later that this was the dance group doing sound tests before their performance. It was perfect for meditation.
Something like our view for meditating
Even though there was not too much art to see, the kiln itself was a work of beauty in its own.
Dawn:
The almost one-hour performance, danced by two young women, was called Mater (Mother in Latin...why Latin? I do not know.) They moved beautifully, using familiar devices of mirroring and contact-improv based choreography. There was a lovely use of the vast space, with curvilinear floor plans that swooped wide and narrow, sometimes intersecting into lifts and falls. It was all very familiar, and at the same time very well done. The last section turned out to be the most arresting for both Stephen and me: a kind of accelerando and diminution of a back and forth, swinging movement as the two women faced each other, linking arms.
At the end they shared weight at the hips, leaned back and descended to the ground. We could have watched that swinging movement for another five minutes as it got really fast, breaking the comfortable tempo of most of the piece and developed an interesting rhythm of its own.
Guitar Concerts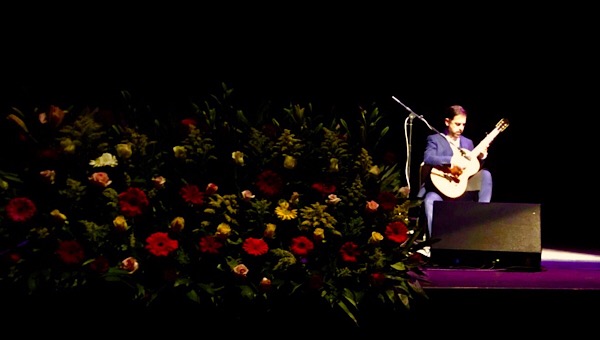 Mauro had it all, virtuosity beyond my knowledge, musicality and a touching way of bowing. He mostly presented his guitar instead of himself. We have four more days of concerts. We will see what they bring.
Link to Mauro Zanatta on Guitar (youtube)
Stephen:
The next night brought another guitarist, Robbin Blanco, born in Mérida, Mexico. He also lived in Canada for ten years. The concert was in a different room and that made all the difference. The air conditioners didn't make it any cooler but did make it noisier. There were two speakers for the people in the back of the room but only one worked and the sound engineer sat in front of them so he didn't know or that they needed more volume. Robbin played beautifully a wide range of music, some of hs own composition, some of written for him, some on electric guitar, but the situation defeated him. The night before we were in the second row and could see and hear every nuance. Tonight, by leaning out into the aisle, I could glimpse him at a distance.
Another kind of Music
Stephen:
We skipped the third night because we didn't want to return to the small room. When we arrived at the Centro de San Pablo for the fourth night, we found out that the concert had been cancelled and the restaurant we planned on was closed for a private function. We jumped into the line at the Teatro Macedonia Alcala and found out it was for the Primavera Orchestra playing a concert of popular Mexican music from the 70's and 80's. We found this out speaking to a Mexican woman standing in line in front of us. The line moved and we got in with seats at the back of the orchestra. It was great to hear this music in crowd of mexicans who were singing along and really enjoying it. The woman in front of us rested her head on her husband's shoulder. I'm sure she was having some romantic memories about when they were young and listening to this music.
Click here if the video doesn't appear above
I am glad we stayed through the encore because we ran into the woman on the way out. She asked us how we liked it, and seemed pleased that we did. After the concert we jumped into Cabuche and had some tacos and Pozole along a perfectly sweetened limonada and the best margarita in Oaxaca for Dawn. Dawn:
It was a little like a Mexican version of the Boston Pops meets Big Band, the brass mostly overwhelming the strings. We probably never would have chosen to go to a sentimental, 70's and 80's romantic Latino pop music performance where the audience knew all the tunes and did lots of sing-along. Yet it turned out to be another interesting aspect of Mexican culture. Plus the guy had a great set of lungs. He really could sing.
Back to the Guitars
The last attempt will be in the courtyard of the museum with the Francisco Toledo exhibition. We got there early enough to find two seats on either side of the light stand. By the time the concert started, the placed was packed. It was the KAO ensembe of four guitaists, and the brought a woman guitarist to play to lead guitar for a piece in the first half. They are a faculty ensemble of the local Colege de las Artes. There was no program and although there were guitar mics they had no vocal mic so we could not hear the ids of the things they were playing. They could play and play together. We had different opinions about the total effect which we will not describe unless Dawn jumps in later.
Vegetables and Fruit, the Richness of Mexico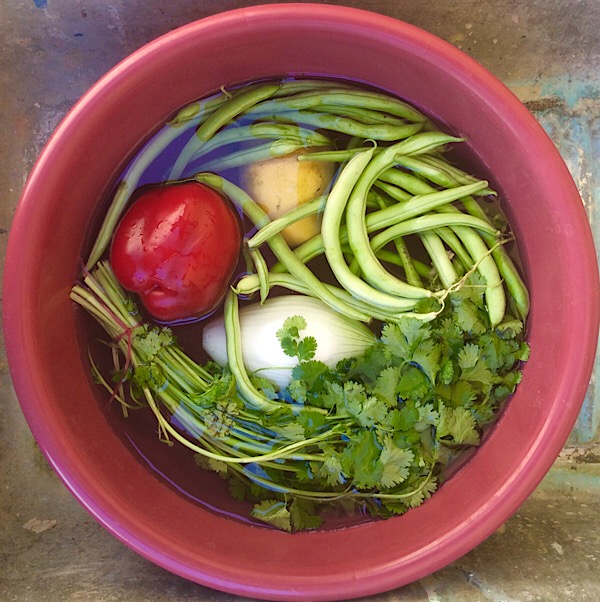 We are eating out more this trip, but we still like to prepare simple meals at home. We purify some water with drops of something and then soak them. Pretty enough to eat.
We found the store with the sourdough bread. It is very good. At first we thought having only one burner was going to be a problem, but it turns out that it forced us to make simpler, smaller meals which is more fun.
Jude and Adriana Come for Drinks
Dawn:
Jude is the owner or manager of our apartment. She and her friend Adriana stopped by for a visit with beers and a bottle of mescal in hand! I should note here that Stephen continues to do brilliantly at not drinking any alcoholic beverages. On the other hand, I enjoyed sharing a beer with these young women. The conversation was very open-hearted about all of our lives, families, histories, and what matters to each of us. As I suspected, Jude is the photographer of the arresting photos in this apartment that feature a stunning woman whom she met in Africa. All the art in this apartment is black and white, some quite mysterious and provocative.
The caption in the triangle on the left is "This is also going to change". On the right is Jude's photo of the woman in Africa.
Our Neighborhood
Stephen:
The neighborhood is a real one, with the market and Jicara, bread store, tortiia maker, a small club, dress shops that serve meals, restaurants that have two tables, a flower market, pretty trees. I am trying to have things that within a two or three minute walk of our apartment.
Tree up the street and our florists
View from lunch at Mezquite and the alley up the street
Where we get our tortilla and tostadas. They are not made by hand over a fire but it is close by. Some visitors to our neighborhood.
Stephen's Take on Oaxaca
Stephen:
I am going to start on the downside to make the other side clear. Recently I got myself in a cranky state. The details aren't necessary. Something wasn't going the way I wanted it to and nothing I did corrected it. Everthing seemed to conspire against me. I felt myself go very rigid and I spiralled into more and more anger even though I had a faint suspicion that the other way might work better. In fact it did and I was left with all this adrenaline and no place to go. It slowly faded and I returned to normal. Maybe a half hour for the whole episode. I watched the whole thing.
Why I bring this up is that we have been on the road for more than three weeks and I have been floating in another world. Everything seems to be exactly what it is supposed to be. The temperature here in Oaxaca has felt perfect. The air is carressing me. (Okay, maybe twice on the way home it has been a little chilly, but that is just the mountain location of the town expressing itself.) Everything seems beautiful. The walls, freshly painted or not, seem all kinds of beautiful. The gringos seem Ok. Last year I think I tried to avoid them, to pretend I wasn't one of them. I am, and so what. The appartment has become a home. It is comfortable to come back to, to relax or write in. We see big gaps in our calendar and remember that is when we napped or wrote. I will keep exploring our immediate surroundings. On occasion we are out early and we see another world of school children being walked to school by their mothers, shopkeepers opening stores, a guy running down the street with a bag of ice in his hands. Myself, I would have kept throwing it into the air and catching it to keep my hands from freezing. But he is just doing it his way. I see Dawn squatting down next to the street child that she gives food to, not even sure whether he gets to eat all of it, but Dawn's act of kindness may change this boy's life. We should just throw our compassion out there with abandon. The results may never be known. Who cares?
We don't have to cross the highway to walk into town this year. dawn made it clear that she wanted to be closer to the centro this year. She was right, it has made all the difference his year. We are closer, the walk to events is much shorter. The neighborhood is a real one, with the market and Jicara, bread store, tortiia maker, a small club, dress shops that serve meals, restaurants that have two tables, a flower market, pretty trees. This sentence is duplicated in the section with the picutes of the neighborhood.
At the beginning of the trip, Dawn and I visited Cole's self-defense class on Saturday morning. We learned about an assignment they had been given to introduce themselves to someone they had dealings with but did not know the id of. A shopkeeper, a janitor at school, maybe the school crossing guard. We decided to do the same thing at the covered market. We returned to the same stalls as last year, but this time, asked them their ids and told them ours. Dawn is difficult for a Spanish speaker to pronounce, so it always starts a conversation. So now we buy our nuts, coffee, granola, prune from Vicky and she torn off 10 plastic bags from her roll so Dawn could make packets to give away. Nancy and Felix sell us fruits and vegetable, Nancy refusing a red pepper that was defective in a small way, reminding me of Hope back at the Roslindale Fish Market who is always corrects my selections. Alesia sells us butter, milk and cheese.
Carneval
The video below is from Friday and we were heading for a concert. When on Saturday we came back to watch we ended up on a wall between the parade and awedding that was comong out of Santo Domingo with its own band and dancer. We were caught between and loved every minute of it. The energy of Mexico in a big happy party. We have clips from Saturday and I will try to something from those up here to replace this clip.
Click here if the video doesn't appear above
A New Friend
Dawn:
Saturday mornings, I go to the library for Intercambio. Mexicans who want to work on English and Gringos who want to work on Spanish are paired with each other. The first Saturday, I was very lucky to be paired with Betty, a woman probably in her early sixties, who particularly likes to make friends from other countries. The formula for this Interchange is to speak for an hour in English, then an hour in Spanish. The topics of discussion are decided by each pair or group of participants.
We discussed everything from family to travel to politics and immediately hit it off. She had a business in Monterrey, Mexico for 35 years. Eventually it became so dangerous with the drug gangs and shootings that she was forced to close down. Apparently she was one of the last to call it quits in what sounds like a big, modern mall. So she returned to Oaxaca where she was born and has been here about seven years. We met for coffee a few days ago and continued communicating, she mostly in pretty good English, me mostly in pretty mediocre Spanish. Although Stephen does not go to these library conversations, he and I have invited her out to lunch next Friday. Although we have some American friends here and have interacted with many English speakers from the US and Canada, it is nice to have a friendship with a Mexican woman.
El Chico y Dawn
Dawn:
I keep seeing his little face. He couldn't be more than four years old. Last year we encountered many children begging on the main pedestrian walkway. I had given them some change, but then learned that most of them have been forced into service by an adult on the sidelines. Often they come from Chiapas to Oaxaca, and often the adults are not even their parents. The kids have to give the money to the adult. So last year, near the end of our stay, i gave a little girl a small treat to eat, and she was so appreciative....for so little. So this year we are buying packets of candied nuts. Yesterday I asked the little boy, "tienes hambre?" (are you hungry?) He shook his head yes, so I gave him a wrapped packet. I said, "para ti, no para el adulto." (For you, not for the adult.) But when I looked back, I think he was not able to open and eat it quickly enough so maybe the adult got that too. So now we get the loose nuts and put them in smaller packets that i can open directly into the chico's hands.
I deliberately walked on the opposite side of the street from his "adult." So when the chico approached me today, I asked him to put out his hand. That hand was so small I could only pour a couple of nuts into his palm. So I said "Here, take it." Since the small bag was already open, i think he could eat them before returning to "him." I asked his id which I didn't quite understand, but he said "gracias," and looked at me so sweetly. It is heartbreaking. I said maybe I would see him tomorrow.
There do seem to be fewer chicos and chicas in the street this year, perhaps in part because of the good work being done by Oaxaca Street Children.
Check out oaxacastreetchildren.org
We are contributing annually to the education of a little girl through this organization and are going to meet her and her mother soon. I had written a letter to the little girl, in my mediocre Spanish, and her mother wrote a wonderful letter back, calling me her daughter's madrina, or godmother. They live in one of the indigenous communities outside of town, but they come to the center to volunteer on Saturdays. It is part of the ethos of many Mixtec and Zapotec communities that everyone volunteers to help the community in some way. So this organization picks up on that ethos by asking the mothers of the beneficiary children to help out in some way. Unfortunately, the parents of these kids are almost always single moms with no help from the fathers.
Visiting Mupo
Francisco Toledo (self portrait)
Cats by Toledo
A cow then two elephants by Toledo
Photo of two queens and the courtyard with hanging plastic skulls
The Art of the Lock
Stephen:
I think I also titled a section from an earlier travelogue "The Art of the Lock." That was about how to maneuver down the canal du Midi. This one is how to fix something without your toolbox.
While it is the downstairs door that provides most of the security for our apartment, we have a key lock that works on our front door. After it was replaced, The new one fell apart and I wanted to fix it. What I needed to do was to remove a small pin so that I could put back the U-bolt and then create a way to keep the pin in. The security part of the lock is the other side which is opened with the key. The apartment had a #2 phillips head screw driver.
I got the pin out with my nail clipper and held it in with a rubber band that I got from my collection that I carry in my miscellaneous ziplock bag. The deep satisfaction that I got from this whole operation was the perfect accidental match of the project to what I had, plus the beautiful color combination of the end product.
Restaurants
Don Juanito, our standby restaurant for pozole, a corn soup with either chicken or pork.
Casa de Barro, a new rooftop place on a small shopping mall. The staff was new and a little overwhelmed . The food was ok.
Jicara, a couple of doors down, a vegetarian place that is well-known. The food was good. They have live music.
Marco Polo, a big place with competing waiters. Many expensive things, but the shrimp tacos and totados were very good and reasonable.
Mezquite, the shrimp tacos were very good. The mojito was different. We've been three times.
Capuche, the food is ok, the drinks are very good.
Biznaga, a nice place, but can be odd.
A Side Trip to the Biosphere
Biosphere on Trip Advisor
We are staying two nights in a hotel in Zapotitlàn Salinas rather than in the rustic cabins, but have arranged a guide to show us the park. We get there by a 3 hour bus ride and then a taxi. We would tell you more, but at this moment that is all we know. Now that we are back, we have started a webpage about the Biosphere, the link to which you can find at the top or bottom of all the pages.
---
More Buddhist Thoughts
Listening to Music and the "Monkey Mind"
Stephen:
We went to a concert of Afro-Cuban music one night. From a certain perspective, it wasn't very good. In the middle of the show they had to unplug one of the speakers because it was misbehaving which left us with one which wasn't that good to start with. Rhytmically, they kind of bashed at the music. It didn't make me want to dance. They played a couple of tunes made popular by the Buena Vista Social Club who I heard when they came to Boston which brings us to the crux.

I really liked the way the BVSC played the tunes, better than I liked these guys, but when I tried to listen to these live musicians as each note came into existence and then disappeared, remembering what what just came before, I had no room left to also remember the BVSC. In other words, if I really listened, I had no time for judgment. I only had time for what was happening at the moment. I suppose evaluation could come later, but trying to judge two concerts more than a decade apart in time seemed to be mostly a fictious activity and not worth the time. This seems so far away from what I learned in my education where everything, and I mean everything, is being judged. One could walk down the street and be making more than one judgment every second. Examples: the weather, how my shoes fit, a woman's shapely calves, the nice butt on a guy wearing running shorts, somebody's hat, the cleanliness of the street, the TV show you watched last night, the driving skills of the person who nearly killed you running a red light. It would go on. And I might, but won't. I will end here with a compromise, saying that sometimes one needs to evaluate, but not as much as we do. We could be simply aware of our surrounding neutrally and save judgment for when we are buying a new car.

Looking back on what I just wrote, I would say that when i was really trying to listen, the experience was more intense, but it was easier to return to a kind of remote state figuring out whether I liked it. It was all kind of odd and I could really feel the conflict between the two approaches. More work on this is needed.

At one of the later guitar concerts, I learned that the constant returning to the breathe that one does in meditation is the exact exercise that one needs to keep returning from thinking about the music to actually listening to it.

Dawn:
Any one who meditates knows about "monkey mind." In fact, everyone, meditator or not, is undoubtedly familiar with that little, inner voice that seems to chat at you almost all the time. For me, unless I am strongly focused, say on yoga, dancing, writing, reading, singing, or teaching, that voice is usually there. When we sit, we watch that voice, acknowledge it, and try not to get caught up in its content. A meditation technique that is used by almost all traditions is to focus on the breath, acknowledge monkey mind's activity, but "let it go," and bring focus back to the breath. Perhaps some enlightened monks or nuns who have meditated for their lifetimes get to a place where monkey mind never enters their sitting practice...but not me!

The funny thing is that now the monkey is chattering at me in (mediocre) Spanish! When I am in France, the monkey yaks at me in (pretty good) French. Even in Italy, that monkey follows me around in elementary Italian. I guess that I want so much to be able to speak the language of the country I am staying in, that even that unconscious voice switches gears. When I get home, that monkey will likely revert to English. Here's a funny aside: one of the first dances I choreographed and presented in Boston in the early 70's was called, "The Mind Is A Wild Monkey." Laura Shapiro reviewed it in the Boston Globe, saying "with a title like that, I expected the worst and I got it." Nice, eh? Well, the good news is that she wrote excellent reviews to the next two pieces that I presented, Haiku and Notion. But the mind is still a wild monkey.
---
Wrap-up of First Two Weeks.
So, this page is done (mostly) and after a page for the Biosphere we are on to the second two weeks in Oaxaca. Still having a great time.
---
---