Stephen:
We decided to make a separate page for the descriptions and photos of our side trip to the Biosphere . At the end is a gallery of abstract photos of cacti.
Hotel
We left Oaxaca on the 9:30 AM ADO bus for a 1:00 PM arrival in Tehuacan. From there the four of us squeezed into a very fast taxi ride to Zapotitlán Salinas and the El Calvario hotel. Our hosts, Pedro and Josephina, were very warm and friendly. The room was nice, bathroom efficient and the mirror, sink and night stand, made of onyx, were spectacular. It turned out to be a perfect center for our adventures.
Lunch
We took a short cab ride to the restaurant "Itandehui" where we had lunch. Afterwards, we met Maurino, and with his somewhat red, Dodge pickup truck took us to the Botanical Garden for a tour and explanation of the ecosystem and how it survives on a maximum of five days of rain per year.
The menu for both the restaurants we ate at had plenty of pictures and good labelling, like a page with the word "Insectos" across the top. They also had plates with plenty od different kinds of cacti. We found things we liked and enjoyed our meals. Dawn and I enjoyed riding around in the bed of the pickup and learned quickly to stand up and grab the bar once we were off the paved road. Maurino drove gently all the time, so it was no worse than a sailboat in some choppy water.
Garden
Tuesday afternoon we went to the Jardin Botanicó. Our guide, Maurino, descends from an indigenous community called Popoloca and knows everything about the flora and fauna, medicinal and nutritional uses of various plants, as well as local history pre and post the Spanish. He is not only knowledgeable but is also a lovely human being.
On our Walk Back to the Hotel
The blue flags swag under the branches and then go up to attach to the top of the beautiful church.
Dawn:
One morning after breakfast in Zapotitlàn Salinas, Stephen and I were taking an alternate route back to our little hotel to see more of the old pueblo that is so different from the main highway with its trucks and busses. We were in the habit of saying, "Hola, buenos dias, señor or señora." A very old, small abuelita, grandma, stopped and asked us a question. I had no idea what she was saying, but her son and daughter were with her, and he was able to translate. Apparently she wanted to know if we needed directions to something. Obviously we were strangers, and she thought we might need help. It was so kind of her. At least I was able to thank her and reassure her in Spanish that everything was all right.
Stephen:
When we went to Zapotitlàn Salinas, it seemed at first to be a dusty town that was clustered around the highway at the edge of it. Our hotel was located in a zone filled with half built houses. It just seemed to be another example of poor Mexico. But the next day we walked down to our restaurant through the middle of the town. We found clean streets, watered gardens, school children in uniforms, men sweeping the streets with long branches and this beautiful square in front of the church. People were friendly, returning our good mornings with their own and adding a smile. All this surprised me and reminded me to look for the Mexico that is here, not the one the one that sits unexamined in my mind.
Wednesday in the Cacti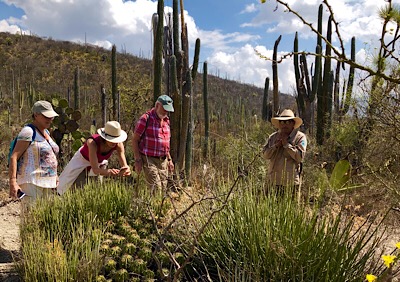 The round cacti with lots of spiky needles are called biznaga (also the id of a restaurant in Oaxaca.) Maurino says they are colloquially referred to as "siento de suegra" (mother-in-law's seat!) We related this to our Oaxacan friend Betty at lunch Friday, and she pointed out that there are so many jokes about mothers-in-law, but none about fathers-in-law. This is true in our culture too...a cautionary tale for those of us who are suegras.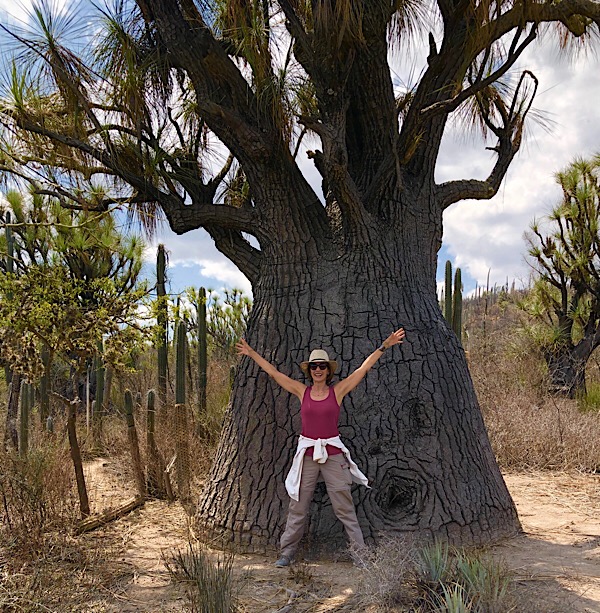 We took a little, bumpy detour in the pickup to visit the oldest cactus in the biosphere, maybe the oldest one known anywhere, 2500 years. The indigenous people hug this tree. It is said to give them energy. Luciana and I did not hesitate to wrap our arms around the abuela of all the elephant foot cacti. As Stephen mentioned, this tree has such a feminine presence, compared to all those tall, erect spiky cacti so prevalent in the region.
Making Salt in MesoAmerica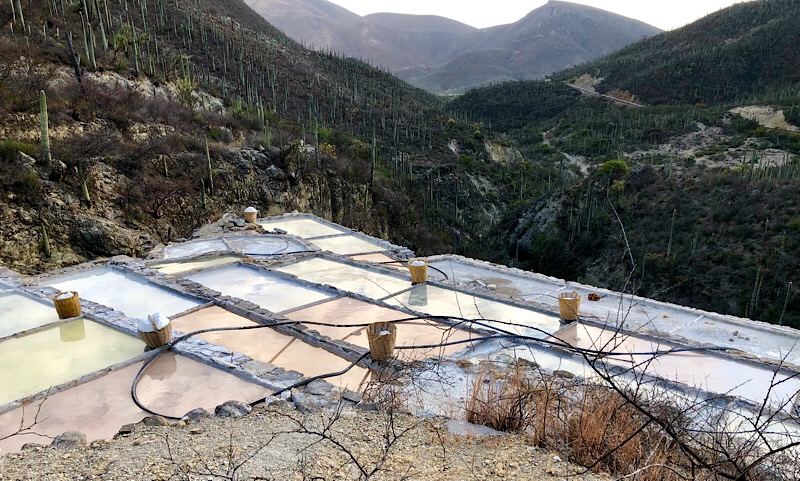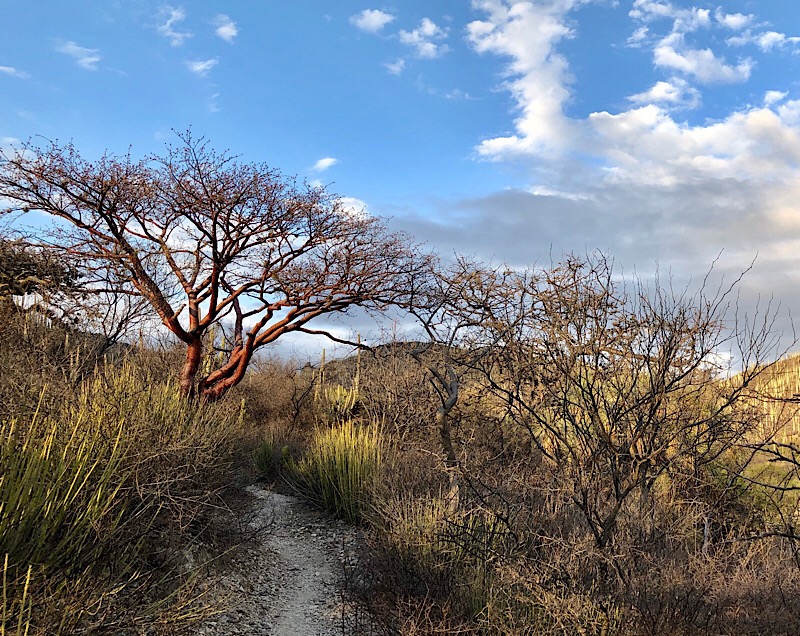 We took a late afternoon trip with Maurino to the salt fields (Salinas). As you can see in the photos, they are still being worked today. This area was under the ocean many millions of years ago. Maurino's ancestors got salt from these fields long before the Spanish arrived. The mineral water comes out of a deep, desert tank. Each square in the field has a different color, depending on what chemicals are settling or precipitating. After the water has been moved once or twice to different salt beds, and the precipitate is white, they let the rest of the water evaporate to get pure salt.
---
Cacti Abstracts
---
---