Stephen:
We came across country on small roads, once detouring around a tractor pulling a large load of the round hay bales. We found a restaurant in Rodez on Google maps which brought us near to a parking garage which we pulled into. We found Les Potos 12 on a narrow street near a church and grabbed a table on the street in the shade. Our waitress was a lively young women from Argentina who organized a good meal for us. Some of the results are below.
Some Nice Shrimp for Dawn/An Unknown Church behind Stephen whose Door Closed after Our Lunch
Dawn with the Restaurant Behind Her/Stephen's Chicken
---
Gorge du Tarn Hike
Dawn:
We took a 12k hike today on a rough trail in beautiful country, not unlike Utah, except for the river. Of course the water is terribly low as it's been so hot and dry. In the morning, the hike to the medieval village of St. Enimie was pretty nice as it was still cool and shaded.
Dawn on the Way Over to Ste. Enimie
Stephen:
When we arrived we treated ourselves to a couple of iced teas and I began the investigation of kayak companies that would rent us a boat to paddle down rhe Tarn and then haul us back with the boat. We spoke first with Chrystal who explained the various permutations of put in and take out sites and the resulting distances. She was very clear and knowledgeable despite using a map that flipped East and West.
Dawn:
The return in the afternoon was rough, in full sun, and my toes were killing me but we did it! With the exception of cars and satellite dishes, we could be living in the Middle Ages here. All these stone villages are amazing.
Looking at Fear
Dawn:
Before leaving home, we read an article by Pema Chodron on facing your fears. It has been really useful. In Cézac, it was my habitual fear of looking stupid, not competent, or not measuring up to others' expectations. After awhile I was able to laugh at some of those situations and see that dropping that habitual sense of ego is a good thing.
Here in St. Chely, I took a good look at more physical fears. The trail for that hike had lots of talus , loose rock, sheer drops, spots where the trail kind of dropped out. On the return, it was so hot that I wondered if I was going to pass out or have a heart attack. When Stephen pointed out the oncoming last uphill of the hike, I said "walking meditation" and just put one foot in front of the other and be in the moment. It really did help.
The steep final descent with much loose rock was quite a challenge, and that old fifth metatarsal fracture from last November still speaks up from time to time, alas. We made it safely and I recovered more quickly than I expected, yeah!
Saturday in Saint Chely
From the Pool, Looking Upstream
From the Pool, Downstream
The little Chapel tucked into the Rocks and the Interior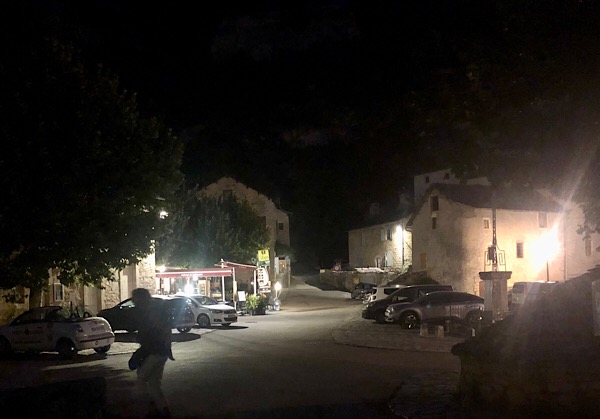 The Town at Night
The Cliffs at Night
Sunday in Sainte Enimie
Dawn;
Today, we drove to Ste. Enimie for coffee and croissants instead of having the big breakfast at our auberge. We then took a walk around the medieval part of town. It is stunning how people built with stone and no mortar. Every corner seems to offer another beautiful photo op. As mentioned before, you can see in one photo the contrast between the ancient stone village and the modern world of satellite dishes.
In an old stone cave was a hand craft leather store. After thirty years of wearing the same, now worn out, belt, Stephen got a new one that was cut to order to his size. He also insisted on buying me a necklace, made by a man who has been honing his craft for forty years. After much trying on and talking, we found one that looks like a crescent moon. It is apparently the only one he made in that design. He seemed pleased that an American choreographer was going to wear this piece of his art.
Stephen imitating unknown famous photographer
Satellite Dish
Small Market Squares
The leather shop with belts. l feel great when I put my new belt on.
Dawn:
The myth around St. Enimie is that she was a beautiful, much sought after woman who wanted to be married only to God. She prayed for a way to avoid accepting her parentsŐ' choice of spouse. God responded by giving her leprosy and making her undesirable. She continued to do good works, but one day prayed to be cured. It took three visits to a special place of prayer before she was cured, but the remission didn't last. She lived the rest of her life in service to others. Sounds like a good Boddhisatva to me!
Sunday Night at L'Eden
The bar part of the restaurant, dug back into the rock
View of sunset lit cliffs from our table.
Dawn's Dinner
Bar Interior
This is the other restaurant in town and the one we think is better and friendlier. They are not trying to be anything other than what they are, a place to eat good food out in the woods with friendly people. The propriataire had a way of walking slowly across the old paving stone road and standing still at our table a moment before asking us what we would like to drink.
The restaurant at our hotel seems to want to be considered Haute Cuisine. Not quite to my taste. The food was good though.
We Took a drive on Monday
Scenic Overlook
Looking down on our Town
See our pool in the center. This photo is from a roadside panarama on the top of the gorge.
Wild Horses (Przeswalskis)
I am showing the photo of the group of wild horses to look at their tight grouping. Domesticated horses might be more spread out. These are the horses that are painted on the cave walls at Lascaux.
We stopped at the side of the road to take a picture of this beautiful horse which is probably domesticated.
The wide open space at this preserve. There are horses in this picture but too far away to see.
Open up this photo to see the horses by the watering hole. The fence you see keeps the horses and people away from each other.
Small Roman Church by the Side of the Road
We met some young pilgrims here.
Ice Cream Stop
We stopped in Meyrueis for ice cream which sems to be becoming our regular lunch. We are going to have a lot of calories to burn off when we get back. We also found a Carrefour to shop for our river snack the next day. The measuring stick atached to the bridge was ready for 10 more feet.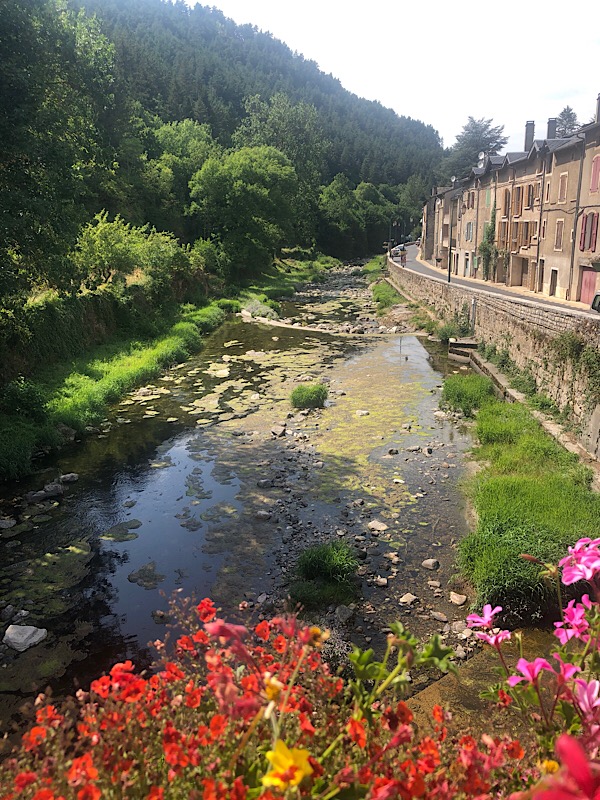 The Jonte River at Low Water
Difficult and Dangerous Road (Going up)
As we started up this road, Dawn read the sign "This road is difficult and dangerous" and the weren'r kidding. The cliff edge was on Dawn's side so she had to be the one who could see down into the Gorge. It went on for about 9 km. There were times when doing a blind turn back into the cliff the road wasn't wide enough for two cars. Once a woman backed up just ten feet or so but that was enough for me to squeak by. Dawn was great, calling out when she could see at blind curves that the road was free ahead.
On Fear, Part II
Dawn:
This incredible hairpin turn car ride was yet another example of working with fear. We had already been driving on mountain roads with switchbacks, but turning on to one labeled Difficile et Dangereuse really got my attention! As Stephen mentioned, I did my best to look ahead, stay calm and warn him when a car was coming the other way. Being on the cliff edge side of the car most often, I had an extreme view of the drop to the gorge below. Stephen is an excellent driver, and slowing my breathing helped too
Another One (Going Down)
It Was Like Dropping Into a Double Black Diamond Ski Run
Just keep facing downhill and let the steering wheel go right and left, except there were cars coming up, and once in a while we shared a switchback with them. As we came down we could look down into the town and see onto the tops of the cafe umbrellas. It was awesome.
Tuesday is Kayak Day
Dawn;
Today was a gorgeous day for a paddle down the Tarn. It is a totally different feeling to be in the river, looking up at the majestic cliffs from the bottom and to be moving through the center of the gorge. Instead of hiking or driving, clinging to the edges of cliffs, you feel somehow at the center of it all. Sadly the incredible heat and drought has made the water terribly low. In the photos, you can see many feet of white rocks on either side that are normally covered with water. In a way, this phenomenon made the rapids less threatening, yet the water was so low, we often were poling through the rocks, sometimes getting turned around and sometimes having to get out and pull the canoe forward while walking in the river.
Fortunately the boats are sturdy plastic construction that could handle bumping into rocks Although called canoes, the seating and paddles were kayak style Although this trip was allegedly self propelled by us paddlers, it did not seem far away from one of those crazy amusement park rides! It spite of the wacko moments, it was really fun!
Stephen:
Our greatest moment was after we entered some quick water and needed to make a right hand turn to avoid the rock that we were careening toward and I started calling "LEFT RUDDER, LEFT RUDDER" to Dawn in the back. To her great credit she followed orders so we didn't make the turn. The canoe pivoted around its nose and so the canoe was facing upstream and once I got us free we did the fastest part of the trip backwards until we hit a rock which brought us to a standstill. But the canoe slid free and we arrived in calm water. Yes, fun!
Le Pecheur de Lune
We drove back upriver to Ste. Enimie and walked to the top of the old town to have dinner at Le pecheur de Lune. It was a creperie and the meal was a change from style of French food that we had been eating.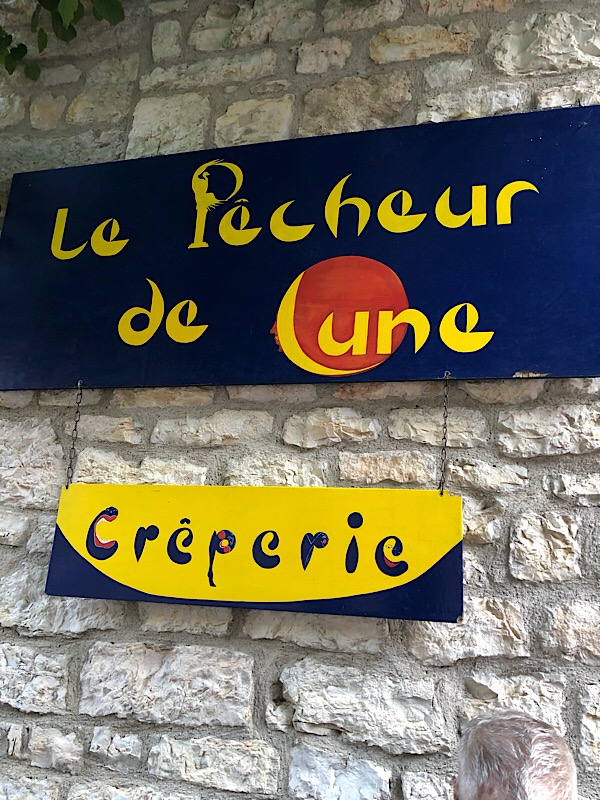 Hike to Chateau de la Cazes
Stephen:
We decided to hike downstream this our last day in St. Chely. After yoga for Dawn at the pool and writing for me we packed what we borrowed from breakfast and a bottle of water and headed up for the trail. This time we turned right and walked along a quickly narrowing road along side a few very cute gites.
St. Chely from the Trail Going Down River
Stephen
Dawn
The Chateau Across the River (Lunch Spot)
Yoga Morning
Early morning view of town and pool where Dawn did yoga before it opened.
View from the Yoga Mat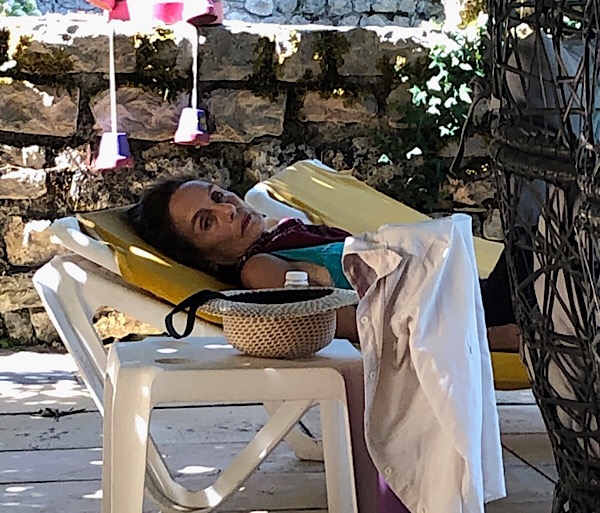 I was taking a picture of Dawn lying on her back when she turned and looked over in my direction.
---
Dawn:
During my yoga session, I noticed a tuft of mostly dry grass, emerging from between the terrace and rock wall below:
Clinging to life
Mostly dry with
Two sprigs of green
Tuft of grass
Between tile and rock
Soon to spill its seeds
As I have done
Decades ago
To grow into children
Bloom into grandchildren
The dry grass will wither
And die
Leaving new life below
For next spring

---
Last night before Returning to Paris at the Chateau de Rousson
We needed to be closer to the Avignon fast train station so we picked a little place an hour away and drove there on Thursday. We drove upstream through the Tarn Gorge to Florac and stopped for lunch. We had our first bad meal in France in a long time. Everything tasted like it had been too long on a steam table. Dawn decided that it really was a pizza place that expanded on market day and had someone deliver already cooked food to them. The servers were fun and enthusiatic and had some fun with our being Table 23 as we were paying. The occasional disappointment is how we pay for all the wonderful surprises that we have during the unplanned part of our trips.
Overhead view taken from the internet. We stayed in the lower left turret room.
Dawn in Pool
Dawn climbing out of the pool.
Front door
First floor, the former Soldier's Room
Second Floor
A Salon
Table with Weapons
Our Bed in the Round Turret Room
Dawn Settled In for Breakfast
It was a wonderful stay. The hosts were Dominique and Brigitte and it was her birthday. Dominique found us a restaurant and made reservations. We were the only guests at the Chateau although we would run into members of the family as we came and went. Morning came and we had breakfast inside because of the slight drizzle and we left soon after.
Paris is next, we are already there. You can follow us by clicking below.
---
---