Stephen:
We collected a small impromptu bon voyage party on our front porch after we had sent for a Lyft. Kenny, our next door neighbor came out his front door, his wife drove up in front of the house and Nancy who publishes the Lunar Calendar was passing by on her way to the post office and pulled over. The only person missing was the Amazon delivery guy who was carrying a pair of khaki pants that I ordered for the trip. They were supposed to be here 10 days ago but their delivery kept being pushed back until they were due this very day. He was late, and later at the airport I saw the cheery delivery notice fly across my screen. The affair with its smiles and well-wishes and waves lasted all of two minutes because that's when Derlin arrived and whisked us off to the airport.
Before we could go to Cézac, first we had to get to Isabelle's apartment in Paris. Delta airlines did most of the work, but Vino Nolo served a very nice glass of wine before the flight. We did find a place in the overhead bin for our bags and our hats. I watched "Gravity" during dinner and got some sleep before breakfast with a pretty good cup of coffee. The line for passport control was very long but moved along so it took about a half hour, enough time to find out where the tourists around us were going. Next we walked over to the train station and bought tickets for the RER B to Paris. The machine took my credit card but wanted a pin number. By the time I found it, the machine gave up waiting and just printed our tickets. The train was very crowded but we did get seats.
Getting out of the train, two guys tried to pick my pockets. The first guys threw down some coins and triedto pick them up in front of me. So I am beating on his head when I remember that the danger is behind me with the second guy who waits behind me until I am distracted and then steals my wallet. I turn and yell at him and barge my way out of the car and all returns to normal.
From the Luxemburg stop, it is a 10 minute walk to isabelle's building. She has sent us the door codes, so we get in and just fit in the elevator, the two of us with our bags.
The rest of the day is calmer. We have a nice lunch with Isabelle at the apartment, charge our phones, close up the shutters, get a car ro the station and find the wheelchair guys. Isabelle is recovering from a knee operation so she gets wheeled down the station platform. Trains are long and the walk is the same. This is a slow train, 50 or 60 miles an hour compared to the 200 mile per hour TGV train that we will take back to Paris later in the trip. The train has wifi, so we catch up online, do the crossword, get a coffee and a tea and make our way south to Cahors. The stop before, the gentleman who has been sitting facing us departs but leaves behind his mouse and computer charger. I gather them up but I can not get up quickly from my window seat. The guy sitting across the aisle sees my predicament and gets up and takes the items from me and returns them to their owner. A bit of international cooperation.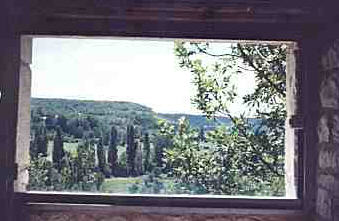 Cézac view - Out the window of the hayloft in the stable
Martine is waiting for us to drive us home. It is about 8:30 now and nearly full daylight, but during the half hour drive evening begins to set in and the beautiful countryside that is le Lot glows in the soft light. I take a guick swim in the pool, we make dinner and finally end a day that had started really two days ago on Thursday morning at 3 am.
Martine returns he next morning around 10:30 to take us to the market. But before that, Dawn and I are dropped at an Avia gas station to pick up a Hertz rental car. There is a small building with a Hertz sign which is a good thing, but it is all locked up which is not a good thing. we went into the mini-mart connected to the gas station and said we were here for a Hertz car. She asked what was the name and I said Buck. She grabbed one of the two envelopes that were next to her and start renting us a car.
It was an efficient but leisurely process. Making copies of my documents, chatting, waiting on a customer who has just bought gas, filling out the form. She carefully explained the rental as we went along. A small political discussion of the price of gas, decrying the owners of the company was thrown in. Oops, we step aside for another custumer, but it all processes forward without any tension or any of those sales pitches that are common when one rents a car, trying to get the price up. We ask and find out her name is Sophie. She shows us the car and she marks the scratches and I take pictures. She reminds me that I must step on the clutch if I want the car to start. We check the lights, especially the turn indicators and check out where all the controls are. Later I found out how to connect my phone and google maps to the car, but now we are on the way to find Isabelle at the market.
Dawn:
As we were leaving the car rental place, Sophie mentioned that we were a nice couple, easy to do business with. She said often people come in with a frown and an attitude. I thanked her and said la vie est trop courte, life is too short. Indeed we are more aware of that than ever.
Stephen:
We find Isabelle buying fruit, carefully with much discussion. The stand next to her was the wine merchant of the vineyard that we have visited many times during our visits to Cézac. We bought two bottles and added a third to fill out the three bottle box. They are good, with a little more fruit than I remember from before.
Then home, lunch, and then the pool.
In Pool with Dawn and Crane
Exercises in Pool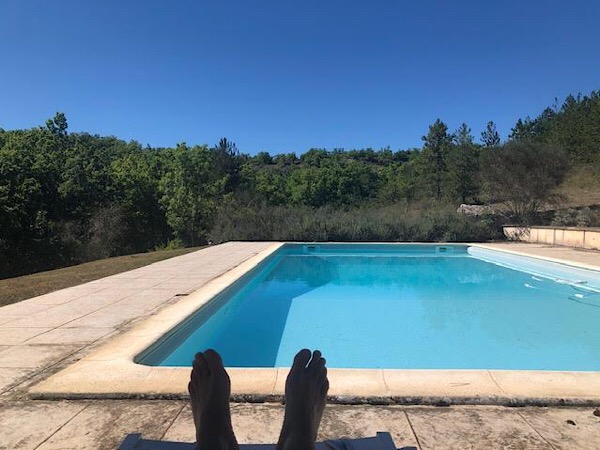 Pool View with Feet
Same and Different:
Dawn:
"Youl can't go home again" according to Thomas Wolfe, and "everything changes," according to Buddhist wisdom. Yet, taking the long train ride from Paris to Cahors, watching the wheat and sunflower fields change color with the lowering sun, there is for me a sentimental familiarity of place.
Whoa.
When we finally arrive at Le Baralou, Isabelle's home in Cézac, we pull up under a huge crane, a very imposing, industrial sight! Apparently they have been completely redoing the tile roof on the écurie or stable, and the whole barn, the building we occupied 25 years ago when we first came here. It's an impressive machine as you will see in the pictures. This morning we saw it in action while having our morning coffee down below the house. Isabelle wanted the roof to be, as before, made of authentic tiles of the region. Of course that makes it expensive, but she felt it was important. A flat, asphalt roof just wouldn't cut it. And, it is indeed beautiful, as I said to Philippe Amadieu et fils (and son), the bronzed men in undershirts who are doing this work in extreme heat.
The Crane with its Boom Over the House
The pool has been a great respite, as we are in the high 90's here. There's a machine that cleans the pool that is supposed to be on a timer but never seems to stop. I call it le serpent de la piscine, the pool serpent. Every so often, it flicks its tail and squirts us. Not so bad in this heat, but it gets the eyeglasses, Ipad, etc. if you push it out of the way when you're in the pool, it turns around and squirts you as punishment. It feels animated, like it must be an animal.
The Robot and Stephen in a Friendly Moment
Of course everything here is older, the house, its contents, Isabelle and us. At 90, Isabelle is her charming, interesting self. We are hearing more stories from her childhood that we never heard before. Over decades of coming to Le Baralou, she and Jean developed particular ways of doing things that we are trying our best to learn. Simple things, like which drawer for the forks, spoons, knives, which for the small spoons and small knives, which cabinet for the various size plates and bowls, and which size knives to use for cheese or fruit, etc.
Dawn Below and Isabelle at the Window
Out and About
Sunday we went to the outdoor market in Montcuq and had lunch on the terrace of a wonderful French/English bookstore whose owner Isabelle has known for years. First, we dropped Isabelle at church so she could attend Mass. Meanwhile, I had a handwritten shopping list from Isabelle to fulfill at the local Carrefours, a supermarket chain all over France. Well, I have to say that I failed! While my French is pretty good, my knowledge of the myriad of French dairy products is pretty mediocre. Somehow I thought that a box of eight Dannon Perles du Lait was the same as yogurt. Turns out that they are fromage blanc, basically white cheese that comes in many forms. I actually asked another shopper about riz au lait because I did not know what it was or where to find it. The kind Frenchwoman said she never bought it, but she took me to the right place and found it: rice pudding. Duh, seems like that should have been obvious to me. Then I found the organic section and looked for mousse. Turns out I purchased something called Pousse, a vegan version of the mousse Isabelle wanted. Well, the errors continue, but enough!
After Dinner the Moon Appears
Isabelle is a wonderful cook. We are trying to alternate responsibility for meals so she doesn't feel overburdened by our presence. She has a tiny coin cuisine (corner kitchen) here, so we have to gently urge her out so we can take care of cleanup and dishes. We have also been digging out the outdoor furniture from the stable and the cave. So far it has been too hot for breakfast or lunch outside, maybe dinner this evening. Now it is about 5:00 p.m. and 100 degrees poolside.
---
Stephen:
We got a hike in on Tuesday morning, but not early enough. It was probably around 10:30. I got an email from someone and sent him a respond with the picture below. French landscapes seem to be self composing. Point your camera anywhere and a composition jumps into your viewfinder. Add a tweak and a twist and you are done. (Later you can adjust of few things).
On the Route to Compostella, Hay Bales
Dawn:
We found a rest stop on the hike, with shade, picnic tables and potable water. Two young women arrived and sat with us, although there were other empty tables. A fascinating conversation ensued in Franglais. They had worked together in Paris for 18 years, then Amélie moved to Toulon.They continue their friendship by walking for a week on the route to Compostelle. We all lamented the apparent increase in aggression and violence in both France and the USA. One of the wonderful things about hiking, especially on such a sought after route, is meeting people of all nationalities and finding common ground.
---
On the Route to Compostella, Looking South
Early Morning Visiter
Early Morning Visiter
Early Morning Visiter Coming Down to Earth
It seemed quiet at first, but after a while we could hear the heater that kept it afloat. Glided dow the valley and finally came to earth in one of the farmer's fields.
A Story in Two Parts
The Bread Thief
Stephen:
Isabelle went out to a concert with Ben who came by around 7:30. After a short discussion about who had the mailbox key, they went off. We went out shortly after, on our way to Montcuq to have dinner at the cafe du Centre. after arriving there and being told to sit anywhere, we waited close to an half an hour before anything happened. But after the patron arrived and took our drink order, the evening wound up its speed to a normal 30 frames a second and we had a nice meal. Towards the end of the meal we realized two things: We had not eaten our bread and we didn't have any bread for breakfast and a third thing which that Dawn had a bag just big enough to fit the pieces.
We returned from Montcuq and were in bed by 11:30,(with the bread). Isabelle and Ben rolled in about 1 or 1:30 with a third person. There was much discussion around the Peugeot that was parked semi permanently out by the barn. The noise eventually died down and we all went to sleep.
So Dawn and I are having coffee outside the next morning when to our great surprise Ben walks out of the Ecurie and walks down to our table.
"How did the evening go", we asked. It was a disaster he replies in French and begins to explain what happened the evening before we stop him and get him to speak English so we can both understand. he is English and we are of course American so English seemed reasonable. It seems that while driving home he drove over a low center rumble strip that was not low enough and put a hole in his oil pan. he didn't realize it so he kept driving on. Soon the car became sending ominous warning signals on his dashboard. He drove a little further and then pulled over to the side of the road. The car refused to go on. Isabelle tried to call us but the calls did not go through. They called a friend of Isabelle's who came and picked them up, probably around midnight and drove them home. They tried to get the Peugot that was Jean's car to start but the battery was dead. So Madame Pern went home and Ben spent the night in the Ecurie and now we had a predicament to solve.
The funny thing is, that because we picked an odd route home which was made longer by a road closed sign, we drove over the same part of the road a half an hour earlier than they did, but we missed the obstacle.
The first issue to solve is that Ben needed to make a lot of phone calls and of course his phone's battery was almost depleted. So we ran an extension cord out of the house to the breakfast table and used Dawn's charger to start charging his phone. It didn't really matter because no one answered the phone, neither the insurance agent or the two garage is that Ben tried.
We had planned to go back to the Cahors market this morning so Isabelle hoped that we could jump the car and Ben could take the Peugeot. I didn't want to jump the battery from the rental car because I had no idea whether we might damage it. The next solution was that I would drive Ben to the garage to see if anyone was there and then take him home to get another car. This solved a lot of issues but it would cancel our shopping trip. This is what we finally did. I took the battery out of the Peugeot and put it in the rental car, Ben had a little breakfast, and then he and I were off.
We had a good time. Ben is a wonderful man with a lot of energy. We talked about his travels and how he got back to this area. We passed his car and passed the scene of the accident. The garage was truly closed, so we went on to his house and I met Bengi, his dog, and had some water and a tour of his house, nothing like the one he had when we first met. You can see it in the first Balloon picture, across the valley from Isabelle's.
I drove him to the barn where he kept his cars and he tried starting them. The first one had a dead battery also, but the second one started on the second try. It is the one you see below, a beautiful old Mercedes. We put the Peugot battery in the trunk, hoping that he could get it charged and we were done. I returned to Cézac.
Back Up Mercedes Being Brought into Action
Isabelle, A Fire ball of Energy
An Evening Out
A Chateau, Portuguese Style Facade
Concert Hall for 150 people
Vive la musique!
Dawn:
The first concert featured Valériy Sokolov, Ukrainian violinist who had been staying with Evgueni Stankovych, a composer in Ukraine, the man who wrote the piece that we heard in this beautiful place, for its French premiere. It was a Pastorale de la Foret Nuit, and very evocative. The composer had written this piece specifically for this violinist. Apparently no one was sure if Valériy, the violinist, was going to be able to get out of Ukraine or if he was even alive. He got out sometime in late March.
It was a long program in two parts. We thought it was over after the violin/piano duo played three wonderful pieces, one a Bartok sonata for violin and piano and an encore by Ravel. Water was served at intermission back on the terrace, since it was about 100 degrees in the barn/concert hall.
The second half were string quartets, the eighth by Shostakovich, and the second by Malcolm Arnold. It was all deeply moving and beautifully played, although this particular quartet was not a regular group. That surprised me as they seemed to mesh so well as an ensemble.
Two Photos of Moonrise
Then there was wine, barbecued German Bratwurst and big salty pretzels out on the terrace overlooking the magnificent rising, orange moon! Bedtime at 12:30 or 1:00 a.m.
Second Evening Out
The Bow at the End of the Concert
The next night was a much less formal affair, but still a long program in a very hot venue. This was a summer music school for young people, and they played incredibly well. The daughter of the man who ran the place was pregnant and played a wonderful, lively double violin piece with her father in law, to be joined later by her mother in law at the piano! There was a fascinating piece by Luciano Berio, called Au King, an homage to Martin Luther King, jr. The unusual thing about it was that the vocalist was integrated into the ensemble in a way that her voice sounded like an equal, blended instrument until one glorious moment when it soared above the others.The program closed with a Brahms quartet for piano, violin, viola and cello. The small young woman at the piano really drove the piece with the strength of her playing.
It was an international group of young artists, and the director introduced each one in the final curtain call. Then everyone went out for a buffet of several different salads and local vegetables, chicken, wine, beer, water, and dessert! All was consumed at long tables and benches. Isabelle knows so many people at these gatherings that the chatting goes on into the wee hours.
Dinner is Almost Ready
At the Table
The extreme heat has been difficult, but the music touches a place inside me that is hard to describe. It is especially touching to see young people, some the age of my older granddaughters, playing together to bring to life music from different eras and different nationalities. It is always hard for me to sit still. My body still moves with the music.
Stephen:
We are being run ragged by a ninety year old woman. This was her third night out, coming in after one in the morning. The concerts included a meal afterwords, so it is a full evening. This concert included a climb on a rocky road to the concert hall and then of course a descent in the darkness at the end. There was no place to turn around at the top and I didn't think I could back up or down in the dark.
A Planning Breakfast
We take you to your appointment, shop a little, have lunch where we had drinks before, then visit a friend who is almost blind.
Not a Visit but Lunch
It was too hot to have lunch at the cafe so we shopped and we about to start home when Isabelle got a call from her friend, Reneé. She had no one to bring her lunch. So we turned around and went and had lunch with her. We arrived and scurried around setting the table, finding food, hers and ours, plates, glasses until we finally sat down for lunch.
Lunch with Marie in Fiac
Dawn:
Tuesday we took a long ride through the beautiful countryside to visit a French friend we had met in Boston. It astonishes me how little rural, southern France has changed. Marie lives in a lovely contemporary home near a golf course. It was too hot to have lunch on her deck, but she made an exquisite lunch of cold courgette soup and several delicious salads. The shrimp and avocado salad with North African seasoning was wonderful as was the mixed green salad including small tomatoes and melon, potato salad, fava bean salad, deviled eggs, smoked salmon, cucumber salad, then of course fromage and a lovely berry salad for dessert. It had been about five years since we had seen Marie so we were very involved catching up on each other's lives. In fact, we were so "in the present moment" that we never thought of taking any pictures. Sorry, Marie! And thanks again for a wonderful visit.
Our Crane Over the Car
The photos so far have not done justice to the scale of this thing that occupies our space. I think it is the massive tires that hang over us as we go about our day. Ben wondered if they had a place to store it and that it would remain until it was needed elsewhere. I thought Isabelle could charge them a storage fee. She smiled and said no.
---
Delta Cahors
The other side of this sign has more details and is in French. It is new and a total surprise to us.
---
A Luncheon
Isabelle has invited Ben and Leslie over for lunch. For Dawn, an exciting moment was that Leslie liked her quacamole. Finding cilantro in a French market is not easy.
Leslie was leaving and there no time to pose
At the Dinner Table Our Last Night in Cezac
The next morning, our goodbye hugs were filled with emotion.
---
---