---
(
top
)
Planning
---
Dawn:
Between the apparently endless covid pandemic and Putin's outrageous war in Ukraine, I wasn't thinking about going to Europe this summer. However, when we finally connected with Isabelle via Facetime after several unanswered emails and texts, and heard of the sad loss of her dear husband, and our dear friend, we just wanted to spend some time with her. We don't usually go to Europa during the height of the tourist season, but we just want to be there with Isabelle, back in her place in la France Profonde. If you've read our travelogue over the years, you are already acquainted with her lovely old stone farmhouse in le Lot. For me, it's almost like going home, having an emotional, even spiritual connection to being in France. It always reminds me of my mother who was born in Paris and spoke French as her first language. So especially at this stage of our lives, I say Putin and covid be damned. We are going!
---
Stephen:
We arrived in France and have started a little bit of writing on the Cézac page. Everything went smoothly on the way over. This isn't our first trip since Covid, but it is the first back to France. The main impetus was to see Isabelle whose husband Jean died last January at the age of ninerty-one. The three of us decided that we should visit her at her country home in Cézac. We extended the trip by seeing q friend that lives between Cézac and the Cévennes which is a rugged part of Southern France. We stayed there a week before returning our rental car at the TGV Station at Avignon and taking the fast train back to Paris where we remained for a week. A fight home on August fifth ended the trip.
We stayed in hotels this time rather than AirBnBs. The AirBnBs that were available were out in the country and we wanted to be within walking distances to villages.
Hotel de la Cascade in the Cevennes (Gorge du Tarn)
Chateau de Rousson (on the way to the train station, one night
Citadines, Condo Hotel in Paris near the Marais
---
(
top
)
Cézac, July 8 - July 22
---
Our Arrival
Stephen:
We collected a small impromptu bon voyage party on our front porch after we had sent for a Lyft. Kenny, our next door neighbor came out his front door, his wife drove up in front of the house and Nancy who publishes the Lunar Calendar was passing by on her way to the post office and pulled over. The only person missing was the Amazon delivery guy who was carrying a pair of khaki pants that I ordered for the trip. They were supposed to be here 10 days ago but their delivery kept being pushed back until they were due this very day. He was late, and later at the airport I saw the cheery delivery notice fly across my screen. The affair with its smiles and well-wishes and waves lasted all of two minutes because that's when Derlin arrived and whisked us off to the airport.
Before we could go to Cézac, first we had to get to Isabelle's apartment in Paris. Delta airlines did most of the work, but Vino Nolo served a very nice glass of wine before the flight. We did find a place in the overhead bin for our bags and our hats. I watched "Gravity" during dinner and got some sleep before breakfast with a pretty good cup of coffee. The line for passport control was very long but moved along so it took about a half hour, enough time to find out where the tourists around us were going. Next we walked over to the train station and bought tickets for the RER B to Paris. The machine took my credit card but wanted a pin number. By the time I found it, the machine gave up waiting and just printed our tickets. The train was very crowded but we did get seats.
Getting out of the train, two guys tried to pick my pockets. The first guys threw down some coins and triedto pick them up in front of me. So I am beating on his head when I remember that the danger is behind me with the second guy who waits behind me until I am distracted and then steals my wallet. I turn and yell at him and barge my way out of the car and all returns to normal.
From the Luxemburg stop, it is a 10 minute walk to isabelle's building. She has sent us the door codes, so we get in and just fit in the elevator, the two of us with our bags.
The rest of the day is calmer. We have a nice lunch with Isabelle at the apartment, charge our phones, close up the shutters, get a car ro the station and find the wheelchair guys. Isabelle is recovering from a knee operation so she gets wheeled down the station platform. Trains are long and the walk is the same. This is a slow train, 50 or 60 miles an hour compared to the 200 mile per hour TGV train that we will take back to Paris later in the trip. The train has wifi, so we catch up online, do the crossword, get a coffee and a tea and make our way south to Cahors. The stop before, the gentleman who has been sitting facing us departs but leaves behind his mouse and computer charger. I gather them up but I can not get up quickly from my window seat. The guy sitting across the aisle sees my predicament and gets up and takes the items from me and returns them to their owner. A bit of international cooperation.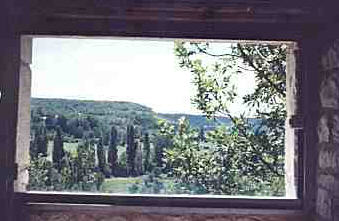 Cézac view - Out the window of the hayloft in the stable
Martine is waiting for us to drive us home. It is about 8:30 now and nearly full daylight, but during the half hour drive evening begins to set in and the beautiful countryside that is le Lot glows in the soft light. I take a guick swim in the pool, we make dinner and finally end a day that had started really two days ago on Thursday morning at 3 am.
Martine returns he next morning around 10:30 to take us to the market. But before that, Dawn and I are dropped at an Avia gas station to pick up a Hertz rental car. There is a small building with a Hertz sign which is a good thing, but it is all locked up which is not a good thing. we went into the mini-mart connected to the gas station and said we were here for a Hertz car. She asked what was the name and I said Buck. She grabbed one of the two envelopes that were next to her and start renting us a car.
It was an efficient but leisurely process. Making copies of my documents, chatting, waiting on a customer who has just bought gas, filling out the form. She carefully explained the rental as we went along. A small political discussion of the price of gas, decrying the owners of the company was thrown in. Oops, we step aside for another custumer, but it all processes forward without any tension or any of those sales pitches that are common when one rents a car, trying to get the price up. We ask and find out her name is Sophie. She shows us the car and she marks the scratches and I take pictures. She reminds me that I must step on the clutch if I want the car to start. We check the lights, especially the turn indicators and check out where all the controls are. Later I found out how to connect my phone and google maps to the car, but now we are on the way to find Isabelle at the market.
Dawn:
As we were leaving the car rental place, Sophie mentioned that we were a nice couple, easy to do business with. She said often people come in with a frown and an attitude. I thanked her and said la vie est trop courte, life is too short. Indeed we are more aware of that than ever.
Stephen:
We find Isabelle buying fruit, carefully with much discussion. The stand next to her was the wine merchant of the vineyard that we have visited many times during our visits to Cézac. We bought two bottles and added a third to fill out the three bottle box. They are good, with a little more fruit than I remember from before.
Then home, lunch, and then the pool.
In Pool with Dawn and Crane
Exercises in Pool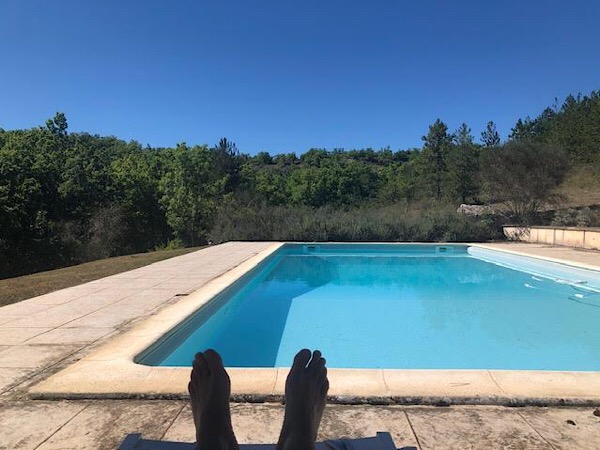 Pool View with Feet
Same and Different:
Dawn:
"Youl can't go home again" according to Thomas Wolfe, and "everything changes," according to Buddhist wisdom. Yet, taking the long train ride from Paris to Cahors, watching the wheat and sunflower fields change color with the lowering sun, there is for me a sentimental familiarity of place.
Whoa.
When we finally arrive at Le Baralou, Isabelle's home in Cézac, we pull up under a huge crane, a very imposing, industrial sight! Apparently they have been completely redoing the tile roof on the écurie or stable, and the whole barn, the building we occupied 25 years ago when we first came here. It's an impressive machine as you will see in the pictures. This morning we saw it in action while having our morning coffee down below the house. Isabelle wanted the roof to be, as before, made of authentic tiles of the region. Of course that makes it expensive, but she felt it was important. A flat, asphalt roof just wouldn't cut it. And, it is indeed beautiful, as I said to Philippe Amadieu et fils (and son), the bronzed men in undershirts who are doing this work in extreme heat.
The Crane with its Boom Over the House
The pool has been a great respite, as we are in the high 90's here. There's a machine that cleans the pool that is supposed to be on a timer but never seems to stop. I call it le serpent de la piscine, the pool serpent. Every so often, it flicks its tail and squirts us. Not so bad in this heat, but it gets the eyeglasses, Ipad, etc. if you push it out of the way when you're in the pool, it turns around and squirts you as punishment. It feels animated, like it must be an animal.
The Robot and Stephen in a Friendly Moment
Of course everything here is older, the house, its contents, Isabelle and us. At 90, Isabelle is her charming, interesting self. We are hearing more stories from her childhood that we never heard before. Over decades of coming to Le Baralou, she and Jean developed particular ways of doing things that we are trying our best to learn. Simple things, like which drawer for the forks, spoons, knives, which for the small spoons and small knives, which cabinet for the various size plates and bowls, and which size knives to use for cheese or fruit, etc.
Dawn Below and Isabelle at the Window
Out and About
Sunday we went to the outdoor market in Montcuq and had lunch on the terrace of a wonderful French/English bookstore whose owner Isabelle has known for years. First, we dropped Isabelle at church so she could attend Mass. Meanwhile, I had a handwritten shopping list from Isabelle to fulfill at the local Carrefours, a supermarket chain all over France. Well, I have to say that I failed! While my French is pretty good, my knowledge of the myriad of French dairy products is pretty mediocre. Somehow I thought that a box of eight Dannon Perles du Lait was the same as yogurt. Turns out that they are fromage blanc, basically white cheese that comes in many forms. I actually asked another shopper about riz au lait because I did not know what it was or where to find it. The kind Frenchwoman said she never bought it, but she took me to the right place and found it: rice pudding. Duh, seems like that should have been obvious to me. Then I found the organic section and looked for mousse. Turns out I purchased something called Pousse, a vegan version of the mousse Isabelle wanted. Well, the errors continue, but enough!
After Dinner the Moon Appears
Isabelle is a wonderful cook. We are trying to alternate responsibility for meals so she doesn't feel overburdened by our presence. She has a tiny coin cuisine (corner kitchen) here, so we have to gently urge her out so we can take care of cleanup and dishes. We have also been digging out the outdoor furniture from the stable and the cave. So far it has been too hot for breakfast or lunch outside, maybe dinner this evening. Now it is about 5:00 p.m. and 100 degrees poolside.
---
Stephen:
We got a hike in on Tuesday morning, but not early enough. It was probably around 10:30. I got an email from someone and sent him a respond with the picture below. French landscapes seem to be self composing. Point your camera anywhere and a composition jumps into your viewfinder. Add a tweak and a twist and you are done. (Later you can adjust of few things).
On the Route to Compostella, Hay Bales
Dawn:
We found a rest stop on the hike, with shade, picnic tables and potable water. Two young women arrived and sat with us, although there were other empty tables. A fascinating conversation ensued in Franglais. They had worked together in Paris for 18 years, then Amélie moved to Toulon.They continue their friendship by walking for a week on the route to Compostelle. We all lamented the apparent increase in aggression and violence in both France and the USA. One of the wonderful things about hiking, especially on such a sought after route, is meeting people of all nationalities and finding common ground.
---
On the Route to Compostella, Looking South
Early Morning Visiter
Early Morning Visiter
Early Morning Visiter Coming Down to Earth
It seemed quiet at first, but after a while we could hear the heater that kept it afloat. Glided dow the valley and finally came to earth in one of the farmer's fields.
A Story in Two Parts
Stephen:
Isabelle went out to a concert with Ben who came by around 7:30. After a short discussion about who had the mailbox key, they went off. We went out shortly after, on our way to Montcuq to have dinner at the cafe du Centre. after arriving there and being told to sit anywhere, we waited close to an half an hour before anything happened. But after the patron arrived and took our drink order, the evening wound up its speed to a normal 30 frames a second and we had a nice meal. Towards the end of the meal we realized two things: We had not eaten our bread and we didn't have any bread for breakfast and a third thing which that Dawn had a bag just big enough to fit the pieces.
We returned from Montcuq and were in bed by 11:30, (with the bread). Isabelle and Ben rolled in about 1 or 1:30 with a third person. There was much discussion around the Peugeot that was parked semi permanently out by the barn. The noise eventually died down and we all went to sleep.
So Dawn and I are having coffee outside the next morning when to our great surprise Ben walks out of the Ecurie and walks down to our table.
Isabelle, A Fire ball of Energy
"How did the evening go", we asked. It was a disaster he replies in French and begins to explain what happened the evening before we stop him and get him to speak English so we can both understand. he is English and we are of course American so English seemed reasonable. It seems that while driving home he drove over a low center rumble strip that was not low enough and put a hole in his oil pan. he didn't realize it so he kept driving on. Soon the car became sending ominous warning signals on his dashboard. He drove a little further and then pulled over to the side of the road. The car refused to go on. Isabelle tried to call us but the calls did not go through. They called a friend of Isabelle's who came and picked them up, probably around midnight and drove them home. They tried to get the Peugot that was Jean's car to start but the battery was dead. So Madame Pern went home and Ben spent the night in the Ecurie and now we had a predicament to solve.
The funny thing is, that because we picked an odd route home which was made longer by a road closed sign, we drove over the same part of the road a half an hour earlier than they did, but we missed the obstacle.
The first issue to solve is that Ben needed to make a lot of phone calls and of course his phone's battery was almost depleted. So we ran an extension cord out of the house to the breakfast table and used Dawn's charger to start charging his phone. It didn't really matter because no one answered the phone, neither the insurance agent or the two garage is that Ben tried.
We had planned to go back to the Cahors market this morning so Isabelle hoped that we could jump the car and Ben could take the Peugeot. I didn't want to jump the battery from the rental car because I had no idea whether we might damage it. The next solution was that I would drive Ben to the garage to see if anyone was there and then take him home to get another car. This solved a lot of issues but it would cancel our shopping trip. This is what we finally did. I took the battery out of the Peugeot and put it in the rental car, Ben had a little breakfast, and then he and I were off.
Back Up Mercedes Being Brought into Action
We had a good time. Ben is a wonderful man with a lot of energy. We talked about his travels and how he got back to this area. We passed his car and passed the scene of the accident. The garage was truly closed, so we went on to his house and I met Bengi, his dog, and had some water and a tour of his house, nothing like the one he had when we first met. You can see it in the first Balloon picture, across the valley from Isabelle's.
I drove him to the barn where he kept his cars and he tried starting them. The first one had a dead battery also, but the second one started on the second try. It is the one you see below, a beautiful old Mercedes. We put the Peugot battery in the trunk, hoping that he could get it charged and we were done. I returned to Cézac.
An Evening Out
A Chateau, Portuguese Style Facade
Concert Hall for 150 people
Vive la musique!
Dawn:
The first concert featured Valériy Sokolov, Ukrainian violinist who had been staying with Evgueni Stankovych, a composer in Ukraine, the man who wrote the piece that we heard in this beautiful place, for its French premiere. It was a Pastorale de la Foret Nuit, and very evocative. The composer had written this piece specifically for this violinist. Apparently no one was sure if Valériy, the violinist, was going to be able to get out of Ukraine or if he was even alive. He got out sometime in late March.
It was a long program in two parts. We thought it was over after the violin/piano duo played three wonderful pieces, one a Bartok sonata for violin and piano and an encore by Ravel. Water was served at intermission back on the terrace, since it was about 100 degrees in the barn/concert hall.
The second half were string quartets, the eighth by Shostakovich, and the second by Malcolm Arnold. It was all deeply moving and beautifully played, although this particular quartet was not a regular group. That surprised me as they seemed to mesh so well as an ensemble.
Two Photos of Moonrise
Then there was wine, barbecued German Bratwurst and big salty pretzels out on the terrace overlooking the magnificent rising, orange moon! Bedtime at 12:30 or 1:00 a.m.
Second Evening Out
The Bow at the End of the Concert
The next night was a much less formal affair, but still a long program in a very hot venue. This was a summer music school for young people, and they played incredibly well. The daughter of the man who ran the place was pregnant and played a wonderful, lively double violin piece with her father in law, to be joined later by her mother in law at the piano! There was a fascinating piece by Luciano Berio, called Au King, an homage to Martin Luther King, jr. The unusual thing about it was that the vocalist was integrated into the ensemble in a way that her voice sounded like an equal, blended instrument until one glorious moment when it soared above the others.The program closed with a Brahms quartet for piano, violin, viola and cello. The small young woman at the piano really drove the piece with the strength of her playing.
It was an international group of young artists, and the director introduced each one in the final curtain call. Then everyone went out for a buffet of several different salads and local vegetables, chicken, wine, beer, water, and dessert! All was consumed at long tables and benches. Isabelle knows so many people at these gatherings that the chatting goes on into the wee hours.
Dinner is Almost Ready
At the Table
The extreme heat has been difficult, but the music touches a place inside me that is hard to describe. It is especially touching to see young people, some the age of my older granddaughters, playing together to bring to life music from different eras and different nationalities. It is always hard for me to sit still. My body still moves with the music.
Stephen:
We are being run ragged by a ninety year old woman. This was her third night out, coming in after one in the morning. The concerts included a meal afterwords, so it is a full evening. This concert included a climb on a rocky road to the concert hall and then of course a descent in the darkness at the end. There was no place to turn around at the top and I didn't think I could back up or down in the dark.
A Planning Breakfast
We take you to your appointment, shop a little, have lunch where we had drinks before, then visit a friend who is almost blind.
Not a Visit but Lunch
It was too hot to have lunch at the cafe so we shopped and we about to start home when Isabelle got a call from her friend, Reneé. She had no one to bring her lunch. So we turned around and went and had lunch with her. We arrived and scurried around setting the table, finding food, hers and ours, plates, glasses until we finally sat down for lunch.
Lunch with Marie in Fiac
Dawn:
Tuesday we took a long ride through the beautiful countryside to visit a French friend we had met in Boston. It astonishes me how little rural, southern France has changed. Marie lives in a lovely contemporary home near a golf course. It was too hot to have lunch on her deck, but she made an exquisite lunch of cold courgette soup and several delicious salads. The shrimp and avocado salad with North African seasoning was wonderful as was the mixed green salad including small tomatoes and melon, potato salad, fava bean salad, deviled eggs, smoked salmon, cucumber salad, then of course fromage and a lovely berry salad for dessert. It had been about five years since we had seen Marie so we were very involved catching up on each other's lives. In fact, we were so "in the present moment" that we never thought of taking any pictures. Sorry, Marie! And thanks again for a wonderful visit.
Our Crane Over the Car
The photos so far have not done justice to the scale of this thing that occupies our space. I think it is the massive tires that hang over us as we go about our day. Ben wondered if they had a place to store it and that it would remain until it was needed elsewhere. I thought Isabelle could charge them a storage fee. She smiled and said no.
---
Delta Cahors
The other side of this sign has more details and is in French. It is new and a total surprise to us.
---
A Luncheon
Isabelle has invited Ben and Leslie over for lunch. For Dawn, an exciting moment was that Leslie liked her quacamole. Finding cilantro in a French market is not easy.
Leslie was leaving and there no time to pose
At the Dinner Table Our Last Night in Cezac
The next morning, our goodbye hugs were filled with emotion.
---
(
top
)
Les Cevennes July 22 - July 29
---
Les Cevennes
Our Arrival

Stephen:
We came across country on small roads, once detouring around a tractor pulling a large load of the round hay bales. We found a restaurant in Rodez on Google maps which brought us near to a parking garage which we pulled into. We found Les Potos 12 on a narrow street near a church and grabbed a table on the street in the shade. Our waitress was a lively young women from Argentina who organized a good meal for us. Some of the results are below.
Some Nice Shrimp for Dawn/An Unknown Church behind Stephen whose Door Closed after Our Lunch
Dawn with the Restaurant Behind Her/Stephen's Chicken
---
Gorge du Tarn Hike
Dawn:
We took a 12k hike today on a rough trail in beautiful country, not unlike Utah, except for the river. Of course the water is terribly low as it's been so hot and dry. In the morning, the hike to the medieval village of St. Enimie was pretty nice as it was still cool and shaded.
Dawn on the Way Over to Ste. Enimie
Stephen:
When we arrived we treated ourselves to a couple of iced teas and I began the investigation of kayak companies that would rent us a boat to paddle down rhe Tarn and then haul us back with the boat. We spoke first with Chrystal who explained the various permutations of put in and take out sites and the resulting distances. She was very clear and knowledgeable despite using a map that flipped East and West.
Dawn:
The return in the afternoon was rough, in full sun, and my toes were killing me but we did it! With the exception of cars and satellite dishes, we could be living in the Middle Ages here. All these stone villages are amazing.
Looking at Fear
Dawn:
Before leaving home, we read an article by Pema Chodron on facing your fears. It has been really useful. In Cézac, it was my habitual fear of looking stupid, not competent, or not measuring up to others' expectations. After awhile I was able to laugh at some of those situations and see that dropping that habitual sense of ego is a good thing.

Here in St. Chely, I took a good look at more physical fears. The trail for that hike had lots of talus , loose rock, sheer drops, spots where the trail kind of dropped out. On the return, it was so hot that I wondered if I was going to pass out or have a heart attack. When Stephen pointed out the oncoming last uphill of the hike, I said "walking meditation" and just put one foot in front of the other and be in the moment. It really did help.

The steep final descent with much loose rock was quite a challenge, and that old fifth metatarsal fracture from last November still speaks up from time to time, alas. We made it safely and I recovered more quickly than I expected, yeah!
Saturday in Saint Chely
From the Pool, Looking Upstream
From the Pool, Downstream
The little Chapel tucked into the Rocks and the Interior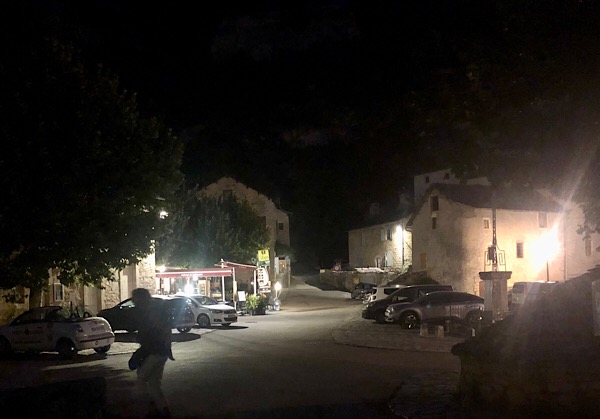 The Town at Night
The Cliffs at Night
Sunday in Sainte Enimie
Dawn;
Today, we drove to Ste. Enimie for coffee and croissants instead of having the big breakfast at our auberge. We then took a walk around the medieval part of town. It is stunning how people built with stone and no mortar. Every corner seems to offer another beautiful photo op. As mentioned before, you can see in one photo the contrast between the ancient stone village and the modern world of satellite dishes.
In an old stone cave was a hand craft leather store. After thirty years of wearing the same, now worn out, belt, Stephen got a new one that was cut to order to his size. He also insisted on buying me a necklace, made by a man who has been honing his craft for forty years. After much trying on and talking, we found one that looks like a crescent moon. It is apparently the only one he made in that design. He seemed pleased that an American choreographer was going to wear this piece of his art.
Stephen imitating unknown famous photographer
Satellite Dish
Small Market Squares
The leather shop with belts. l feel great when I put my new belt on.
Dawn:
The myth around St. Enimie is that she was a beautiful, much sought after woman who wanted to be married only to God. She prayed for a way to avoid accepting her parents' choice of spouse. God responded by giving her leprosy and making her undesirable. She continued to do good works, but one day prayed to be cured. It took three visits to a special place of prayer before she was cured, but the remission didn't last. She lived the rest of her life in service to others. Sounds like a good Boddhisatva to me!
Sunday Night at L'Eden
The bar part of the restaurant, dug back into the rock
View of sunset lit cliffs from our table.
Dawn's Dinner
Bar Interior
This is the other restaurant in town and the one we think is better and friendlier. They are not trying to be anything other than what they are, a place to eat good food out in the woods with friendly people. The propriataire had a way of walking slowly across the old paving stone road and standing still at our table a moment before asking us what we would like to drink.
The restaurant at our hotel seems to want to be considered Haute Cuisine. Not quite to my taste. The food was good though.
We Took a drive on Monday
Scenic Overlook
Looking down on our Town
See our pool in the center. This photo is from a roadside panarama on the top of the gorge.
Wild Horses (Przeswalskis)
I am showing the photo of the group of wild horses to look at their tight grouping. Domesticated horses might be more spread out. These are the horses that are painted on the cave walls at Lascaux.
We stopped at the side of the road to take a picture of this beautiful horse which is probably domesticated.
The wide open space at this preserve. There are horses in this picture but too far away to see.
Open up this photo to see the horses by the watering hole. The fence you see keeps the horses and people away from each other.
Small Roman Church by the Side of the Road
We met some young pilgrims here.
Ice Cream Stop
We stopped in Meyrueis for ice cream which sems to be becoming our regular lunch. We are going to have a lot of calories to burn off when we get back. We also found a Carrefour to shop for our river snack the next day. The measuring stick atached to the bridge was ready for 10 more feet.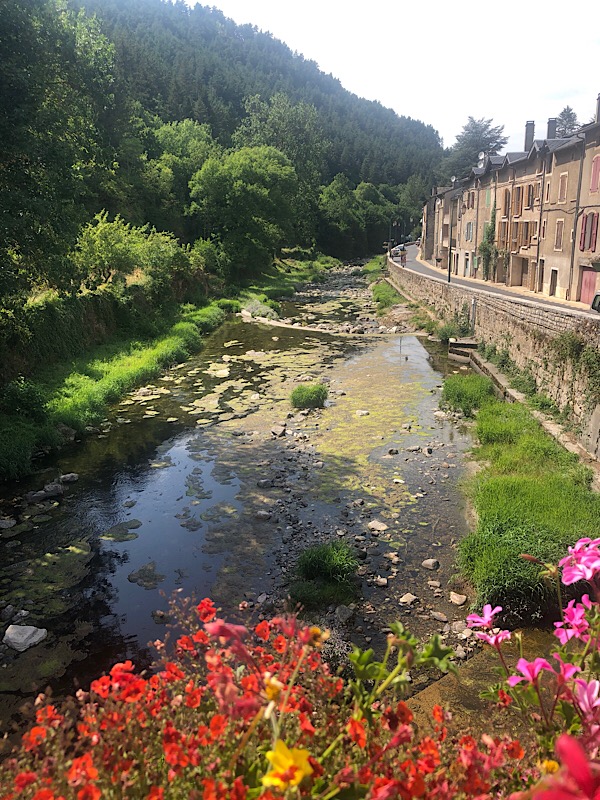 The Jonte River at Low Water
Difficult and Dangerous Road (Going up)
As we started up this road, Dawn read the sign "This road is difficult and dangerous" and the weren'r kidding. The cliff edge was on Dawn's side so she had to be the one who could see down into the Gorge. It went on for about 9 km. There were times when doing a blind turn back into the cliff the road wasn't wide enough for two cars. Once a woman backed up just ten feet or so but that was enough for me to squeak by. Dawn was great, calling out when she could see at blind curves that the road was free ahead.
On Fear, Part II
Dawn:
This incredible hairpin turn car ride was yet another example of working with fear. We had already been driving on mountain roads with switchbacks, but turning on to one labeled Difficile et Dangereuse really got my attention! As Stephen mentioned, I did my best to look ahead, stay calm and warn him when a car was coming the other way. Being on the cliff edge side of the car most often, I had an extreme view of the drop to the gorge below. Stephen is an excellent driver, and slowing my breathing helped too
Another One (Going Down)
It Was Like Dropping Into a Double Black Diamond Ski Run
Just keep facing downhill and let the steering wheel go right and left, except there were cars coming up, and once in a while we shared a switchback with them. As we came down we could look down into the town and see onto the tops of the cafe umbrellas. It was awesome.
Tuesday is Kayak Day
Dawn;
Today was a gorgeous day for a paddle down the Tarn. It is a totally different feeling to be in the river, looking up at the majestic cliffs from the bottom and to be moving through the center of the gorge. Instead of hiking or driving, clinging to the edges of cliffs, you feel somehow at the center of it all. Sadly the incredible heat and drought has made the water terribly low. In the photos, you can see many feet of white rocks on either side that are normally covered with water. In a way, this phenomenon made the rapids less threatening, yet the water was so low, we often were poling through the rocks, sometimes getting turned around and sometimes having to get out and pull the canoe forward while walking in the river.
Fortunately the boats are sturdy plastic construction that could handle bumping into rocks Although called canoes, the seating and paddles were kayak style Although this trip was allegedly self propelled by us paddlers, it did not seem far away from one of those crazy amusement park rides! It spite of the wacko moments, it was really fun!
Stephen:
Our greatest moment was after we entered some quick water and needed to make a right hand turn to avoid the rock that we were careening toward and I started calling "LEFT RUDDER, LEFT RUDDER" to Dawn in the back. To her great credit she followed orders so we didn't make the turn. The canoe pivoted around its nose and so the canoe was facing upstream and once I got us free we did the fastest part of the trip backwards until we hit a rock which brought us to a standstill. But the canoe slid free and we arrived in calm water. Yes, fun!
Le Pecheur de Lune
We drove back upriver to Ste. Enimie and walked to the top of the old town to have dinner at Le pecheur de Lune. It was a creperie and the meal was a change from style of French food that we had been eating.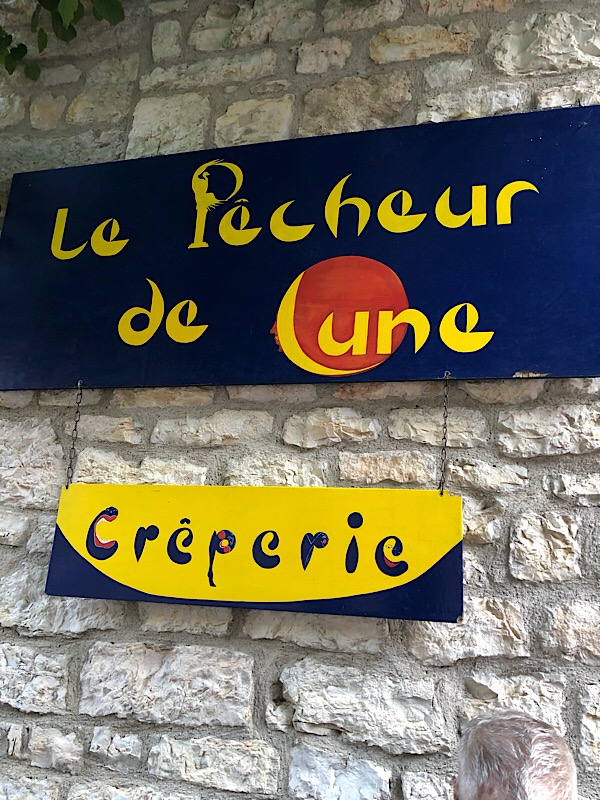 Hike to Chateau de la Cazes
Stephen:
We decided to hike downstream this our last day in St. Chely. After yoga for Dawn at the pool and writing for me we packed what we borrowed from breakfast and a bottle of water and headed up for the trail. This time we turned right and walked along a quickly narrowing road along side a few very cute gites.
St. Chely from the Trail Going Down River
Stephen
Dawn
The Chateau Across the River (Lunch Spot)
Yoga Morning
Early morning view of town and pool where Dawn did yoga before it opened.
View from the Yoga Mat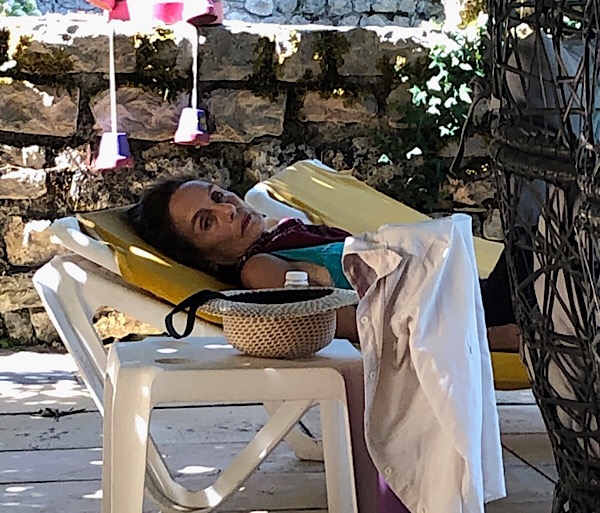 I was taking a picture of Dawn lying on her back when she turned and looked over in my direction.
---
Dawn:
During my yoga session, I noticed a tuft of mostly dry grass, emerging from between the terrace and rock wall below:
Clinging to life
Mostly dry with
Two sprigs of green
Tuft of grass
Between tile and rock
Soon to spill its seeds
As I have done
Decades ago
To grow into children
Bloom into grandchildren
The dry grass will wither
And die
Leaving new life below
For next spring

---
Last night before Returning to Paris at the Chateau de Rousson
We needed to be closer to the Avignon fast train station so we picked a little place an hour away and drove there on Thursday. We drove upstream through the Tarn Gorge to Florac and stopped for lunch. We had our first bad meal in France in a long time. Everything tasted like it had been too long on a steam table. Dawn decided that it really was a pizza place that expanded on market day and had someone deliver already cooked food to them. The servers were fun and enthusiatic and had some fun with our being Table 23 as we were paying. The occasional disappointment is how we pay for all the wonderful surprises that we have during the unplanned part of our trips.
Overhead view taken from the internet. We stayed in the lower left turret room.
Dawn in Pool
Dawn climbing out of the pool.
Front door
First floor, the former Soldier's Room
Second Floor
A Salon
Table with Weapons
Our Bed in the Round Turret Room
Dawn Settled In for Breakfast
It was a wonderful stay. The hosts were Dominique and Brigitte and it was her birthday. Dominique found us a restaurant and made reservations. We were the only guests at the Chateau although we would run into members of the family as we came and went. Morning came and we had breakfast inside because of the slight drizzle and we left soon after.
Paris is next, we are already there.
---
(
top
)
Paris, July 29 - August 5, 2022,
Our Arrival
---
Stephen:
We got an early start because of possible rain. The hour and a half from the Chateau to Avignon TGV went smoothly. The return of the car at Hertz went quickly. We were so early that we hung out on a bench outside the station. The train was five minutes late but about five minutes early into Paris. We walked over to the hotel in twenty-five minutes or so and checked in. It might have gone smoother if I had not entered Dawn Kramer as the guest name instead of mine. I thought they were asking for my guest but no, they wanted my name. It worked out and soon we were upstairs admiring our new home.
First Evening in Paris, Old Haunts
Stephen:
After unpacking, we took a short walk over to Place des Voges, maybe the emotional center of Paris for us. We found a bench in the shade and just breathed the place in. Then we walked over to La Favorite and had a kir and a beer. We spent some time with Jim and Lee here when our paths crossed in Paris some years ago.
Then we walked over to Isle Saint Louis and watched the Seine flow by. We now were near enough to the Petit Cardinal in the Left Bank to walk there for dinner. We have spent a lot of time in this place, meeting friends for a drink, writing the travelogue, always on the right side of the bar. But we could not remember whether we had ever eaten there. It was time to find out. The food was good, the owner/server was enthusiastic after we told him that we were friends of Pascal. He said that he had not see him for a while. We pondered this and wondered whether Pascal had changed bars to the one up the hill. Parisians have strange relationships with their bar, leaving or being kicked out sometimes. We have never gotten an explanation. It just happens.
Hotel Photos
Dawn's shot out our four story window on Blvd. Richard Lenoir.
Dawn at Coffee in the Morning (Still working on my Vermeer style)
The Kitchen
The Bed
Thoughts on Paris
Dawn:
Ah, Paris! How do I love thee? Let me count the ways. Well, first the skyline of 19th century buildings, treetops, and magnificent clouds. Second, the caf&eacure;society of sipping something outdoors on the street and watching Paris walk by. Third, very bittersweet memories of folks so associated with Paris and are now gone: most recently our dear friend Jean, a man of culture, poetry, and good humor. In 2015, our loss of Malek, Algerian poet/writer/editor and also a man of culture and good humor. Our friend Jill, from Newton, a dedicated francophile who taught the language and adored this city. Our friend Linda who was not exactly in Paris with us but joined us years ago on a barge trip on the Canal du Midi and so appreciated the open markets of fresh fruit, veggies, and cheese. And my mother who was born in Paris in 1909, came to New York at age five, and in her waning years started speaking French again before her death in 2003. Yes, everything changes. We are so grateful to be here, right now, again perusing the alleys, squares, museums, people, and mysteries of this city.
Saturday Errands
Coffee, writing, shopping for food, visiting an Art Gallery, buying a gift, (Go to Si Tu Veux if you want an old-fashioned toy store inGalerie Vivienne), stopping for fruit juices, getting metro tickets to get home, having a beer and a glass of wine at Mr. Alphonse, bought a rotisserie chicken at Francprix, dinner at home.
Wonderful Toy Store
No electronics, no sound, just old-style
Found a neighborhood bar the night before it closes for Summer vacation
Mr. Alphonse was a good bar, checking off many of the boxes that we require. It was small amd quiet and specialized both in beer and wine. They were pouring by the glass over twenty different wines and many beers. We had an interesting conversations about the development of craft beers in France. It would have been our go to neighborhood bar except that as we left he announced that this was their last night before they broke for their summer vacation. Too bad for us, but great for him.
Borrowed this picture from the Mr. Alphonse website
Dinner at Home
We added a chicken to the food we had already bought and had dinner at home on our inside "Terrace". Between the two roadway underground runs the canal de Saint Denis which allows barges to go from the Seine to Villette and then to the North of France.
Dinner for Two with a view over Richard Lenoir>
Getting Flowers
Stephen:
I got up early, walked a block down the street to the Bastille Market just as it was opening. I texted the picture below to Dawn to get her approval. We came back after breakfast and bought fruit, vegetables, olives, bread and cheese. Ran the dishwasher with last night's chicken dishes. Amazing to have a dishwasher.
Sunflowers at the Market (approved)
Dawn's Closeup
Adding Color to Our Room
Visiting Maggie and Ghislain
We took a long slow walk across the Marais to visit Maggie and Ghislain and their two beautiful twin daughters, born in October, 2020. We spent a nice time catching up and playing with or at least admiring the children.
A Beautiful Family
Caterpillar
Going Out
class="centimg" We were going into a hip area and I needed a new look. I did not actually go out with the hood up, too hot.
Art
Dawn:
Two somewhat forgotten groups of people were the basis for two powerful contemporary art shows. One was in the
Galerie Continua
by Brazilian artist, Jonathas Andrade. He connected with a group of homeless people in Recife and drew us into their community through photos, video, and large posted words. His video often used extreme closeups of their faces. The necessary act of eating became a bizarre ritual of devouring when seen at such close range. It was uplifting to see the camaraderie of such a diverse group of people, by age, race, gender, transgender, orientation, etc.The video was certainly a political statement as this group felt completely written off by President Bolsonaro.
Video Still, Homeless Man asleep in Recife - Jonathas de Andrade
---
Les Femmes Portent le Monde, or Women Carry the World,
is a photo exhibit by American artist, Lekha Singh. She honors women, mostly in Africa and India, who carry water, wood, and food for their families, some for many miles every day. Global warming has made the search for water often longer and more difficult. From our experience backpacking in the desert, I can vouch for the fact that water is very heavy. She also had one beautiful photo of a bare, pregnant belly, a metaphor for how women everywhere carry the next generation. Women do indeed carry the world, as we are the carriers of life.
Photo from the Exhibition
Ironically, this expo was at the Musée de l'Homme, the Museum of Man! It is really meant as man as humanity and is a natural history museum about the development of our species. While the expo on women was too short, the permanent, natural history collection was very good, but overwhelming and exhausting!
---
August 2
Dawn:
Where ever we are in the world, we remember August 2 as the anniversary of the day nuclear bombs were first used in Hiroshima. With the Putin war continuing in Ukraine, the threat of nuclear warfare continues to loom large. Given the extreme increase of deadly power in contemporary nuclear weapons, it is hard to imagine anyone winning such a war. We, the whole world, would lose. Above is a link to a short piece that Stephen and I made two years ago to commemorate the sad events of Hiroshima and Nagasaki and encourage renewed efforts towards denuclearization and global harmony.
---
Coffee in the Morning
When we travel, one of the most important things for Dawn is that she be able to get up and make herself a cup of coffee in the morning without getting dressed. Down below, meet her challenger, the machine that will do nearly everything. Also, from my point of view it is easier to go down to the lobby and pray to this machine rather than make coffee. I even have a uniform: a teal polo shirt, sweatpants with pockets and Dawn's pink flip flops.
Push a Button
Fear, Part III
Stephen:
I have been thinking lately about little fears, so small and so many that I don't really notice them. They are the ocean that I swim in. I'll name a few: being late, forgetting to do something, not remembering someone's name, or not being sucessful at everything that is scheduled, especially something in a foreign country. That is another list: getting a table at a restaurant, getting gas, navigating the Metro, making the flight.

I am sure there are many more but they are hiding from me right now.

I have a plan. First, to be aware of them as they occur, then give them a smile, imagine what it would be lke not to have that particular fear, not caring about a particular result, imagine what it would be like to be free in the moment, to be joyful instead of worried.

The Buddhists would add something about non-grasping. I would agree with them and I would add that the practice od sitting in meditation helps me to be aware of the present moment. When I think of "My Life" I want to be thinking of right now, not the 75 years I've had combined with the few years that I have left.

It's kind of working. I smile more. I see more. I have more time. I love more.

An aside:
I am sitting in bed in our hotel room, and if I wanted to I could count every single item that we brought with us and that the hotel is lending us. It might be 4-5 pages, counting every spoon and plate. I mustn't forget the coffee maker downstairs. Or perhaps my stuff on the Cloud which includes this travelogue. This doesn't mean that I don't need some of the stuff I have at home, it just means that I don't need it all.
Tuesday
Dawn got in a good yoga practice and I uploaded photos and wrote in the travelogue. After investigating the Comptoir Restaurants near the Odeon we had lunch at the nearby Creperie.Then we went to the nearby Luxembourg Gardens and watched the kids sail the toy sailboats, sitting in the shade surrounded by Italian tourists.
Hot day at the Luxembourg
On the way home we went for a drink at the Cafe des Phares and picked up some cheese to have with our salad.
Wednesday, Museum Montmartre
We went to see an exhibition of a painter Charles Camion who we had never heard of. The 40 bus was not working properly so we ended up doing 121 steps out of the metro and added the funiculaire on top of that.
Studies Based on Other Paintings
A Photo of part of the Studio
A Sketch pinned to the wall of the Studio
I liked this painting because it was so cheerful and full of light
A painting of a young girl in the park (1905), nearly same time that Dawn's mom might have been there.
Lunch on the Side of the Hill
It was called Au Relais. It was the first shady restaurant we hit as we were walking off Montmartre. The food was good and reasonably priced. I payed in cash because we had too much to bring back to the US. As I explained it to the waitress, "I have too much cash". I will never forget her look, or rather the absence of look as she thought about her response. It was a two second pause in her day.
Au Relais, A Good Place for Restoration
Heat
Even after our lunch, we were still crushed by the heat. We found a longish route home (M12 to the M1 to the M5j but it had fewer stairs and steps. Then we turned up the AC and flopped down on our bed to rest. It is emotional to be brought to a standstill by this invisible outside force. In ordere minimize walking in the heat we were making good use of our Navigo metro passes.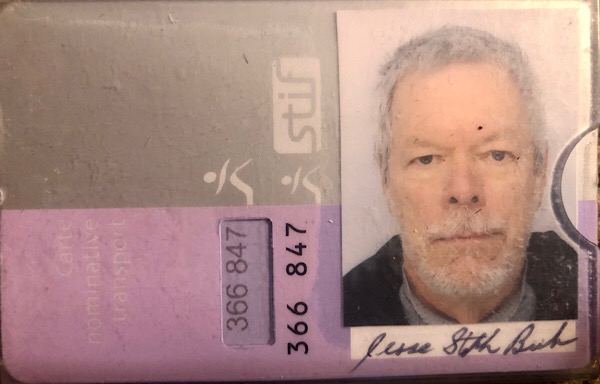 They have a lot of rules about how to pose, all of which make us look like a crooks. We got these passes back in 2015. They are cluncky with 2 cards inside a plastic case. During our first trip we used them then for monthly passes,then in 2019 for weekly passes. But now the technogy has changed. Using the RATP phone app, you read the Navigo and then buy a new weekly pass with your phone and load it back onto the card. Now we use the ability to ride the metro and buses as many times as we want to shorten or eliminate our walks. So after our nap, we took buses over to see Pascal who had arranged to meet us at the Petit Cardinal.
Drinks with Pascal
He was waiting for us on the right side of the bar when we arrived. We had a good time catching up.
We started to walk home planning to find dinner on the way. Dawn began to fade and suggested grabbing a metro home.
Dawn:
My Net Diary app is still tracking my steps, although I declined to enter any data about food and drink while in France. Today, we logged 11,300 steps, on pavement, about five miles and twenty flights of stairs, all in 96 degree heat. So, we never did have any dinner, just collapsed in bed when we got back and stayed there until the next morning!
Thursday, Vincent Dubourg at the Magda Nanysz Gallery
We walk into a very contemporary chic, white walled gallery with a very contemporary, chic, beautiful, multi-lingual dark skinned woman at the desk. She encourages us to explore the work of Vincent Debourg, on three floors. He is all about exploring materials, changing habitual perceptions, finding the spiritual in the process. Hmmm, as I write those words, I think that is almost the definition of art itself. Our favorites are wood that he has altered through charring.
Box
From the side of the paintings
On the third floor is a skylight with a lovely gobo effect of moving leaves. Stephen noticed it and made a short video. We think that is also art and show it to the woman at the desk who appreciates our noticing it as the gallery workers see it regularly but haven't noticed it in that way.
Skylight (Video Still)
Drinks at Cafe des Phares with Pascal and Florentin
Florentin, originally from St. Martin, and Pascal have been friends for about 25 years, so Pascal invited him to join us for a drink. He's another interesting, multi-lingual guy. We chatted about our long-ago visit to St. Martin during Thanksgiving week when we stayed in Grand Case. He is a IT guy working for the French Railroad trying to make the apps more accessible to people with low or no phone skills.
At the Cafe des Phares
A Question from Tess
She asked us, "Are you having fun?".
Dawn:
We rarely go to Europe in the height of the summer tourist season. We went at this time because we wanted to accompany Isabelle to her place in Cézac and spend some quality time with her and to be useful there. This we did and were glad that we could.
The Cévennes were special, and it is apparently rare for Americans to go there. The main problem, in Cézac and Paris as well, was the heat. We know many parts of the world suffered this summer from extreme drought and temperatures. That heat just sapped my energy, so many outings felt more like work than fun. Still, we had many wonderful experiences. Whether with friends, or in Nature, or with music and art, we continue to discover beauty; we continue to be moved; we continue to hope that we will all wake up to know how interconnected we humans are and how we are of Nature. Efforts to mitigate global warming are efforts to save our own species as part of Nature herself.
Stephen:
This turns out to be a really interesting question. My first answer is that for much of the time I was really happy, whether I was having a coffee, relaxing by the pool or having a good meal. I was really happy at the Eden Restaurant. I liked the food and I liked the people who worked there. Also I felt successful. The plane and train tickets worked. The car rental worked. The phone app for getting back into the US quicker worked. So, even when things didn't work I didn't care because my batting average was so high.
For me, fun is a different story. I don't plan fun as much I used t4. I think the only fun thing I planned was the kayak rental, but it was pretty staid except for the backward part. If risk and danger are ingredients of fun, I think I have programmed them out a little. I have sort of stopped skiing, but, after being poked by Tess, I am definitely going to buy some new skis and hit the slopes this winter. I am also going to keep an eye out for potential fun that might be just ahead. Thanks, Tess.
Trip back to Boston
Almost nothing exciting happened between leaving the hotel and landing in Boston. A good part was when we were in the departure hall filled with people in line or looking for the line to get into. I showed an an airport person my boarding pass (which indicated that I had filled out all the questionnaires) and asked what did I do next and she said go to the security line. Also we had Delta tickets but were flying Air France so the gate was the closest one to security.
Movies and food were good, the flight fast and the MPC app for geting through Passport Control worked this time. We had entered our info earlier and the authorities pulled it out of the app when we entered the building so our line had one person in front of us. We showed the line manager that we had the app and she waved us up the the front of a line. Two questions and two photos and we were through. We walked to Central Parking, grabbed a Lyft. We were home before 4:30 PM on a Friday afternoon after our plane landed somewhat before its scheduled 3:00 arrival.
So we are wrapping up. Thank you for reading or looking at the pictures. We had some ups and downs but we were really happy to get out of Boston and get over to France for a month.
We hope everyone is doing well.
Dawn and Stephen