The map will open in another page and show where we are staying and places we might visit. The Black numbers are from the book "100 Places in Cuba Every Woman Should Go".
We do not remember how Cuba came into the picture as a possible destination. I was influenced by Social and Economic Justice concepts which were beginning to have a presence in travel writing on the internet.
My brother Johnny had been there a couple of times and his trips seem so exotic and adventuresome.
We also have friends who have gone with groups to Cuba, namely Pastors for Peace and Witness for Peace. They both remarked on the vibrant dance and music culture on the island. Several months ago, Global Arts Live brought one of those dance companies, Malpaiso Dance, to Boston. They are an energetic contemporary repertory company that performs a variety of work. We hope to perhaps catch them in rehearsal or performance while we are there.
When I started to investigate Cuba I learned that there was a lot of information about Cuba on the internet and very little was still up to date. The currency situation has changed. The "Cukes" are gone, the exchange rate changed drastically last August (2022). The mandatory medical insurance is weird, the premium is part of your airline ticket. What you can do there as part of the "In Support of the Cuban People" is vague to the point of incomprehensibility. American Credit cards are not accepted. Euros get a better rate than Dollars. we might have to take cash to cover the whole trip as ATMs won't work. As always, opinions revealed more about the writer than the reviewed. But I began to get a good feel about the people I would stay with and meet. I looked at a video about a trip that Rick Steeves did with just his family, no camera crew. He loved it.
Rick Steeve's home movie
In this travel lecture, Rick Steves describes his experience traveling through Cuba as the US began easing decades of travel restrictions for American tourists. Expand your travel horizons and learn about the time-passed elegance of Havana, Cuba's classic American cars, fine $5 rum, the best Cuban cigars, and the idealistic charms of this remarkable island and its people. (Produced by Seattle's KCTS 9.)
The entry requirements for Americans visiting Cuba have changed since this was filmed. Check the latest details before planning your trip.


After reading other similar travel blogs. We decided to go.
Now for how long? One week seemed too short, three weeks too long, so two weeks it is.
---
Below is the first place we will stay in Havana.
Havana
First Stay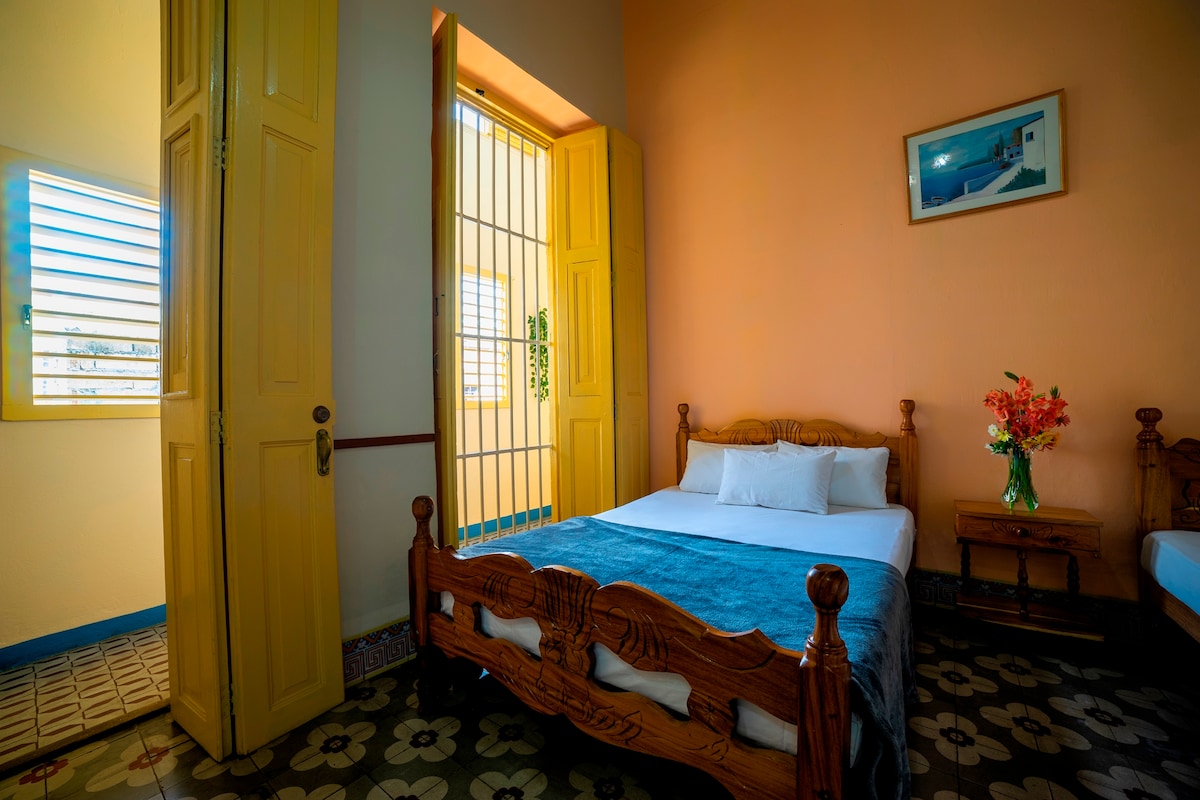 First Casa Particular in Havana (Link to Site)
Located in the very center of the Capital of Cuba, being a construction from the 1890s, Lovely Havana Rooms, is a charming and warm 5 bedroom Bed & Breakfast property owned by a young Cuban entrepreneur. This place is in the best location to discover Havana on foot, since it is very close to the Malecón and the Central Park of Havana.

You can experience the city like a Cuban and receive a warm welcome from our family, who will be your friend and guide throughout your journey.

The space

This is a beautiful colonial house of the decade of 1890 with excellent hosts who will offer their guests a warm welcome during their stay. Preserved in its original state recently restored to offer the best comfort and service to its customers. You can appreciate the traces of the same time that date back to that ancient time where the struts are more than 6 meters high, being very ventilated all sectors of the housing in its entirety and providing endless color and life from the slabs of the floor to the wooden ceilings of the time to two colors having a useful space of more than 200 square meters.

One of the specialties of the house are the breakfasts prepared each morning composed by a number of offers that will help to start an excellent day of discovery.

Guest access

Guests have access to the whole house
---
We are still figuring out what to do.
The first Item on our itinerary is the
Fabrica de Arte
The link is to a Time Magazine List of the greatest 100 places in the world.
We will also visit the Martin Luther King Jr. Center is the western part of the city and Cuba Libros, an English speaking Book Store run by Conner Gorry who wrote "100 Places in Cuba Every Woman Should Go".
---
Trinidad
La Boca
We found our out-of Havana destination, Trinidad, a beautiful colonial city. We will not stay there but visit it from La Boca, a small fishing village on the south shore of Cuba where I think it will be quieter at night, (all is relativer). You can find it on the map at the top of the page, under the blue 80 ° line.
---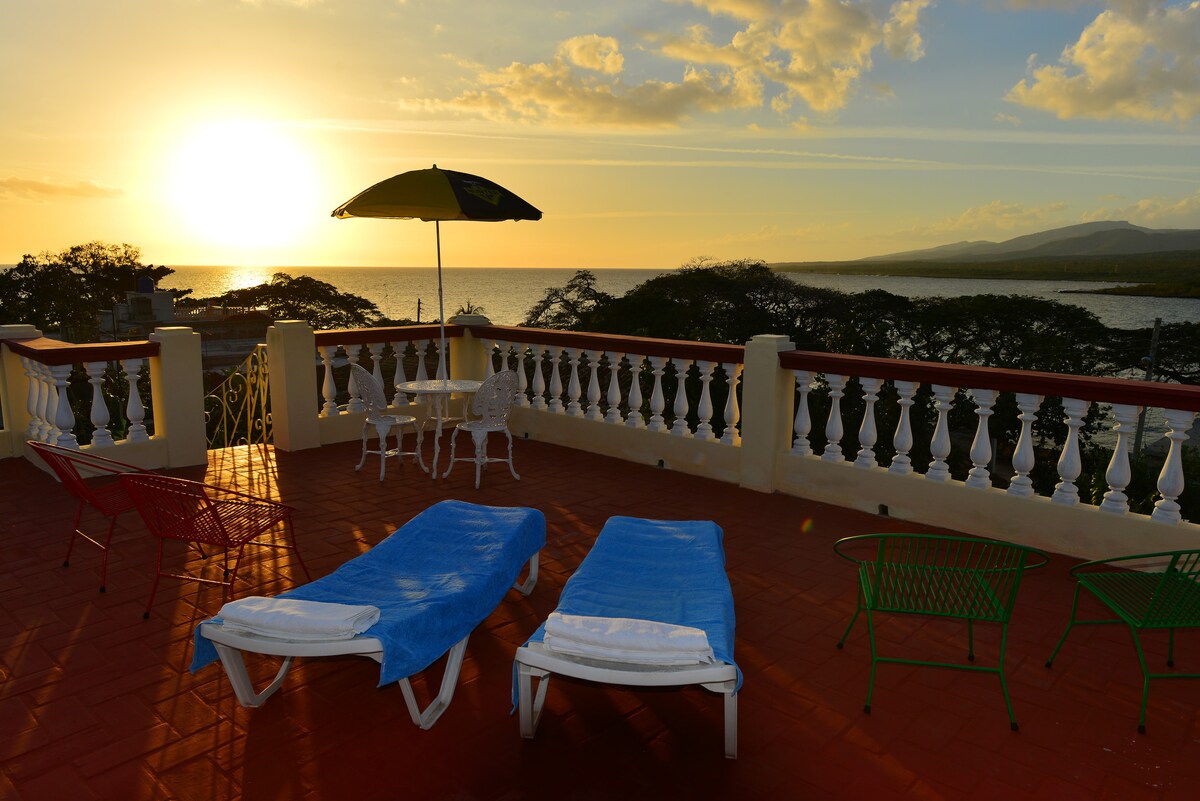 Our Terrace in La Boca (Link to Site)
A beautiful modern sea view room with private bathroom, air conditioner, one king size bed and one single bed, fan, safe box, 40 inch led TV, minibar, hairdryer, hot and cold water 24h, restaurant service, vegetarian and gluten free menu.

The space

Our guest can also enjoy our marvellous SOLARIUM in the upper level, and see a beautiful sunset every day drinking a wide seletion of cuban cocktails, such as, mojito, pina colada, daiquiri and much more..!

Guest access

We are happy to have you with us, and because of that you can use and walk everywhere in our house, we love share with our guest.

Other things to note

In our house we can organize for you any kind of tours, such as, katamaran sightseen, deep sea fishing, scuba diving, horse ride excursion, trip to the waterfall, city tour and many more. Also we can help you to arrange your transfer around the all cities in Cuba.
---
Here there is the Beach, the city, hikes in the nearby Park to waterfalls horseback rides, dancing outside to live bands and maybe just relaxing
---
Havana
Last night in Cuba
We had to finally give up the idea that Aeromar was actually going to fly to Merida from Havana on March 8. The flight which had been hard to find has just faded away. So I made a reservation with a slightly less shaky Airline, Viva Aerobus that is scheduled for the day before. I bought all the extras to make the flight comfortable and if I ever have to argue about refunds or seats, I could do it from a higher place. We were cancelled us out of our casa for our second stay in Havana after we return from Trinidad/La Boca because it was only for one night. I found another. The information is below.
This amazing house in the heart of Old Havana is perfect for couples, solo adventurers, business travelers and families who wish to discover the beauty of Havana while staying in a comfortable and elegant place. Close to popular places such as El Capitolio, El Floridita, La Bodeguita del Medio and La Plaza Vieja, among others.
The space
Our accommodation is of modern construction, spacious and with lots of natural light. For you we have prepared 2 rooms on the second floor of the property, each of them unique and specially prepared for what you need, air conditioning, private bathroom, clean towels and sheets, in addition to personal hygiene products, decorated with minimalist and simple details that do not overload the environment.
* With this announcement you will be renting our green room , we have named it for its green decoration. It is worth noting that it is a small room but there you will have all you need But if you want more space we have the colorful large terrace, which undoubtedly is what makes us unique in Old Havana, in it you will have the pleasure of enjoying a beautiful sunset or taking a dip in the pool taking advantage of the warm climate of our Caribbean country.
Guest access
For us it is very important that you have a happy stay in our house, so we work hard to offer you the best services.
1- full breakfasts = 5 eur o usd x person (Fruit, juices, coffee, milk, bread, butter, cheese, eggs to your liking, jam)
2- food service = 10 eur o usd x person
* Starter, main course, seasonal salad, dessert and seasonal juice are included)
If you prefer healthier food we also have menus for vegetarians and vegans,
* Starter, main course, seasonal salad, dessert and seasonal juice are included)
* It is worth noting that all our dishes are made with local and seasonal products, so you can try that rich Cuban seasoning that characterizes us
3- Body massages 30 cuc and in other areas, varying in these the price
4-laundry (0.50 large pieces, 0.25 small pieces) but if you stay with us more than 4 days the laundry will be We provide free !!!!!!!
5 - Collective or private taxis to any place on the island (price varies by city)
6 - tour throughout the island, arranging transportation and accommodation (free)
Common zones
Our house has several common areas:
1- terrace (Here you can smoke, read books, relax with the singing of birds, enjoy the pool, have breakfast, dinner, drink or just work with your pc)
2- small terrace
3- main hall
Other things to note
If on your trip you decide to go to other destinations, we help you create a personalized tour throughout Cuba, collective transport, spectacular houses and wonderful and common sense hosts, always willing to help you solve any doubts and concerns.

---
---