The first reservation I made was for about a week in
Merida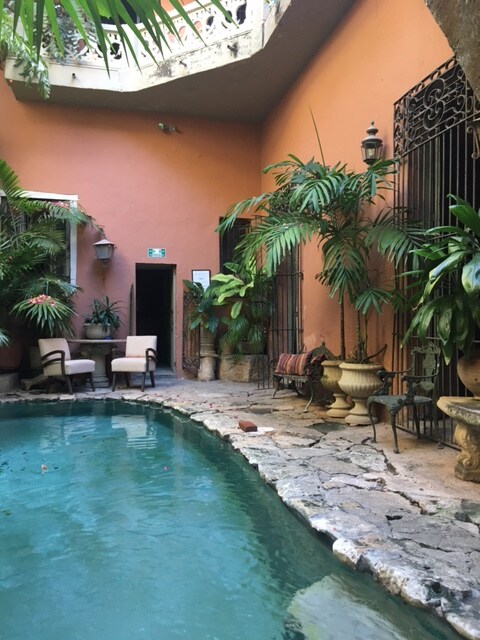 Imposing Venetian-style mansion - right downtown - with views of the Old City. It's a haciendado's take on European styles of the 19th Century. 4 block walk to Zocolo & Sta. Lucia Park restaurant hub. This 19th Century Merida home makes local Mexican history come alive. Here, you can have a room which speaks to those times. Non-smoking. Morning coffee is provided in the bar room. A bakery with breakfast fare is located a few doors away, on the same block.
The space
This is the room I would choose because of its privacy - also, green is positive, cooling and beautiful. Choose this room. -- the owner
Guest access
A room which sits atop a very old chicle bodega, full of history. The adventure starts at the front door but the green bridge evokes a time and an artist we love - Monet. Guests must traverse the main formal rooms and stair to get to their private space. I love it.
Other things to note
Called 'Ancestors', this room recalls my own history and that of my family. The found and collected architectural details infuse the space with design elements of past occupants. Cool blues and grays, and a splash of electric blue from the colored glass. I love the cool gray floor and the East facing balcony.


We will hang out in Merida and visit museums and restaurants and find out what the city has to offer.
---
I made a car rental reservation with a company called
Easy Way.
for March 16 and we will keep it until we return it at the Cancun airport on April 3.
Since 1987 Easy Way Rent a Car, a regional Mexican Company with offices in the most important cities in the Yucatan Peninsula (Cancún, Playa del Carmen, Tulum and Merida), offers well maintained vehicles, very Competitive prices without the surprise charges!
Our staff will help you have a great vacation in the Mexican Caribbean by providing you the right information you need!
We may not be the biggest car rental company but our dedication to high quality customer service is our difference!
Not cheap but less than the big guys. I read a lot blogs about travel in this area, and finally came across an a mention of an agency that some traveler has really liked. Easyway has 9 reviews on Yelp, all of them 5 stars. The company rents in the Merida, Cancun, Tulem Triangle. Them seem to be similar to Cactus Rentals who were so great last year in Cabo. They may drop the car off at our B&B in Merida.
---
Our first stop in the Mayan Ruin country. Uxmal will be our main target but we will visit other places on the Ruta Puuc and perhaps visit a cave. Going for a guided hike is also a possibilty.
The Pickled Onion ( Link to Site)
We have quaint Maya-style accommodations where you can enjoy the peace and quiet of our countryside, but you can still stay connected with our Wifi (free to B&B clients). You can enjoy your evening meal watching the sunset and marvel at the clear night sky and the rising of the moon. It is a place to share, compare and recommend your experiences to other visitors from all over the world. If you want to calm yourself after a day of hiking the ruins, then a dip in the pool or a walk around the labyrinth will re-energize your soul.
Along the Ruta Puuc, there are no places to eat and so we can offer picnic lunches for you to take on your way. It is preferable to order the night before so that we can freeze the bottled water included with your picnic, to help keep your food nice and cool.
To feel really relaxed and at one with the universe, we suggest the services of a local Mayan lady who can provide you with a nice relaxing massage

---
After a long drive south, we will stop in Xpujil to visit Calakmul. From this town it will be an hour drive to the reserve and then another hour to get to the ruins. This was on if the real political powerhouses in its hayday.
(Ecohabitat in Xpujil Link to Site)
A review from Belgium.
Very friendly hosts who provided very early breakfast so we could go early to visit calakmul. They also provided a good lunchbox to take away. On our demand they provided a very good guide David of Dantatours who guided us in calakmul. He spoke very good English and gave us a wonderful experience with exploring fauna, flora and ruins of calakmul.

---
The beach is next. We will stay at an off the grid place consisting of four casitas on the beach and a restaurant.
Ecological Hotel Maya Luna (Link to Site
---
Bacalar is next. It is famous for its lagoon of seven colors. One of the reasons we came here is this couple's video blog.
Video Blog about Bacalar (Link to Site)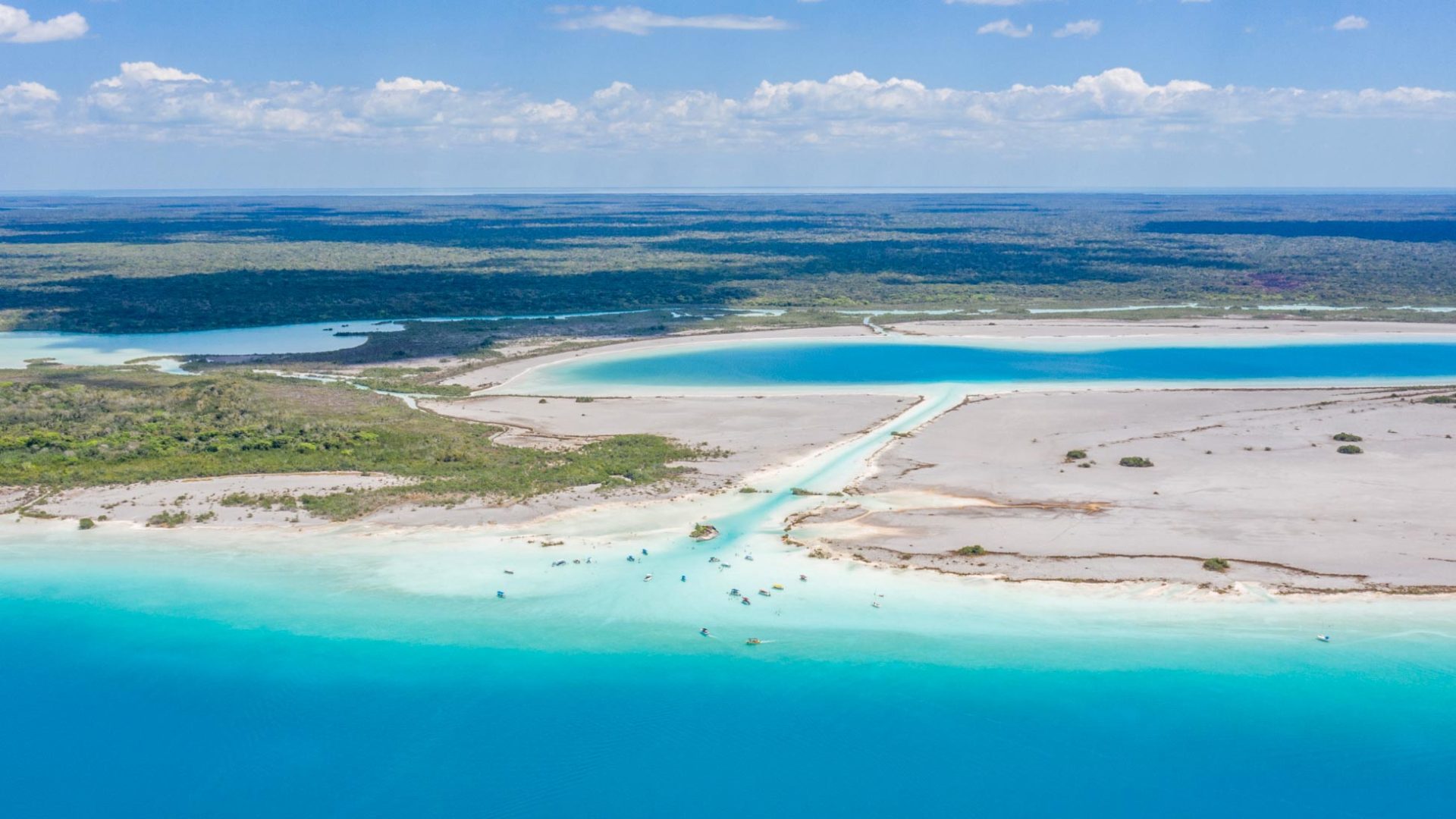 Image source: Canva
This will be the only time on this trip that we will rent an apartment. We are going for a more social expedition.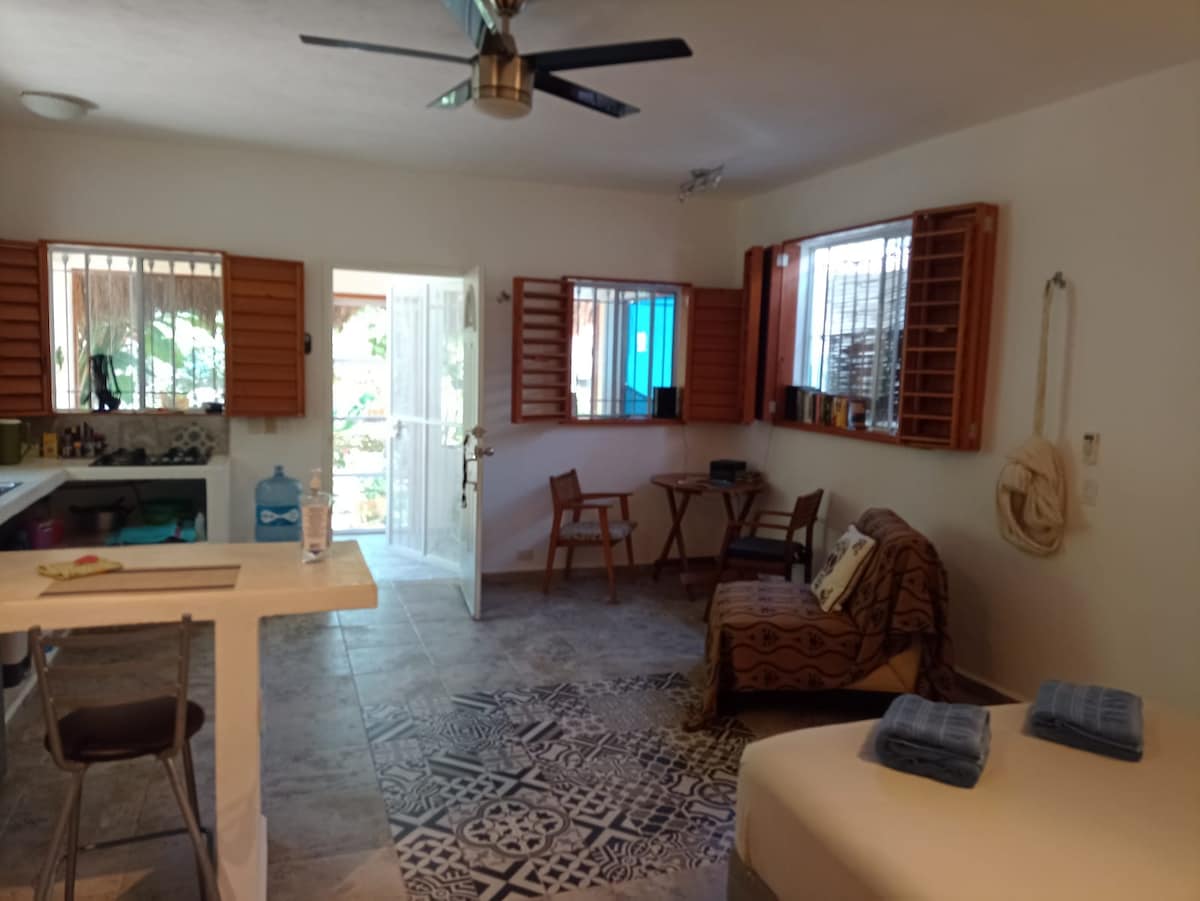 Casa Choo in Bacalar ( Link to Site)
Casa Choo is a fully equipped apartment for short or longer stays. Included is a outside screened in porch with relaxing area and table for outside dining. Pick fresh limes from a tree located on premises. The Casa comes equipped with beach towels and coffee to get you started in the morning. Secure gated parking and only four blocks from the center of town and 10 mins to 3 swimming areas. Also one block to a running track. Bikes are available for rent. A new swimming pool has been added.
The space
The yard is a lush garden with a lime tree to make your refreshing Margaritas and comes with a BBQ..
Other things to note
I have two rescued street dogs that have become part of my family..Very friendly and are clean..I also have a cat..

---
And here is the place for our last two nights. It is about a half hour from the Cancun airport. I was going to work my up the coast staying in Tulum then Cancun, but changed my mind for a nice place at them beach after a long drive from Bacalar.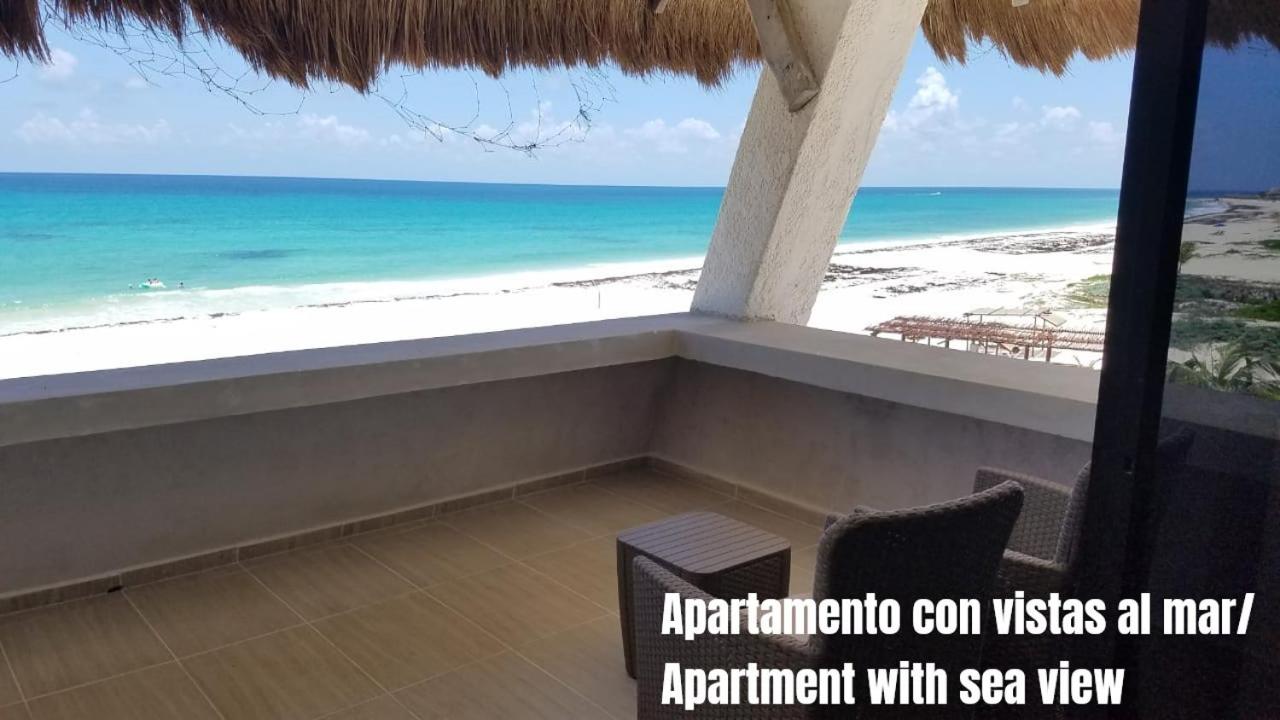 Casa Kay in Puerto Morelos ( Link to Site)
Review from Hungary
Exactly as described and rated by everyone else.. lovely, clean appartments, AC, full kitchen with cooking tools and fridge, purified water, comfy bed.
The beach was right by, ocean air, quiet area, clean pool, hammocks, private sunbeds and umbrellas on the beach, clear water (during seaweed season the seaweed washes up in 2days and the beach is cleaned regularly). Absolutely lovely host, Ana even offered picking us up from/to airport which was of a huge help.
No hidden costs.
No shops close by, so its just an advice to do grocery before arrival. However you can possibly order food and drinks from the hostel next to the left as well.
---
---