Stephen:
November 7, 2022 (The day I started writing):
Looking back:
I have been working on this trip for perhaps two months, but today have started writing about the preparation and planning. Sometimes I will be looking back at what I have done in the first two month and sometimes I will be descibing the day's activities.
One of the first issues was to figure out how to save all the collected information about potential places and events and then how to organize the information such as reservation and telephone numbers of places that hae been reserved. small spreadsheets for each category turned out to be my solution. No surprise. It is what I have been using for almost all my projects.
At the beginning all I had were two words, Winter Trip. There was no form, no content. It was interesting to watch myself deal with the anxiety that this caused.
The first decision is of course when to go. I decided to do the trip late in the season.. We will start on February 22, Ash Wednesday, because I wanted to ski again. I bought new equipment because my old stuff had worn out and was no longer safe. Now I was ready to hit the slopes. Also, I had a doctor's appointment in the middle of February and I needed to keep it.
Next, where to go?
We do not remember how Cuba came into the picture as a possible destination. I was influenced by Social and Economic Justice concepts which were beginning to have a presence in travel writing on the internet. My bother Johnny had been there a couple of times and made his trips seem so exotic. It also seemed not too expensive. Now that I have been getting into the specifics I am not so sure how cheap it will be. When I started to investigate Cuba I learned that there was a lot of information about Cuba on the internet and very little was still up to date. The currency situation has changed. The "Cukes" are gone, the exchange rate changed drastically in August. The mandatory medical insurance is weird, the premium is part of your airline ticket. What you can do there as part of the "In Support of the Cuban People" is vague to the point of incomprehensibility. American Credit cards are not accepted. Euros get a better rate than Dollars. we might have to take cash to cover the whole trip as ATMs won't work. As always, opinions revealed more about the writer than the reviewed. But I began to get a good feel about the people I would stay with and meet. I looked at a video about a trip he did with his family. He loved it.
Rick Steeve's home movie
In this travel lecture, Rick Steves describes his experience traveling through Cuba as the US began easing decades of travel restrictions for American tourists. Expand your travel horizons and learn about the time-passed elegance of Havana, Cuba's classic American cars, fine $5 rum, the best Cuban cigars, and the idealistic charms of this remarkable island and its people. (Produced by Seattle's KCTS 9.)
The entry requirements for Americans visiting Cuba have changed since this was filmed. Check the latest details before planning your trip.


After reading other similar travel blogs. I decided to go. We know we will start and end in Havana but we don't know where else in Cuba we might go.
Now how long?
One week seemed too short, three weeks too long, so two weeks it is. That puts us going to Mexico on March 8. So when do we come home? Our garden gets going in the beginning of April, so I guess Monday, April 3 which will get us home before Easter.
Why Mexico and then what part?
Because we have been going there for a few years and we like the cultue both Spanish and Indigenous. Now, what part. My first idea was to go to either Puerto Escondido or San Augustonilla which are beach communities where we have been before in the state of Oaxaca. Then I thought maybe we could go to both. It seemed we could not make the connection in one day from Cuba, so I thought about a two day layover in Mexico City.
No reservations have been made yet, but now there was an outline. I found that I could make a cancelable reservation at
The Red Tree House
our favorite B and B in Mexico City, for two nights to anchor the flights from Cuba to Oaxaca. I went ahead and made the reservation.
Now I am really looking at places in Oaxaca. I am trying to figure out how to get to one of them, then a maybe taxi between the two and then fly home. This turns out to be a problem. It can't be done in one day, If we fly into a US city, I have no way of predicting how much time I should budget before getting a flight to Boston.
This is when I found out that Dawn might want a pool because she found the waves on both beaches kind of intimidating. It occurred to me that I might be looking in the wrong part of Mexico. We had just heard from a friend how much they liked Merida in the north of the Yucatan peninsula so we made an about face and I started looking in Merida and beaches within reach of that town. I found out that we could fly straight to Merida from Havana in an hour and twenty minutes, eliminating on lot of flying. Cancun was a 4 hour drive away and we could fly non stop to Boston from there on Jet Blue or Delta. We decided to make the switch and the only reservation we had so far needed to be cancelled. It was embarrassing to have to contact the Red Tree House and say we weren't coming, because our plans had changed.
The first reservation I made was for about a week in
Merida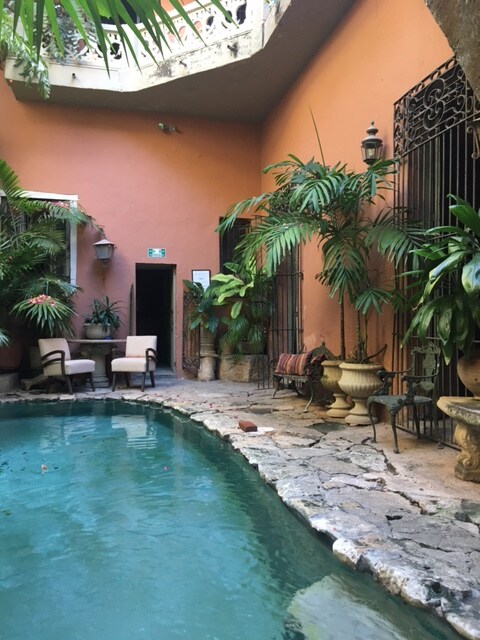 Imposing Venetian-style mansion - right downtown - with views of the Old City. It's a haciendado's take on European styles of the 19th Century. 4 block walk to Zocolo & Sta. Lucia Park restaurant hub. This 19th Century Merida home makes local Mexican history come alive. Here, you can have a room which speaks to those times. Non-smoking. Morning coffee is provided in the bar room. A bakery with breakfast fare is located a few doors away, on the same block.

The space

This is the room I would choose because of its privacy - also, green is positive, cooling and beautiful. Choose this room. -- the owner

Guest access

A room which sits atop a very old chicle bodega, full of history. The adventure starts at the front door but the green bridge evokes a time and an artist we love - Monet. Guests must traverse the main formal rooms and stair to get to their private space. I love it.

Other things to note

Called 'Ancestors', this room recalls my own history and that of my family. The found and collected architectural details infuse the space with design elements of past occupants. Cool blues and grays, and a splash of electric blue from the colored glass. I love the cool gray floor and the East facing balcony.


---
I figured if the Cuba trip fell through, I could get to Merida from Boston and start the trip there. But I figured it out enough about Cuba to go and I made three reservations in Cuba with AirBB. First Havana, the La Boca, a fishing village near the city of Trinidad, and then back in Havana before our exit which I planned for March eighth with Aeromar to go to Merida.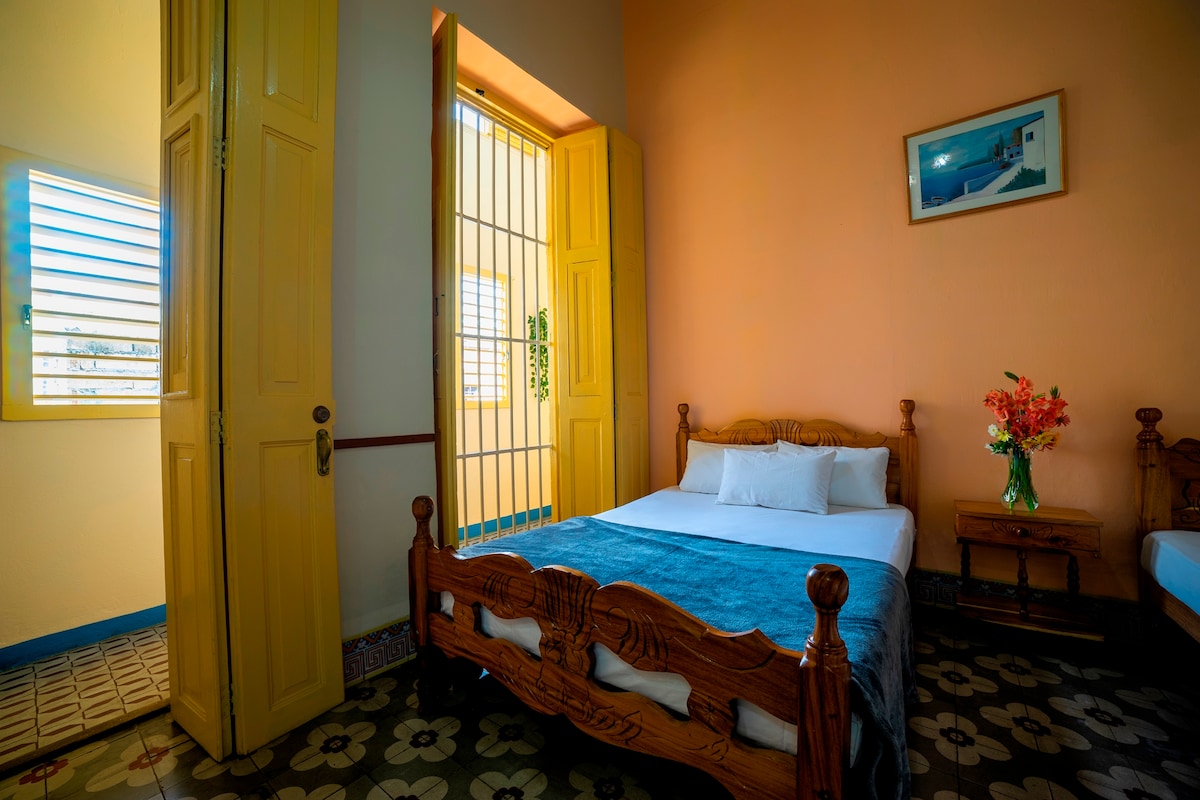 First Casa Particular in Havana (Link to Site)
Located in the very center of the Capital of Cuba, being a construction from the 1890s, Lovely Havana Rooms, is a charming and warm 5 bedroom Bed & Breakfast property owned by a young Cuban entrepreneur. This place is in the best location to discover Havana on foot, since it is very close to the Malecón and the Central Park of Havana.

You can experience the city like a Cuban and receive a warm welcome from our family, who will be your friend and guide throughout your journey.

The space

This is a beautiful colonial house of the decade of 1890 with excellent hosts who will offer their guests a warm welcome during their stay. Preserved in its original state recently restored to offer the best comfort and service to its customers. You can appreciate the traces of the same time that date back to that ancient time where the struts are more than 6 meters high, being very ventilated all sectors of the housing in its entirety and providing endless color and life from the slabs of the floor to the wooden ceilings of the time to two colors having a useful space of more than 200 square meters.

One of the specialties of the house are the breakfasts prepared each morning composed by a number of offers that will help to start an excellent day of discovery.

Guest access

Guests have access to the whole house
---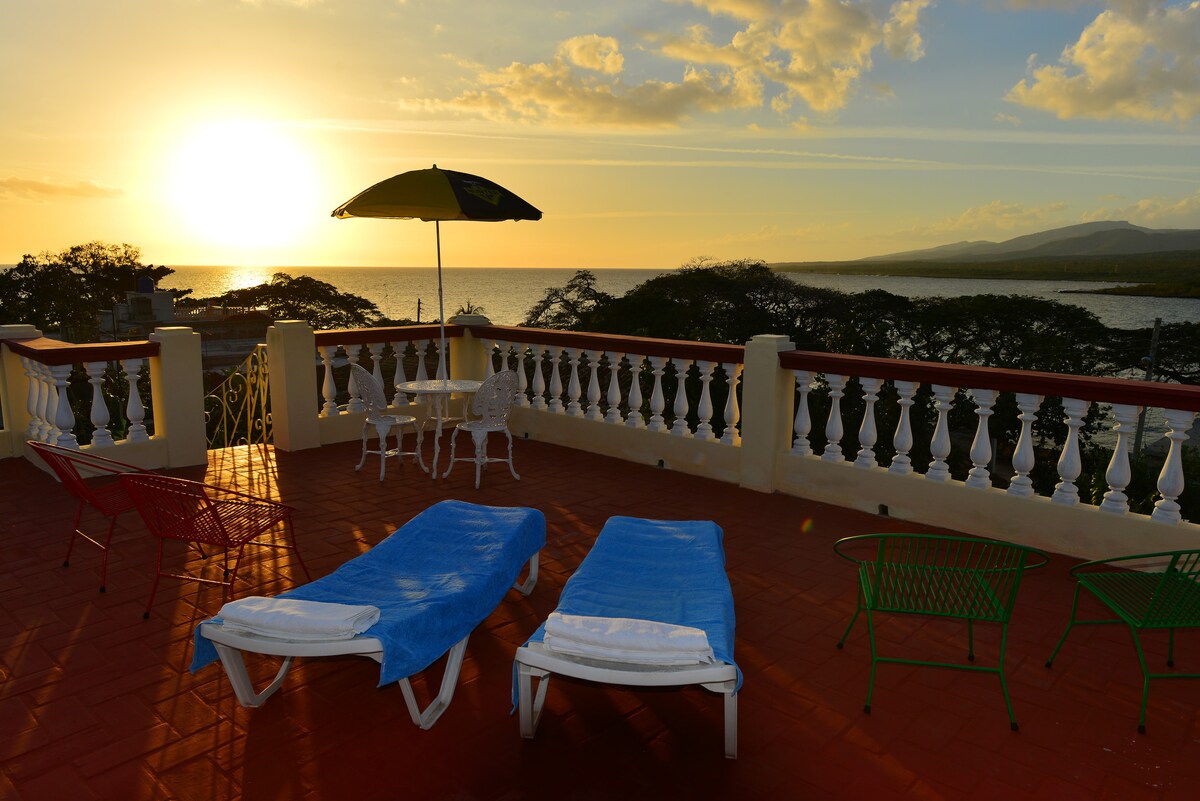 Our Terrace in La Boca (Link to Site)
A beautiful modern sea view room with private bathroom, air conditioner, one king size bed and one single bed, fan, safe box, 40 inch led TV, minibar, hairdryer, hot and cold water 24h, restaurant service, vegetarian and gluten free menu.

The space

Our guest can also enjoy our marvellous SOLARIUM in the upper level, and see a beautiful sunset every day drinking a wide seletion of cuban cocktails, such as, mojito, pina colada, daiquiri and much more..!

Guest access

We are happy to have you with us, and because of that you can use and walk everywhere in our house, we love share with our guest.

Other things to note

In our house we can organize for you any kind of tours, such as, katamaran sightseen, deep sea fishing, scuba diving, horse ride excursion, trip to the waterfall, city tour and many more. Also we can help you to arrange your transfer around the all cities in Cuba.
---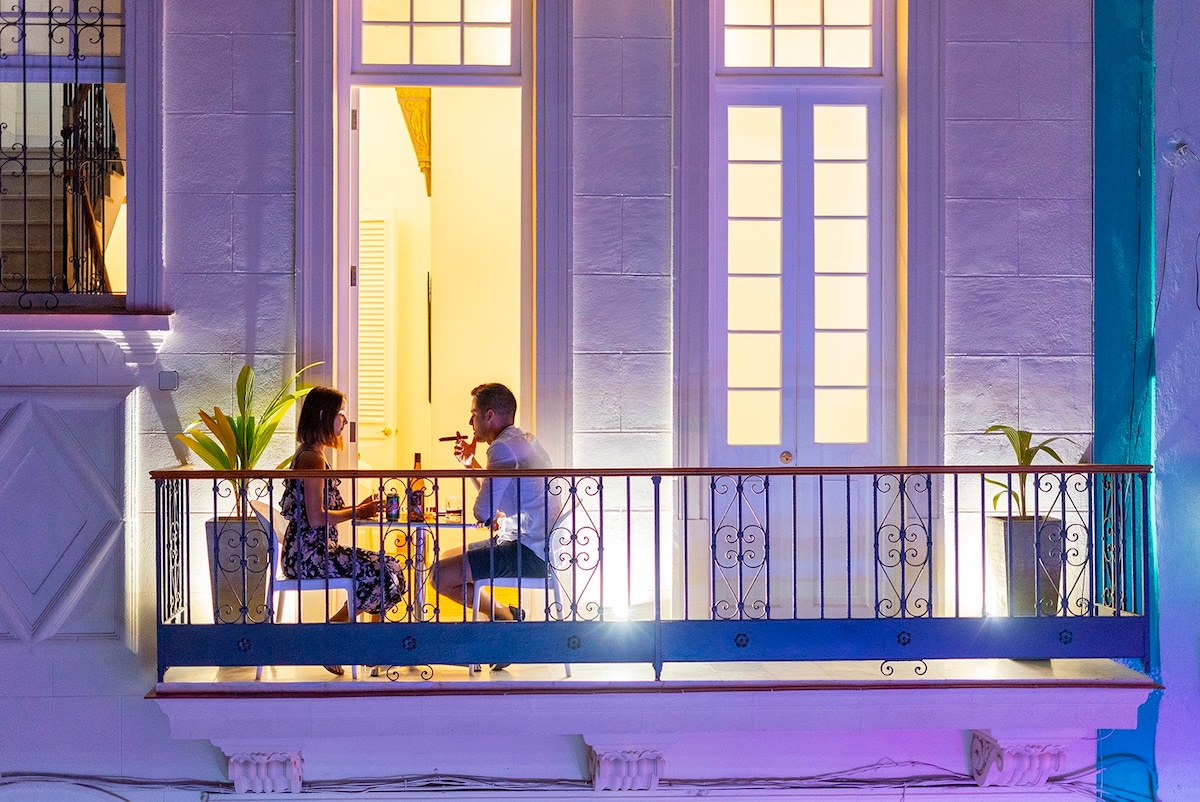 Terrace Back in Havana (Link to Site)
Located one floor up of an amazing 1940's colonial building, Amy's Artistic Home is a relaxing oasis for travelers. In the best location of Havana City, walking distance to the most important attractions, such as The Prado Promenade, Old Havana, The Malecón (Oceanfront) and Central Park. You will be able to experience the city like a local, and receive a friendly, warm welcome from our Cuban family. We love to spend time with our guests and show them the best that our city has to offer.

The space

This place is perfect for adventurers, couples, lonely traveler or friends who want to have privacy and space but also to explore our picturesque city and exchange with locals, learn from our traditions and culture. This is a Casa Particular that is allowed to receive american travelers under the category of Support to the Cuban People, we are a family business when everybody has a role and is committed to guest satisfaction. Amy (Mom) takes care of cleaning and makes amazing breakfasts, Anselmo (Dad) does the logistic, maintenance, and renovations and Sahid (the boy) just have fun, play videogames and enjoy Havana life.

Guest access

The Hosts live at the end of the house. They are reachable 24/7 for any question or request you may have. There is an spacious living room and a balcony when you can see the life of the city.
---
November 10
It has been an eventful two days. My first job was to get my credit card to accept a deposit (or a block, not sure) from a small beach hotel in Mahahual about 4 hours south of Cancun, not very far from Belize. Acouple of weeks ago, I booked it through Booking.com and I may have neglected to update the expiration date of the card that was registered. So a couple of days later, I fixed that and spoke to someone at the credit card company and arranged for them to accept the charge and told the hotel to try again. It still didn't work. The person at the hotel had been out of town and the permission had expired. So now, I was about to have another run at it.
I found this task very intimating, perhaps because of the juggling of items that I barely understood. I prepared for it my just doing the task and not concerning myself with result. So I plowed ahead talking to the car company, learning that what was not the hotel but the amount. Strange. I messaged the hotel the information about what I had done and I got a nice response, vindicating my process.
To reserve the deposit on your card...would you be able to plan that somewhere next week? I'm in Merida right now, and plan is to be back this weekend.
In the meantime, dont worry about your reservation, all is ok.
Greetings from Merida, Carolien
The hotel is four beach bungalows with a fifth room above the main building. You can throw a tennis ball into the water underhand for the terrace on the top of our place. It's out of town and away from the cruise ships. It is relaxed and I have to be also. I am being taught a lesson here that I will apply to whole trip. The hotel is becoming a person, Carolien, from the Netherlands with a history and hopes for the future. See the Website before for more info.
Here is a link.
Ecological Hotel Maya Luna (Link to Site
Task number two was to give up my idea that Aeromar was actually going to fly on March 8 from Havana to Merida. The flight which was also hard to find has just faded away. So, I made a reservation with a slightly less shaky Airline, Viva Aerobus that is scheduled for the day before. I bought all the extra to make the flight comfortable and if I ever have to argue, do it from a higher platform.
November 11:
Contacted are AirBB host. Roger, in Merida and slid our reservation a day earlier. That went fine. Contacted our hostin Havana, Roxana, to drop a day from her reservation. I ran into a hitch in that she has a two day minimum. I haven't heard back from her. I will give it a few more days and try again.
November 12:
Pulled the trigger on our stay in the town of Bacalar. We are going to stay four days in a small house with our host Michelliving next door. It has a garde, a kitchen and a screened in porch to eat meals or write. Wifi is pretty good but not always consistently so.
Beginning to work on the only unfinished leg of the trip which is a five day drive from Merida to Mahahual visiting Mayan ruins. There are stretches of the road to Calakmul with no place to stay and that ruin, is buried in a Biological Reserve, an hour's drive from the park's entrance. This ruin is large and was politically very powereful and should be seen, but I see it as a difficult trip.
Novemnber 16:
Still working on the road trip. A car rental offer appeared from my airline (Viva Aerobus, from Havana to Merida). If I would pay upfront before the end of November, they would give me a 50% discount on any rental before the end of March. That would mean the $800 rental would drop to $400. It would be with Hertz. A great deal but one that comes with a high risk of falling apart. All this from an airline that I am not sure can get us off the Island of Cuba. Oh well, I still have some time.
I have emailed Valerie at The pickled Onion about staying at her place and having her help us with our plans.
---
---